Clinton's Obama Balancing Act As 2016 Looms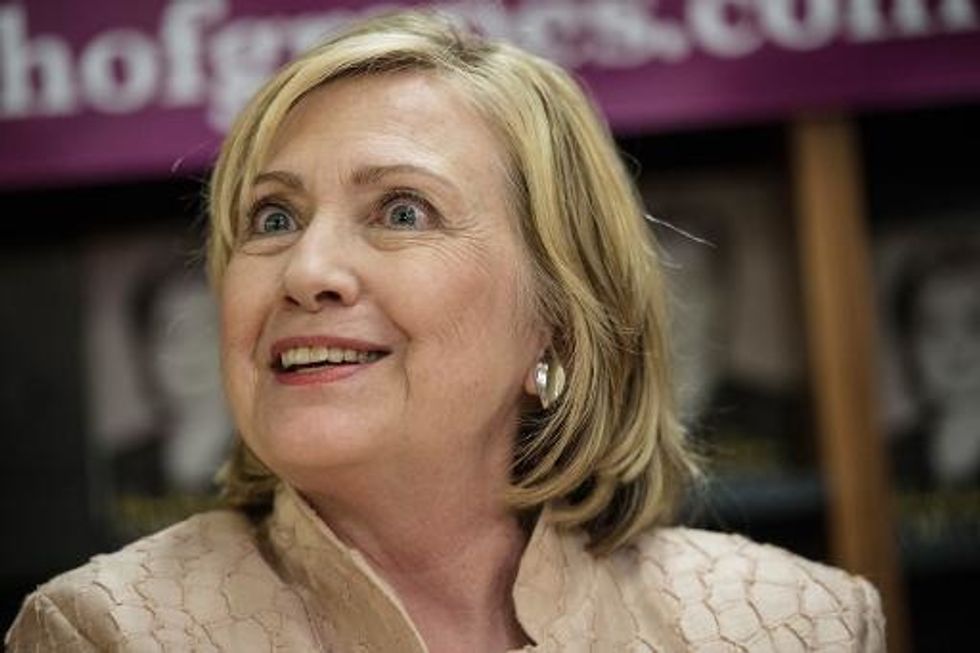 By Jerome Cartillier
Washington (AFP) — President Barack Obama and Hillary Clinton broke bread, trying to defuse a bitter row over foreign policy as the former U.S. secretary of state eyes a possible 2016 bid for the White House.
But aides did not immediately confirm whether the pair had indeed taken part in a highly anticipated conciliatory hug before 150 guests at a dinner on Martha's Vineyard that was closed to the press.
"A good time was had by all," said White House deputy spokesman Eric Schultz.
"The president and first lady also were happy to have the chance to spend time with secretary Clinton and former president (Bill) Clinton," Schultz said on Wednesday.
After a ferociously bitter battle with Obama for the 2008 Democratic presidential ticket, Clinton was a loyal lieutenant in the president's first administration before she stepped down in 2013.
But the increasing probability of a Clinton presidential bid will place the 66-year-old's relationship with Obama under scrutiny.
So far Clinton has remained silent on her intentions, yet all of her actions — a series of lectures, a tour to promote her latest memoir, media appearances — appear calibrated towards a 2016 campaign.
Clinton's attempts to map out a distinct vision of what her administration may look like — and how it would differ from the incumbent's — however risks causing cracks in her relationship with Obama.
The first sign of discord emerged this week when, in an interview with the magazine The Atlantic, Clinton blamed failures of U.S. policy under Obama for the rise of Islamist militants in Iraq and Syria.
Clinton, who as Obama's chief diplomat was an unsuccessful advocate of arming moderate Syrian rebels, said the failure to do so had "left a big vacuum, which the jihadists have now filled."
She had made similar statements in her memoir published in June, but the tone of her latest comments, coming when Obama is struggling with his lowest ever approval ratings while grappling with foreign policy crises in Ukraine and Iraq, set Washington abuzz.
Clinton also raised eyebrows by echoing Republican criticism of Obama's foreign policy doctrine, famously encapsulated in the unofficial slogan used by his staff: "Don't do stupid stuff."
"Great nations need organizing principles, and 'Don't do stupid stuff' is not an organizing principle," Clinton said.
– Stinging response –
The response from the Obama camp was stinging, with David Axelrod, the mastermind of Obama's 2008 election triumph, remarking pithily on Twitter: "Just to clarify: 'Don't do stupid stuff' means stuff like occupying Iraq in the first place, which was a tragically bad decision."
Axelrod's barbed message to Clinton, one of several Democratic senators who backed the U.S. invasion of Iraq in 2003, and who has since stated it was a mistake, was loud and clear: do not tread on the toes of the 44th President of the United States, two and a half years before his departure from office.
Clinton's camp swiftly sought to extinguish the war of words, with Clinton herself calling Obama during his vacation in Massachusetts to assure the U.S. leader that "nothing she said was an attempt to attack him, his policies or his leadership," according to her spokesman Nick Merrill.
Clinton, Merrill said, was looking forward to "hugging it out" with Obama when they met at the soiree in Martha's Vineyard hosted by Vernon Jordan, a former advisor to Bill Clinton.
The exchange highlights the balancing act Clinton will have to deal with if she does decide to run in 2016 — how to set herself apart from Obama without it looking like calculated political opportunism.
In a rare joint interview in 2013, the two former rivals insisted they were close friends.
"I consider Hillary a strong friend," Obama said. Clinton, describing her friendship with Obama as "very warm" added: "I think there's a sense of understanding that, you know, sometimes doesn't even take words because we have similar views."
But the next two years, where every comment emanating from the Clinton and Obama camps will be dissected and pored over in detail, could test the "warmth" of their friendship.
AFP Photo/Nicholas Kamm
Interested in U.S. politics? Sign up for our daily email newsletter!