Watch CNN Anchors Correct Trump Misstatements At Press Conference
@alexvhenderson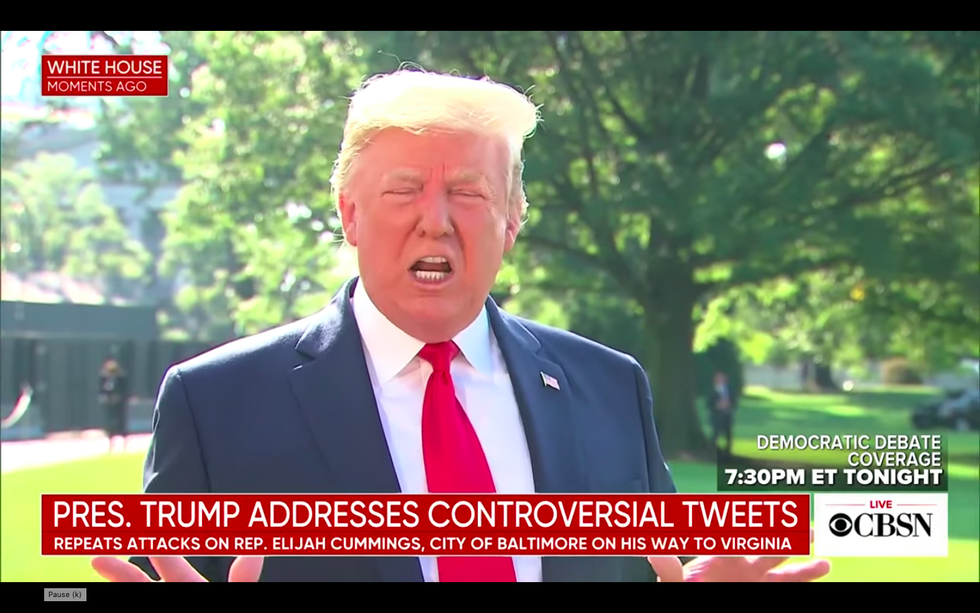 Reprinted with permission from Alternet.
During a Tuesday morning press conference, President Donald Trump not only defended his attack on Maryland Rep. Elijah E. Cummings (who chairs the House Oversight Committee) and the city of Baltimore — he also made some misleading statements on tariffs and the Washington Post. And it didn't take CNN reporters Jim Sciutto and Poppy Harlow long to fact-check Trump's bizarre claims.
Sciutto explained why Trump's statements about U.S. tariffs on China are misleading, telling Harlow, "He said that China is paying, that the U.S. is getting billions and billions of dollars in tariffs from China. Of course, the fact is that U.S. importers and consumers pay for tariffs."
Sciutto went on to say Trump's claim that Baltimore's city government, with Cummings' help, has "wasted billions of dollars" has no basis in fact. Trump, Sciutto noted, made "quite a charge against Rep. Elijah Cummings, saying that Baltimore has taken — stolen, he seems to be saying, or wasted billions of dollar."
"It is not clear what that is based on," he said. "I think we can fairly call that a baseless charge."
Harlow fact-checked Trump's claim that the Washington Post, which is now owned by Amazon CEO Jeff Bezos, is a Russian asset.
"Jim, he also said that the Washington Post, one of the most storied journalistic institutions in this country, is a Russian asset — with no basis in fact," Harlow told Sciutto. "And then, he said that it is for the benefit of Amazon, just because Jeff Bezos owns the Washington Post and Amazon."
Amazon and the Washington Post, Harlow stressed to Sciutto, are "not connected at all. And Amazon — the Washington Post does a lot of critical reporting on Amazon. So, (I'm) just setting those two facts straight for everyone, because they were stunning to hear, Jim."
Watch the video below: