Collins Takes Court As First Openly Gay NBA Player
@AFP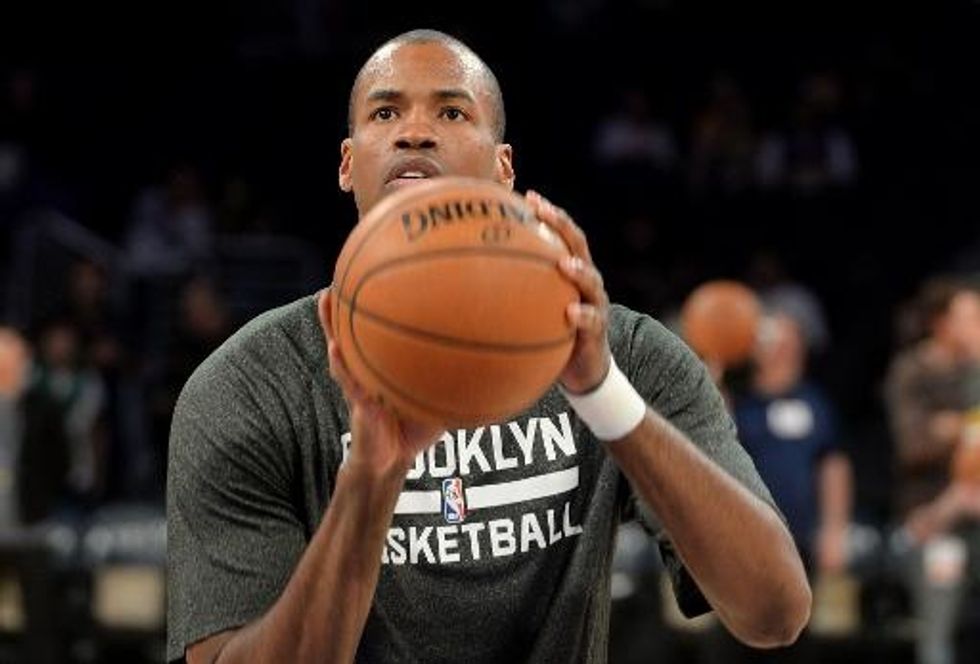 Los Angeles (AFP) – Jason Collins took another trailblazing step as the first openly gay man in a major US pro sports league when he took the court for the NBA's Brooklyn Nets.
Hours after the Nets inked Collins to a 10-day contract, he came in as a substitute in the second quarter of the Nets' game against the Los Angeles Lakers, receiving the kind of warm welcome from the Staples Center crowd more usually reserved for their own players.
It was the 13-year NBA veteran's first appearance in the league since he went public in April about his homosexuality, a revelation that came after his contract with the Washington Wizards had expired.
Facing a bevy of media before the game, Collins said his immediate concern was proving he still belonged in the league.
"Right now, I'm focused on trying to learn the plays, trying to learn the coverages, the game plan, my assignment," he said. "I don't have time to really think about history right now."
The Nets ended an 11-game losing streak to the Lakers with a 108-102 wire-to-wire victory.
Collins was scoreless in 10 minutes, 37 seconds on the floor, missing the only shot he attempted.
He had two rebounds and five fouls, and Nets coach Jason Kidd said he was generally satisfied with the performance from a player brought in to bolster the team's defense.
Nets general manager Billy King said the move to sign Collins was a "basketball decision" to add a defensive presence inside.
"We needed to increase our depth inside, and with his experience and size, we felt he was the right choice for a 10-day contract," King said.
The Nets can sign Collins to two straight 10-day deals before deciding if they want to keep him for the rest of the season.
Even though King said the Nets had no intention of making a social statement, NBA commissioner Adam Silver commented on the deal.
"Jason told us that his goal was to earn another contract with an NBA team," Silver said. "Today, I want to commend him on achieving his goal. I know everyone in the NBA family is excited for him and proud that our league fosters an inclusive and respectful environment."
As part of a sports world still perceived as hostile to homosexuality, Collins drew praise for his courage in coming out as gay by President Barack Obama, former president Bill Clinton and many players in the NBA.
Los Angeles Galaxy midfielder Robbie Rogers became the first openly gay male athlete to play in a US pro league when he took the field for a Major League Soccer match in May, three months after revealing he was gay.
But Collins is the first in any of the four leagues that dominate the U.S. sports landscape — Major League Baseball, the National Football League, the National Basketball Association and the National Hockey League.
University of Missouri defensive end Michael Sam, a U.S. college star in American football who announced this month he is gay, is likely to be selected in the NFL Draft later this year.
His first chance to play in the NFL would not come until an August exhibition game at the earliest, and his decision to come out immediately sparked debate on whether a gay player could really be accepted in an NFL locker room.
Collins said he agreed with Sam's stance that he wants to be judged for his abilities on the field of play, and not by his sexuality.
"I hope, similar to what Michael said, I hope it's about him being a football player and me being a basketball player," Collins said.
As for advice he would offer to other gay athletes, Collins said it would be the same he offered to any athlete: "Never have any fear to be your true, authentic self."
AFP Photo/Joe Klamar