The Coming Republican Retreat On Obamacare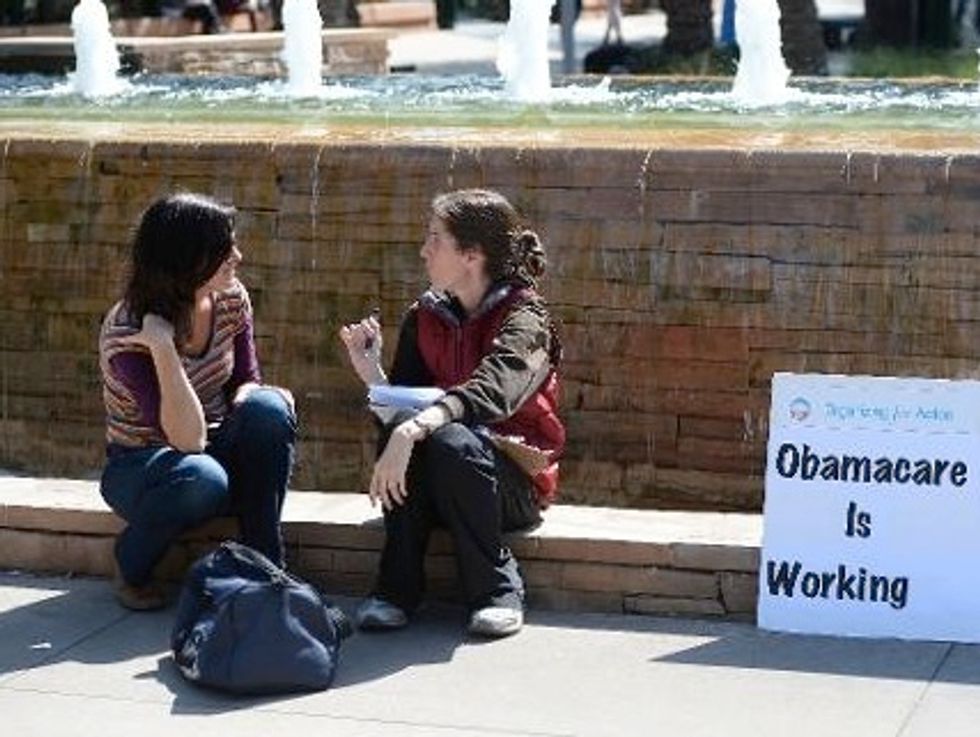 If you want to know why Republicans are still hammering at Obamacare, have I got an anecdote for you. It happened in New Orleans during a pre-election focus group of "Walmart Moms" — swing voters who shop once a month at Walmart and have at least one child under 18 at home.
"The health care, I don't know about anybody else, but it completely screwed me," said Tonya, a white married mother of two who makes under $50,000 and voted for Mitt Romney in 2012. Dorie, a black divorced mother of two in the same income range who voted for President Obama, offered her take on his rationale. "He's trying to get a balance between the haves and the have-nots, and the haves are fighting the hell out of it," she said. "Well this have-not is dyin'," Tonya shot back, and all ten women erupted in laughter.
The good humor in that room notwithstanding, there are few more dependable ways to fire up conservative voters than to attack the health law universally known by a nickname that incorporates the name of the polarizing president who signed it. But don't be fooled. The GOP creep toward reality has begun.
Ohio Gov. John Kasich says repeal of the Affordable Care Act's dramatic Medicaid expansion is "not gonna happen," even if Republicans take control of the Senate. Mitch McConnell, the Senate minority leader aiming for a promotion to majority leader, says Obamacare should be pulled out root and branch — except for Kentucky's successful Obamacare website. His state's online marketplace is "fine," he said in a debate.
Conservative thinkers are starting to say what must not even be hinted at — yet — by conservative politicians. Avik Roy writes in Forbes that full repeal "will cause as many problems as it will solve. A better approach, in my view, is to gradually transition away from Obamacare … " David Frum, going even further, writes in Foreign Affairs that the center-right "must accept — and even welcome — that in the United States, as in every other developed country, universal health insurance is here to stay."
The obstacles in the GOP path to repeal include Obama, in office for two more years with veto power to protect his legacy. Beyond that, whether Americans realize it or not, the law is already embedded in their lives. Some 10.3 million people have gained insurance coverage since it took effect, according to an analysis in the New England Journal of Medicine, most of them under the enlarged Medicaid program for low-income people. Millions of others are benefitting from consumer protections against insurance companies, lower prescription drug costs for seniors, and many other aspects of the law.
In the words of Joni Mitchell, you don't know what you've got till it's gone. For all of Obamacare's enduring unpopularity, that makes repeal a real political risk. A new Rasmussen poll underscores the point. "U.S. voters are now evenly divided over whether to repeal the new national health care law entirely or fix it piece-by-piece," the poll analysts wrote, and "voters are growing less certain that a Republican-controlled Congress would actually repeal the law."
For now, with voter turnout the top priority, the airwaves are saturated with ads vilifying Obamacare as a job killer driving up costs (though there is plenty of evidence to argue the opposite). The anti-Obamacare message was the fourth-most-mentioned issue in Senate ads the week of Oct. 6, behind only jobs, health care generally (including the ACA, Medicare and other issues), and government spending, according to the Campaign Media Analysis Group. There were 11,790 airings of anti-Obamacare ads that week, 96 percent of them sponsored by Republicans.
Though they aren't making ads to heap praise on Obamacare, Democratic Senate candidates do know how to defend it in debates and on the trail. Iowa's Bruce Braley talks about his nephew who, because of the ACA, will never have to worry about becoming uninsurable due to his "pre-existing condition" of having survived liver cancer at age 2. Alison Lundergan Grimes talks about more than a half million Kentuckians who are "for the first time ever" filling prescriptions, seeing doctors and getting checkups. "I will not be the senator who rips that insurance from their hands," she says.
David Perdue, the Republican Senate candidate in Georgia, wants the 2016 election to be a referendum on Obamacare. That would make it the fourth referendum at the ballot box since the law passed in 2010. The sixth year of a repeal-or-bust GOP. The sixth year of sentiments like the one embodied in this recent tweet from Grover Norquist, anti-tax activist extraordinaire: "Obamacare was always about new taxes in disguise."
Actually, it was always about expanding health coverage and patient protections to tens of millions, and finding ways to pay for all of it instead of running up the national debt. If Republicans want to have yet another referendum on that, bring it on. They might win the White House, but I'm betting Obamacare — whatever it is called by then — will survive.
Follow Jill Lawrence on Twitter @JillDLawrence. To find out more about Jill Lawrence and read features by other Creators Syndicate writers and cartoonists, visit the Creators Syndicate website at www.creators.com.
AFP Photo/Robyn Beck
Want more political news and analysis? Sign up for our daily email newsletter!