White House Plans Community-Based Prevention Of Violent Ideologies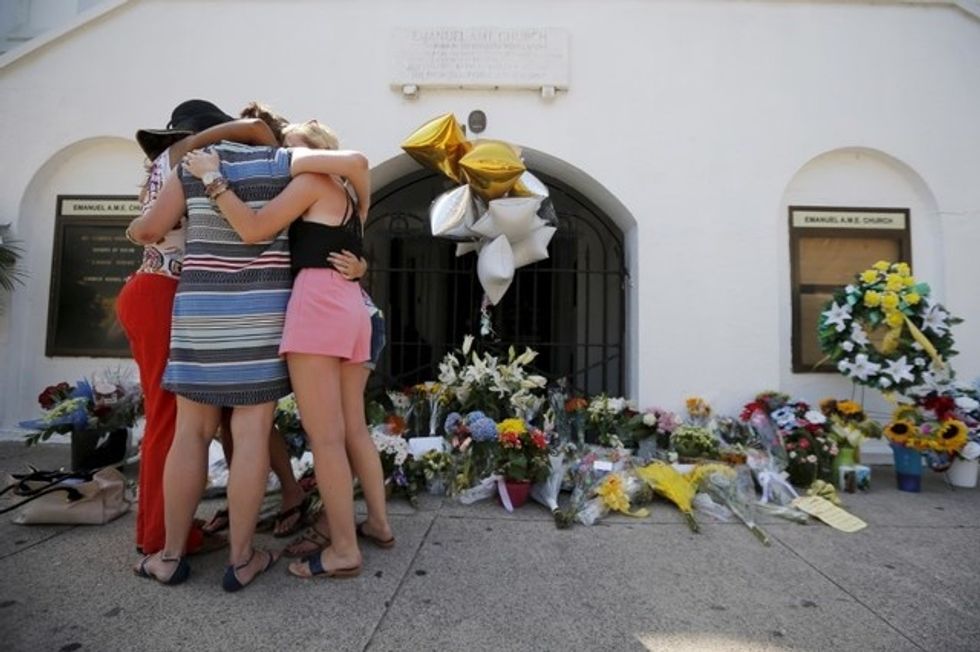 WASHINGTON (Reuters) – A White House plan aims to convene teachers and mental health professionals to intervene and help prevent Americans from turning to violent ideologies, work that is currently done mostly by federal law enforcement.
The 18-page plan announced on Wednesday and first reported by Reuters, marks the first time in five years that the Obama administration has updated its policy for preventing the spread of violent groups such as Islamic State, which controls parts of Syria and Iraq and recruits fighters worldwide.
Authorities blamed radical and violent ideologies as the motives for attacks in Charleston, South Carolina; San Bernardino, California; Orlando, Florida; New York and New Jersey in 2015-16.
The policy aims to prevent conversions to all violent ideologies, including the white supremacist beliefs held by a gunman who killed nine black church members inside a historic African-American church in Charleston and the other shootings and bombs were inspired by Islamist militants. Critics said, however, that such efforts largely target Muslims.
In approximately 60 to 70 percent of the cases the federal government has prosecuted for terrorism or supporting terrorism, a family member or friend said they noticed the defendant was exhibiting strange behavior before they came to the attention of law enforcement, said Seamus Hughes, deputy director of George Washington University's Program on Extremism.
"Parents are stuck in this horrible situation where they have to make a determination of 'Is it better that my son joins ISIS and potentially dies or is it better that he spends 20 years in jail?'" said Hughes, referring to Islamic State.
The new White House strategy seeks to create "intervention teams" led by mental health professionals, faith-based groups, educators and others as a resource for people who find themselves in such circumstances. Intervention teams would seek to divert a person away from violence before they commit a violent act and without involving law enforcement agencies.
The Justice Department and Homeland Security Department also aim to enhance their social media campaigns to counter people being drawn to violence.
The White House plan drew both praise and criticism Wednesday afternoon from experts on counterterrorism and civil liberties advocates who said the plan is a step in the right direction but does not go far enough to prevent discrimination against Muslims.
CODE WORD
William McCants, a senior fellow at the Brookings Institution policy research group in Washington, said the idea of asking "the community" to get involved with stopping violent ideology implies Muslim communities are aware of who may be violent jihadists and have the responsibility to stop them.
"The community is just a code word for the Muslim community, McCants said. "It only reinforces people's fears that 'the community' is the problem."
Republican presidential candidate Donald Trump has said his counterterrorism strategy would rely on Muslims reporting on other Muslims. Democractic candidate Hillary Clinton has stated on her website that she plans to support law enforcement to build "trustful and strong relationships" with the American-Muslim community.
Prosecutors would still have a role in prevention efforts under the new policy, including arranging after-school programs. But those programs would not be allowed to serve a dual purpose for intelligence gathering, which civil liberties advocates have accused current programs of doing.
"In practice, what we have seen is programs are targeted unfairly at American-Muslim communities, seeing them through a security lens which alienates and stigmatizes," said Hina Shamsi, director of the American Civil Liberties Union's national security project.
In Minneapolis, U.S. Attorney Andrew Luger prosecuted 10 Somali-American men earlier this year for plotting to fight with the Islamic State overseas while simultaneously leading community outreach efforts with the same Somali community.
"We determined that efforts to build intervention teams are less likely to succeed if they are driven by the federal government," said Brette Steele, acting deputy director of the U.S. government's Countering Violent Extremism Task Force, suggesting that the teams should instead be community-led.
Only when a person is believed to "pose a threat or be immediately capable of committing a crime," should law enforcement actions be taken, the policy states.
The policy also calls on the Justice Department to implement rehabilitation strategies that could include using former converts to violence as counselors for those convicted of terrorism.
(Reporting by Julia Edwards; Editing by Frances Kerry and Grant McCool)
Photo: Mourners outside the Emanuel African Methodist Episcopal Church in Charleston. REUTERS/Brian Snyder