Confusion On The Red Carpet
@FromaHarrop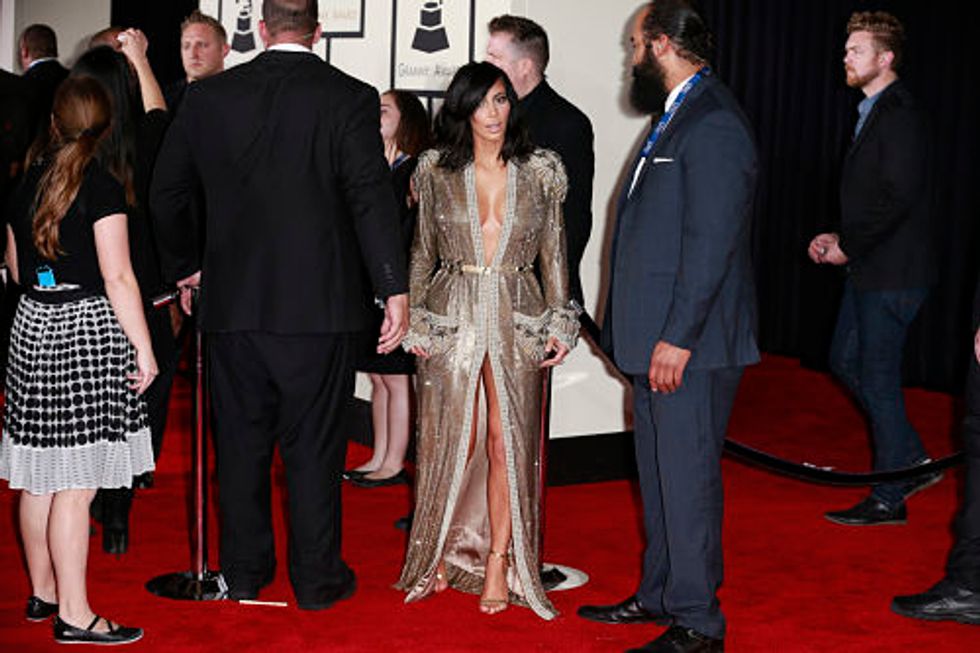 Lupita Nyong'o picked up an Oscar last year for her searing portrayal of a scarred captive in 12 Years a Slave. But many in the Academy Awards audience — just reminded of the misery depicted in a film clip — must have felt a bit mixed up when the woman they associated with a tormented slave floated up the stage stairs in a sumptuous sky-blue Prada gown, holding up the pleated skirt lest she trip on the yards of luxury.
Nyong'o looked spectacular, and her Oscar was soon followed by rich contracts to become the face of Miu Miu, one of Prada's high fashion brands, and of Lancôme Paris, a French cosmetics house.
One recalls the odd casting some years back of Charlize Theron — a real-life supermodel — to play a squat, homely serial killer in the film Monster. When Theron subsequently accepted an Oscar for best actress, she was back to her thin, leggy, blonde self, draped in a backless, sparkling Gucci gown. You can imagine the fuss on the red carpet.
We know, of course, that actors are only acting. The fan mags tell us that Bradley Cooper, who played the Texas ranch hand turned celebrated Navy SEAL in American Sniper, is shopping for a house in London with his English model girlfriend. That doesn't reflect one way or another on Cooper's acting talents.
That the professionals burned in our minds for the great suffering they have shown in films live lavishly off camera is a reality of Hollywood. But it works differently for male and female actors.
There won't be much attention paid to Cooper's clothes or that of other male nominees attending the Academy Awards ceremony. Their simple suits, though elegant, won't clash loudly with the ordinary people they played in the movies.
The actresses, by contrast, must stop on the red carpet and pose hand on hip, often half-naked and balancing on stilettos. This isn't like a fancy party, where women may manage their costumes more or less in private. Here there are a thousand cameras, each on hair-trigger watch for an embarrassing slip-up.
Even the smartest actresses look goofy on the red carpet as they freeze for cameras, every ringlet in wax-museum place. The red carpet can be humiliating, and some actresses are protesting its excesses.
One source of anger is said to be the "mani-cam." An invention of E! Entertainment Television, the mani-cam is a camera in a box, which is held over the stars' hands to give the viewers an intimate view of the women's manicures and jewels.
Some actresses at the Screen Actors Guild Awards — Reese Witherspoon, Julianne Moore, Jennifer Aniston — refused to lend their hands to the mani-cam. Nonetheless, they did participate in the fashion show, stopping to model their Armani, Givenchy and Galliano gowns, respectively.
Is the mani-cam ridiculous, insulting and sexist? Yes. But it's a difference of degree rather than of kind in the red-carpet spectacle.
When winners are announced, the men joyfully skip up the stairs to fetch their statuettes. But the actresses are seen nervously negotiating the steps in spike heels, an experience that probably causes more pain and terror than would the whips and handcuffs in Christian Grey's "playroom."
The female stars have a dilemma. Not doing the red carpet thing might cost them contracts with cosmetics companies. And in an ironic twist to Hollywood sexism, creating buzz on the red carpet leads to offers of serious parts in big movies.
Dignity doesn't always come cheap for America's top actresses. One hopes more will pay the price for it.
Follow Froma Harrop on Twitter @FromaHarrop. She can be reached at fharrop@gmail.com. To find out more about Froma Harrop and read features by other Creators writers and cartoonists, visit the Creators Web page at www.creators.com.
Photo: Kim Kardashian arrives at the 57th Annual Grammy Awards at Staples Center in Los Angeles on Sunday, Feb. 8, 2015. (Allen J. Schaben/Los Angeles Times/TNS)