Some In Congress Now Want To Carry Guns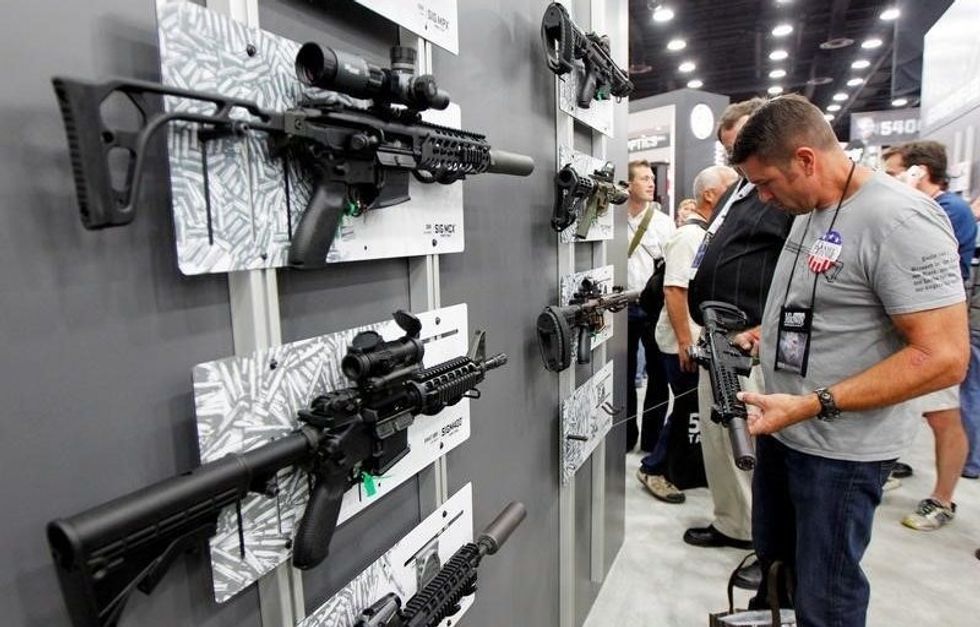 Reprinted with permission from Alternet.
Two mass shootings that took place Wednesday—the shooting on a Virginia ballfield targeting members of Congress and the shooting at a UPS in San Francisco—marks the 154th and 155th mass shooting this year, according to the Gun Violence Archive. On average, this means a little less than one mass shooting took place each day this year. Data also show that the number of mass shootings, defined by the Gun Violence Archive as an incident where four or more people are shot, have been increasing over the past few years.
Wednesday's attack against lawmakers and their staff inevitably prompted many members of Congress to speak out about gun violence. And while some called for stronger gun control, others took the opposite route and advocated to put even more guns in people's hands.
Georgia Republican Barry Loudermilk witnessed the shooting happen on the field, and told reporters that Congress should allow more members to carry guns in the capital (the only people on the field who were armed were members of Scalise's security detail).
Rep. Barry Loudermilk, who was on the field this morning, tells reporters Congress should look into letting members carry guns in DC pic.twitter.com/SUwU5YAqT8

— Ashley Killough (@KilloughCNN) June 14, 2017
In a Facebook post Wednesday afternoon, Republican Congressman Thomas Massie repeated the argument that "the only thing that stops a bad guy with a gun is a good guy with a gun."
"We need to repeal laws that keep good guys from carrying guns, since not everyone has a personal police detail," the post read. "The right to keep and bear arms is the common person's first line of defense in these situations, and it should never be denied."
The next day, the Kentucky Congressman introduced a bill allowing any person with a concealed carry permit to use their firearms in the District of Columbia, which has some of the strictrest gun regulations in the country. The proposed bill also goes a step further in that it would allow people from states that do not offer a concealed carry license to apply for a "non-resident permit" in D.C.
"The irony is that those of us in Congress who don't have police details, we are safer in our home districts where many of us do carry concealed weapons," Massie said Thursday on Fox Business Network's "Cavuto."
Chris Collins, another Republican representative, told Buffalo television station WKBW that he "will be carrying when I'm out and about."
"On a rare occasion I'd have my gun in a glove box or something, but it's going to be in my pocket from this day forward," he said.
Other lawmakers hinted that the shooting could have easily escalated were it not for the people with guns on the field that morning.
"Had there not been a member of House leadership present, there would have been no police present, and it would have become the largest act of political terrorism in years, if not ever," Virginia Rep. Tom Garrett said, according to the New York Times.
Sen. Rand Paul, who was present during the shooting, called the scene "a killing field."
"You had no way to defend yourself," he added.
This blind projection of how people could react in a shooting is steeped in the misguided belief that people will behave like heroes if they just have a gun in their hand—the classic "good guy with a gun" propaganda.
"We like to think we'd be the one to stop a bad guy when we are offered the chance, instead of cowering in fear until the bad guy leaves," Tim Donnelly writes in a Death and Taxes piece.
This strongly held belief, however, exists only as an action-movie fantasy contradicted by a bevy of data. First and foremost, more guns does not equate to less deaths and more safety. Data from the American Journal of Public Health show a correlation between states with high gun ownership rates and higher gun murder rates—sometimes 114 percent higher than states with low rates of gun ownership. In addition, gun-related deaths are lower in states that have stronger gun control.
Also, just because a person carries a gun does not mean he or she will use it responsibly. Even police officers who are trained in firearm use have acted recklessly and been involved in unnecessary shootings—for evidence, just look at the 436 people who have been shot and killed by a police officer so far in 2017.
The "good guy with a gun" myth is constantly propagated by many Republicans and the NRA, and is culturally reinforced as well. Action shows and violent video games glorify gun culture as a symbol of masculinity, telling men in particular that owning a gun is what makes them manly. But this myth has dangerous consequences.
Statistics reveal that most mass shootings are carried out by men. Furthermore, research into mass shootings in recent years has found a link between men who have histories of domestic violence or aggression toward women and later go on to commit mass shootings.
Omar Mateen, who shot and killed 49 people at the Pulse nightclub in Orlando last year, physically abused his wife. Robert Dear, who fatally shot three people at a Planned Parenthood in Colorado Springs in 2015, had a history of violence against women. And James Hodgkinson, who opened fire on the ball field Wednesday, had violent altercations with women, including his daughter.
One study looking at mass shootings from 2009 to 2016 concluded that at least 54 percent of these events involved either a current or former romantic partner or family member as a victim. In addition, 36.7 percent of women in domestic violence shelters have experienced gun violence from their partner.
So while congress members like Loudermilk and Collins may continue to believe that even more people should carry firearms, the victims of people who recklessly used guns might have a different opinion—if they were still alive to share it.
Celisa Calacal is a junior writing fellow for AlterNet. She is a senior journalism major and legal studies minor at Ithaca College in Ithaca, New York. Previously she worked at ThinkProgress and served as an editor for Ithaca College's student newspaper. Follow her at @celisa_mia.
This article was made possible by the readers and supporters of AlterNet.