Congress Readies To Shut Down Government Over Planned Parenthood Funding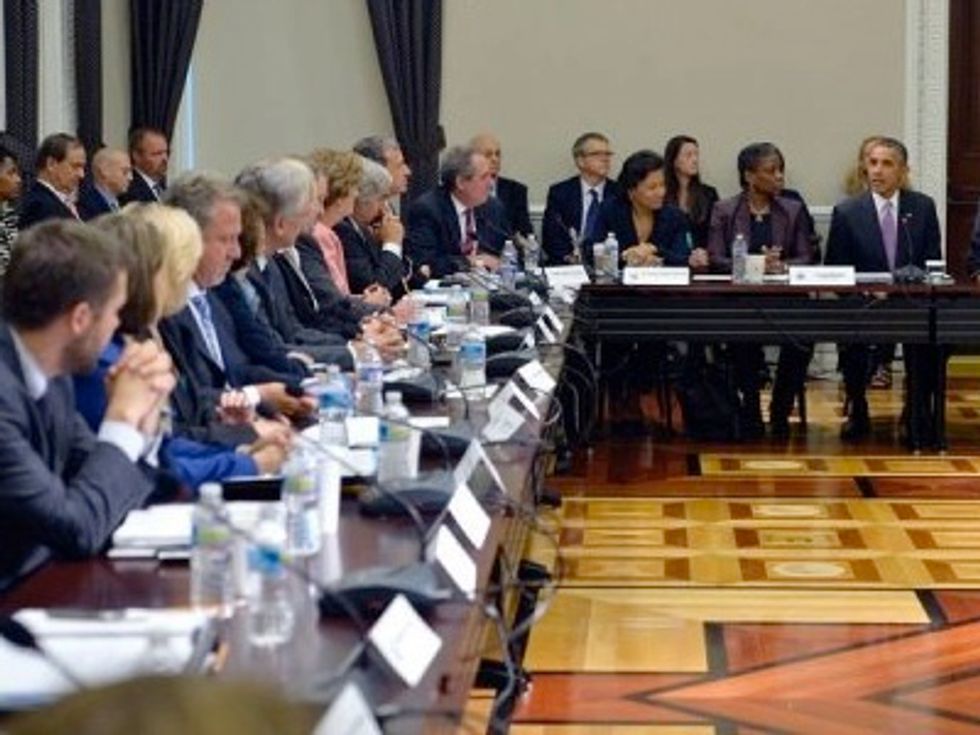 They're baaaaack.
As of Tuesday Congress is back in session, and what's on the docket? Well, Iran's nuclear capabilities. And of course, abortion.
But what's really worrisome is the fact that over the next three weeks, Congress has to decide whether to fund the government. Again.
Of course it isn't as straightforward as a simple vote to pay government workers. An approved federal budget rests on a assemblage of bills, add-ons, and addendums — and so a whole host of other issues get caught in the balance.
Like giving federal money to Planned Parenthood.
Congress will need to approve the federal budget by Oct. 1, and some Republican lawmakers have threatened to shut down the government if federal money continues to flow Planned Parenthood's way.
The organization rose to the forefront of many conservative lawmakers' minds after an anti-abortion group, the Center for Medical Progress (CMP), released a set of videos earlier this summer purporting to show that certain Planned Parenthood clinics were selling fetal tissue for profit, which they say was against the law. Despite continued state and federal investigations proving that this is not the case, several members of Congress called for the organization to be stripped of all federal funding, even though the federal money that Planned Parenthood receives does not, by law, go to abortion services.
Activists have not been sitting idle in this debate. The Susan B. Anthony List, a political action committee helping anti-choice women get elected to Congress, sponsored a showing of several of the CMP videos on Capitol Hill, which was interrupted by two Democratic staffers asking if unedited versions of the videos would be shown. They left the room when their question went unanswered.
Four House committees, including the House Judiciary Committee, the House Energy and Commerce Committee, and the Oversight and Government Reform Committee, have launched investigations into Planned Parenthood. The Judiciary Committee will begin its hearings Wednesday.
Before Congress' summer recess, there was a Senate vote to defund the organization, which came hastily on the heels of the release of the first four videos. (There are now nine.) As expected, the resolution failed, 53-46.
Twenty-eight House Republicans from 18 states have indicated they will oppose any legislation that includes funding for Planned Parenthood. Yet House Speaker John Boehner has expressed that he wants to avoid a government shutdown over the issue.
Sen. Ted Cruz of Florida has circulated a letter looking for signatures, asking Senate Majority Leader Mitch McConnell of Kentucky to stop any bill that ties federal money to Planned Parenthood, even if it means that the government must shut down.
McConnell, for his part, has said that he is eager to avoid a shutdown, and has said that putting the funding on "a must-pass appropriations bill" is unpalatable.
Not enough Republicans have agreed that this is worthy of shutting down the government; the votes to defund utterly just aren't there. President Obama, too, has said he will veto any legislation that strips Planned Parenthood of federal funding.
Despite some Republicans' vocal fervor, most Americans (predictably) want to avoid a government shutdown. While abortion remains divisive in America, polls suggest that Planned Parenthood still has high favorability ratings, while Congress doesn't — and a shutdown would only make things worse.
When the government shut down in 2013 over Republicans' dislike of Obama's health plan, an overwhelming majority of voters — 72 percent — opposed it, and Congress' approval ratings plummeted to an 85 percent disapproval rate, with the GOP also hitting high unfavorability marks, according to a Washington Post-ABC News poll from October 2013.
Photo: Hearings will start soon by the Jucidiary Committee on its investigation of Planned Parenthood. AFP/Jewel Samad