Conservation Voters Disendorse Sen. Collins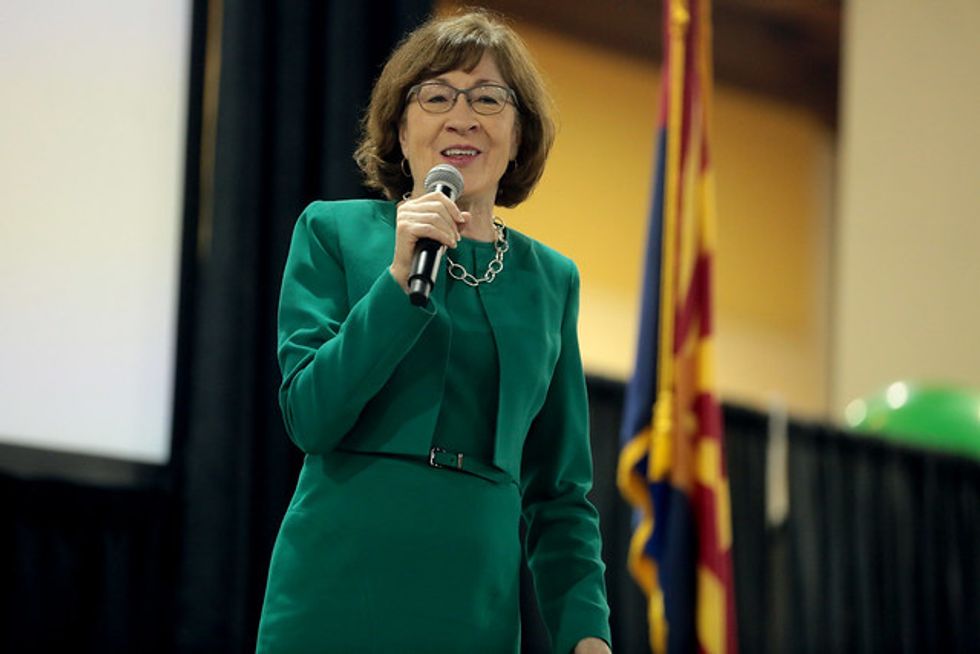 The League of Conservation Voters (LCV) snubbed Sen. Susan Collins (R-ME) on Thursday, choosing to endorse her likely Democratic opponent, Maine House Speaker Sara Gideon.
"From her time as a town councilor to her tenure as Speaker of the Maine House of Representatives, Speaker Gideon has been a leader fighting the climate crisis, promoting clean energy, & banning offshore drilling in Maine," the League of Conservation Voters Action Fund said in a statement.
The LCV has more than 2 million members, making it one of the largest environmental groups in the nation. According to its website, the group "advocates for sound environmental laws and policies, holds elected officials accountable for their votes and actions, and elects pro-environment candidates who will champion our priority issues."
The same group endorsed Collins in both 2008 and 2014, and as recently as 2017 praised her as "an extremely important ally in the fight to protect the environment."
In 2002, Collins said that the LCV was "the leading environmental group in the country," saying she "must be doing something right" to have received its endorsement.
In receiving LCV's endorsement this year, Gideon highlighted her environmental work in the state.
"Here in Maine, we took bold action to create an example for what can be done across the nation to fight climate change, move towards a clean and renewable energy system, protect our essential industries and boost our economy," Gideon said in a statement. "That's exactly the kind of action we need at the federal level," she added.
While Collins previously had a relatively good environmental record, she received a score of just 21% on the latest LCV scorecard, which evaluates votes that members take on environmental issues.
The loss of the LCV endorsement is the latest blow to Collins' reelection campaign. In the most recent fundraising quarter, Gideon raised $3.2 million, over $1 million more than Collins. And recent polling shows Mainers disapprove of Collins' job performance more than they disapprove of Donald Trump.
Republicans currently hold a 53-47 seat majority in the Senate, and Democrats are eyeing Maine as a possible state to flip on their way to a possible majority after the 2020 election.
Published with permission of The American Independent.