Conservative Opposition To Overtime Pay Brought To You By The National Retail Federation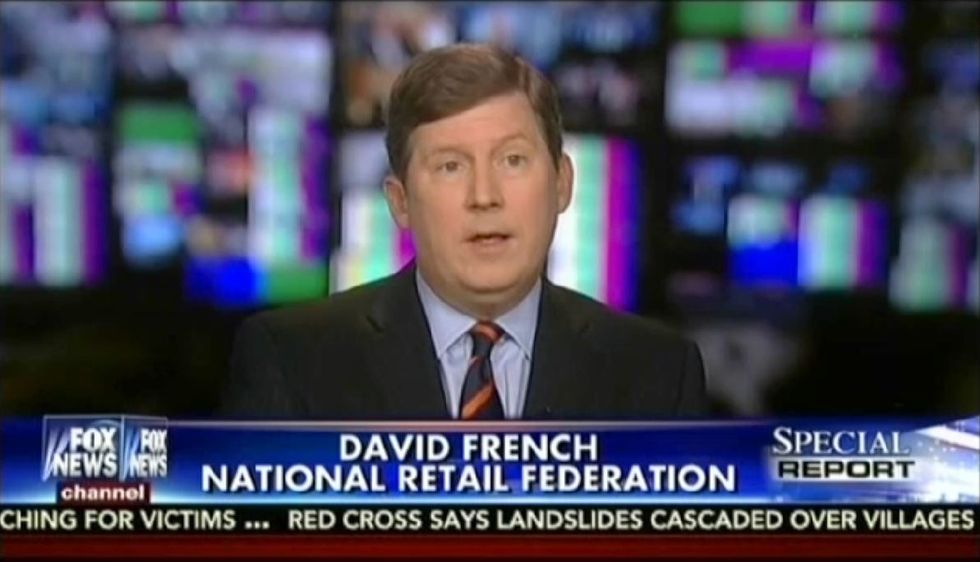 Published with permission from Media Matters.
Right-wing media and Republican politicians blasted the Labor Department's decision to update and expand overtime protections, clearly taking their cues from the National Retail Federation (NRF) — a business association known for spreading falsehoods on worker rights. The NRF and its allies are portraying overtime expansion as something that will hurt workers and the economy, ignoring the association's own report, which found that the change would likely result in new jobs and fewer unpaid hours for retail workers.
The Department of Labor released an update to overtime rules for salaried employees on May 17, raising the minimum annual salary threshold to qualify for guaranteed overtime pay from $23,660 to $47,476 — an announcement that was denounced by right-wing media. Conservative outlets claimed the rule was "interfering" with businesses and would result in less flexibility and possibly lower pay, citing the NRF's 2016 report "Rethinking Overtime" as proof, but they failed to acknowledge that the NRF has consistently opposed better pay for workers, fair scheduling, and collective bargaining rights. Contrary to claims that the expanded overtime will harm the economy, the NRF's own report found the overtime rule would lead to over 117,100 new part-time jobs.
The Wall Street Journal decried the updated overtime rule in a May 18 editorial, claiming employers will lower salaries as a result. The Journal cited the NRF study, which found that businesses will "shift about a third of salaried retail and restaurant workers to hourly status" and bizarrely pointed to the study's finding that one in 10 workers on salary will work fewer hours (which are already unpaid) as proof that the rule is not in the best interests of employers or workers. Townhall also pushed the narrative that salaried workers working fewer unpaid hours is a negative, citing NRF's report.
During NRF's campaign against overtime expansion, the lobbying group has claimed the new rule is "outrageous" and will force employers "to demote their middle management professionals to clock-punchers." On the May 18 edition of Fox News' Special Report, NRF senior vice president David French called the rule "a massive overreach." Earlier that day on Fox's America's Newsroom, correspondent Kevin Corke said the rule will mean "more red tape and fewer advancement opportunities" and falsely claimed that "most of the people impacted by this change will not see any additional pay." Sen. Tim Scott (R-SC) echoed NRF's statement on the May 19 edition of Fox Business' Varney & Co., claiming the overtime rule imposes "more red tape on job creators, which translates into fewer opportunities for people." In statements released May 18, Senate Majority Leader Mitch McConnell (R-KY) referred to the overtime rule as "more red tape" while House Speaker Paul Ryan (R-WI) claimed it was an "absolute disaster" that will end up "hurt[ing] the very people it alleges to help."
Despite the coordinated condemnation from conservative media outlets and politicians, overtime expansion is vitally important in a country where 50 percent of full-time workers already work more than 40 hours per week. In an April 21 op-ed in The New York Times, economist and former Labor Secretary Robert Reich argued that many Americans are unaware that overtime protections have eroded over generations, and he noted that working unpaid overtime limits worker productivity and hiring. Reich also pointed out that the proliferation of unpaid overtime contributes to soaring corporate profits.
The Economic Policy Institute (EPI) found that overtime expansion will "reduce excessive hours of unpaid work" while adding at least 120,000 jobs in the retail sector — the very one the NRF claims to represent. The rule change is also expected to change employer behavior; some employers will hire more workers, while other employers will become more efficient. Employees in many instances work unnecessary hours because company cultures value "how much people work (or seem to)" instead of "the quality of their output," according to an article by professors Erin Reid and Lakshmi Ramarajan in the June 2016 edition of the Harvard Business Review.
The NRF has a history of pushing a right-wing, anti-worker agenda. The group opposes collective bargaining and fair scheduling, and was an outspoken opponent of increasing the federal minimum wage to $10.10 per hour when the debate first gained prominence in 2014.