A Contrite Ray Rice Says He Hopes For 'Second Chance' In NFL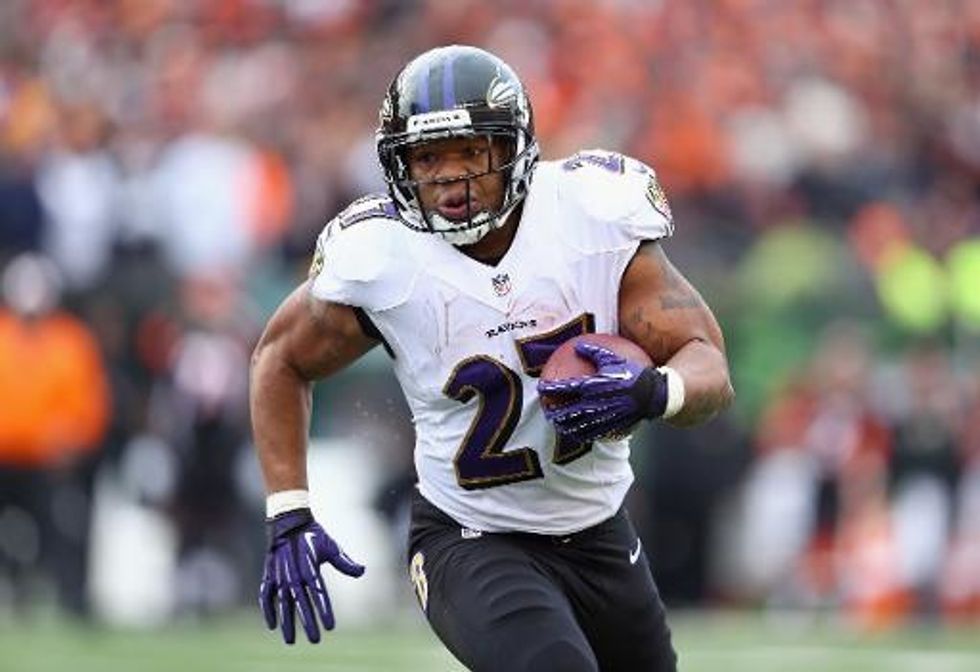 By Aaron Wilson, The Baltimore Sun (TNS)
Huddled around his wife and her parents in their New York home, former Ravens star Ray Rice made his first comments since he was reinstated from an indefinite NFL suspension for violating the league's personal-conduct policy.
During an interview that aired Tuesday morning on NBC's Today, the three-time Pro Bowl running back was asked what he would say to an NFL owner or group of fans to convince them he should get another opportunity to play.
"One thing I would think they would have to be willing to look deeper into who I am and realize me and my wife had one bad night and I took full responsibility for," Rice said. "One thing about my punishment is I accepted it. I went fully forward with it. I never complained. I never did anything like that. I took full responsibility for everything that I did. The only thing that I can hope for and wish for is a second chance."
Rice was arrested in February after knocking out his then-fiancee in an Atlantic City casino elevator. He was charged with felony aggravated assault but avoided jail time through a pretrial intervention program.
The interview with Matt Lauer touched on several topics, including a controversial news conference held in May at the Ravens' training complex, where Rice apologized to several people in the Ravens organization, but not his wife, who sat next to him. Rice acknowledged he should have apologized to his wife. He also referenced what his wife, Janay, said during an interview that aired Monday, that the Ravens gave her suggestions of what to say.
"The reason why that press conference was the way it was is because we were still under legal situations," Rice said. "So, there wasn't much that could be said. I'll be honest. We were nervous. I was nervous. It was the first time that we were available to speak and I made a horrendous mistake not apologizing to my wife.
"When we were going in we were given what to speak about. It wasn't truly coming from us if you can understand. I made that clear the last time I was able to speak: My wife is an angel, she can do no wrong. I take fully responsibility for my actions."
Janay Rice's apology during that news conference raised eyebrows as well. Ray Rice said that was a matter of his wife attempting to help him at a time where they were under major scrutiny.
Rice was originally suspended for two games by NFL commissioner Roger Goodell, who later increased the suspension to an indefinite one in September when a graphic video surfaced on TMZ of Rice knocking out his wife with a punch. Following an appeal hearing where his lawyer, Peter Ginsberg, argued that Rice was being subjected to double jeopardy and punished twice for the same violation, Rice was reinstated Friday by former federal judge Barbara S. Jones.
"In hindsight, I think she (apologized) that because she knows what I do for a living," Rice said. "She understood my job and my profession. They were thinking her doing that to take light off the situation. I appreciated it, but that's not what the big deal is. The big deal is for me to always protect her and that's why I take full responsibility. She can do no wrong. This is something as a man you have to own and we're horribly sorry and I'm horribly sorry for everything I ever put my family through."
Turning emotional, Rice talked about their young daughter, Rayven, and what she'll have to go through in the fallout from her parents' high-profile fight.
"I still have to live every day and take my daughter to school," Rice said. "She's going to grow up, and the way the Internet works now she's going to Google her father's name and the first thing that's going to come up is we know what's going to come up. That's the reality of it. That's what I'm more worried about fixing.
"I want my wife, my daughter we all just want our lives back. I realize football is one thing. Now, I realize the amount of people we've affected, the amount of families we've affected."
Keeping with a message his wife delivered, Ray Rice insisted that he and his wife aren't involved in a pattern of abuse and that this was an aberration in their relationship.
"Domestic violence is a real issue in society," Rice said. "We can take our one bad night that happened to be on video, but we are truly sorry for the people who's truly going through it. It's a real problem. I know when the time is right. I know my wife wants to help. I know I want to help."
Rice insisted that this was a one-time incident and that he and his wife weren't in a relationship where violence was commonplace.
"One thing you learn is we weren't in a perfect relationship," he said. "No relationship is perfect. We've had arguments but you talk about abuse that's something that we know we've never crossed that path. Did we say things to each other that we want to take back at times? Yeah, we've crossed that line, but it never got to an altercation that went that far. That was very uncharacteristic. I take responsibility. That was very uncharacteristic."
Janay Rice has received criticism for staying with her husband because of his status as a professional football player. Ray Rice denied that characterization of his wife.
"I knew my wife before I had anything," said Rice, who first met Janay when they were teenagers. "She knows where I'm from. We both know where we came from. To be honest with you, she's very independent. My wife could survive in this world without me. She could survive in this world in society without me.
"She could have done it on her own. The one thing I want people to understand is that she sacrificed her well-being for me and now the roles a little bit reversed. I'm sacrificing my well-being for her. If I never play football again, I will be honest with you, I would definitely sacrifice more so she can have a better future."
At that point, Janay Rice said: "I know he wants to play football, but regardless I know he'll support me in anything I want to do. If he doesn't play football again, maybe I'll step in and I'll be the provider."
At the start of the interview, Ray Rice said the entire situation has brought him closer to his family.
"For me, it's definitely been a coming together for all of us," he said. "Me and my wife my mother and my father, my relationship with my father is something that I cherish. It's something I didn't have growing up. I'm just blessed to be in this family."
Rice and his wife have been in counseling since the incident last winter, and he was asked what that experience has done for him as a person.
"Counseling, I'll be honest, what my counselor basically did is rip me apart and build me back together," Rice said. "I couldn't resist it. That was the thing. I was able to let somebody else in and literally tear me down. There was so much you didn't know about yourself. You grow up and you think you know it all.
"I had a ceiling over my head. I was a professional athlete. That ceiling, you sometimes put yourself in a place and you don't really understand where you're going, but somebody else tells you that's not reality."
AFP Photo/Andy Lyons