GOP Donor Accuses Lewandowski Of 'Sexually Graphic' Harassment At Vegas Fundraiser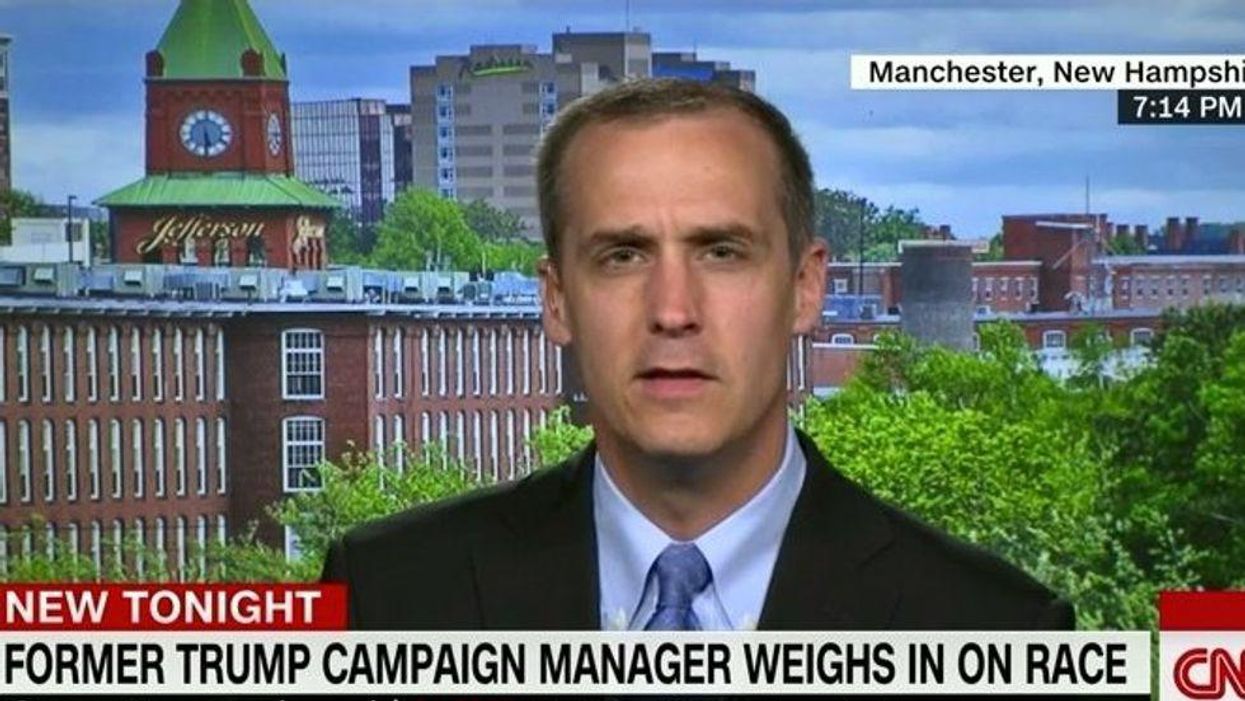 Reprinted with permission from AlterNet
A longtime aide to former President Donald Trump is facing accusations of misconduct after allegedly inflicting brazen, repeatedly rejected sexual overtures, including physical contact, on a female Republican donor.
According to Politico, Trashelle Odom — wife of Idaho executive John Odom — is accusing Corey Lewandowski of "making unwanted sexual advances" toward her at a charity event that was held in Las Vegas, Nev., this past weekend. Odom "alleges that Lewandowski repeatedly touched her, including on her leg and buttocks, and spoke to her in sexually graphic terms" while they were at the event.A donor and longtime aide for former President Donald Trump is facing accusations after allegedly making sexual advances toward a female victim.
Speaking to Politico, Odom recounted what occurred on September 26 when she crossed paths with Lewandowski.
"On the evening of September 26 in Las Vegas, Nevada, I attended a dinner to support a charity and spend time with wonderful friends," Odom said in a statement to the publication. "He repeatedly touched me inappropriately, said vile and disgusting things to me, stalked me, and made me feel violated and fearful," she said in reference to Lewandowski.
Odom went on to explain why she is speaking out about the encounter. "I am coming forward because he needs to be held accountable," she continued. "I am blessed to have a loving husband and family behind me. I want other women to know that you can be heard, too, and together we can stop terrible things like this from happening."
Odom's attorney has also released a statement detailing his client's account. According to the attorney, Lewandowski aggressively pursued Odom as he made advances "approximately 10 times."
"Mrs. Odom stated that over the course of the dinner, Mr. Lewandowski tried to hold her hand, and she pushed his hand away. He touched her leg, and she moved it away. He grabbed her napkin off her lap and tried to touch her leg again, and she pulled her dress over her leg, to move his hand away and cover her skin," Odom's attorney wrote in the statement.
"He touched her back and she tried to get away," the statement continued. "He described an area where he was sore from a workout, on the side of his butt, but he demonstrated this by touching her there—on the upper side of her rear end. Lewandowski tried to touch her approximately 10 times, and Mrs. Odom always rebuffed him."
In wake of the latest allegations, David Chesnoff, the Las Vegas-based attorney representing Lewandowski, also released a brief statement in response to the situation. However, he did not directly address Odom's allegations. "Accusations and rumors appear to be morphing by the minute and we will not dignify them with a further response," he said.
EDITOR'S NOTE: On Wednesday evening, the Trump apparatus announced that the former president has severed ties with Lewandowski, according to this tweet posted by New York Times correspondent Maggie Haberman:
Lewandowski out, per Trump spokesman: \u201cPam Bondi\u2026has our complete faith and confidence in taking over MAGA Action. Corey Lewandowski will be going on to other endeavors and we very much want to thank him for his service. He will no longer be associated with Trump World.\u201d

— Maggie Haberman (@Maggie Haberman) 1632962649