Cornered By Mueller, Trump Hires A Hatchet Man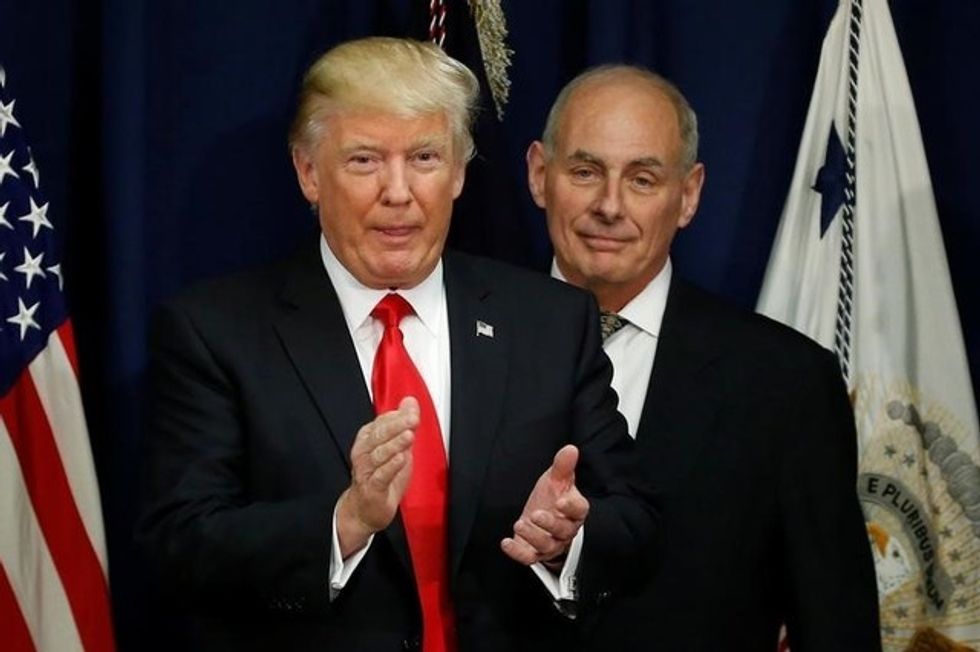 Reprinted with permission from AlterNet.
With the hiring of talking head attorney Joseph diGenova for his legal team, President Trump signaled Monday how he plans to fend off special prosecutor Robert Mueller's investigation: with a conspiracy theory.
Trump's previous defenses have been overwhelmed by an avalanche of facts. The president's claim that the charges of collusion between his campaign and the Russian government are a "hoax" and "fake news" have been refuted by guilty pleas from three former top aides, Michael Flynn, George Papadopoulos and Richard Gates. All three have admitted making false statements to Mueller's investigators.
The indictment of 13 Russians for interfering in the 2016 election is replete with references to collaborating Americans "known and unknown to the grand jury." In light of Mueller's recent subpoena for the records of the Trump Organization, those words elevate the threat to the White House.
By firing career FBI agent Andrew McCabe, denouncing Mueller's alleged "Witch Hunt" and hiring diGenova, Trump is doubling down on the theory that a cabal of liberal FBI agents and Justice Department officials have invented the charges against him. DiGenova will fill in the details.
Hatchet Man
DiGenova is a theatrical character. The son of an opera singer, he grew up fascinated by politics. He worked on the Church Committee, which investigated the CIA in the mid-1970s. He became chief of staff for Republican Senator Charles Mathias, a moderate, and then U.S. attorney for the District of Columbia. In the 1980s, he launched the corruption investigations that would eventually ensnare D.C. Mayor Marion Barry.
"Barry didn't understand that law enforcement is a continuum, and that there are a lot of people who care about corruption," diGenova once said, an observation that also applies to his newest client.
DiGenova can't help Trump and Co. much on the legal front. All the president's men are learning that bleating "Benghazi" or "email server" may appeal to Fox News and Breitbart editors, but provides no protection from a subpoena or jail term. And so guilty pleas and cooperating witnesses are proliferating.
DiGenova first emerged as a partisan hatchet man during Bill Clinton's presidency when he was deeply offended by the president's affair with Monica Lewinsky.  At that time, diGenova argued that a sitting U.S. president could be indicted. In the Wall Street Journal he wrote:
"The nation, in fact, could conceivably benefit from the indictment of a president. It would teach the valuable civics lesson that no one is above the law."
Since then diGenova and his wife Victoria Toensing, also an attorney, have built a law practice while forming a partisan attack team.
Toensing has been pushing the Uranium One conspiracy theory in order to undermine Mueller, talking about it no less than 18 times on Fox News. The Uranium One theory contends that Hillary Clinton approved the sale of America's uranium to Russia in order to pay back a Clinton Foundation crony.
Toensing's hobby horse is hobble by the facts: nine federal agencies approved the sale. Clinton was not involved in the decision, and no uranium left the United States. (See Politifact for the details.)
DiGenova has already weaponized his conspiracy theory. In January, he told Fox News, "There was a brazen plot to illegally exonerate Hillary Clinton, and if she didn't win the election, to then frame Donald Trump with a falsely created crime," he said. "Everything we have seen from these texts, and from all the facts developing, shows that the FBI and senior DOJ officials conspired to violate the law, and deny Donald Trump his civil rights."
The beauty of this defense is that nobody in the Justice Department has found much evidence to support it. The texts, to which diGenova referred, have already leaked. While they disclosed some anti-Trump exchanges among FBI officials no longer involved in Mueller's investigation, they revealed no conspiring or violations of the law. The absence of evidence is cited by diGenova as proof that the Justice Department and the FBI are biased.
Target: Wray
Now that Trump is no longer pretending to cooperate with Mueller, we can expect two themes to emerge from the White House defense team.
First, FBI director Christopher Wray will be subject to the McCabe treatment: vilification in the conservative media, followed by firing.
"Wray's performance has been extremely unimpressive, with regard to how to lead an agency during a time of crisis, how to respond publicly, how to respond to Congress, how to carry out your duties," diGenova said. "It has been an abysmal performance by Director Wray. "
Just as firing McCabe was a way of testing if any important Republicans would object to Trump's politicization of the Justice Department (answer: no), the smearing of Wray will measure if any influential Republicans will object to the firing of Mueller. (Answer: probably not.)
Second, we can expect to hear a chorus of demands, first from the right-wing media platforms that the Justice Department must appoint a special prosecutor or impanel a grand jury to look into the unsupported allegations of an anti-Trump conspiracy.
"We're long past the time when that should have been done," diGenova said in January. "I hope they have. If they haven't I can't imagine they are not about to do so shortly."
When no such thing happens—because there is no evidence to justify it—Trump can claim that the "system is rigged" against him. Then he will have both the excuse to fire Mueller and an army of apologists who will say the Justice Department's "witch hunt" gave him no choice.
But Trump has tweeted about witch hunts before, with telling results.
In 2011, Trump said that sexual harassment allegations against Republican presidential candidate Herman Cain amounted to a "witch hunt." In fact, Cain had paid settlements to two women who accused him of sexual misconduct.
In 2015, Trump endorsed the idea that New York state's investigation of the ripoff factory known as Trump University was a "Liberal Witch Hunt." In November 2016, he paid $25 million to settle the litigation.
When Trump and diGenova talk about a witch hunt, chances are the target is already in deep legal trouble.