House Democrats Demand Corruption Probe Of Former Trump Interior Chief
@next2godwin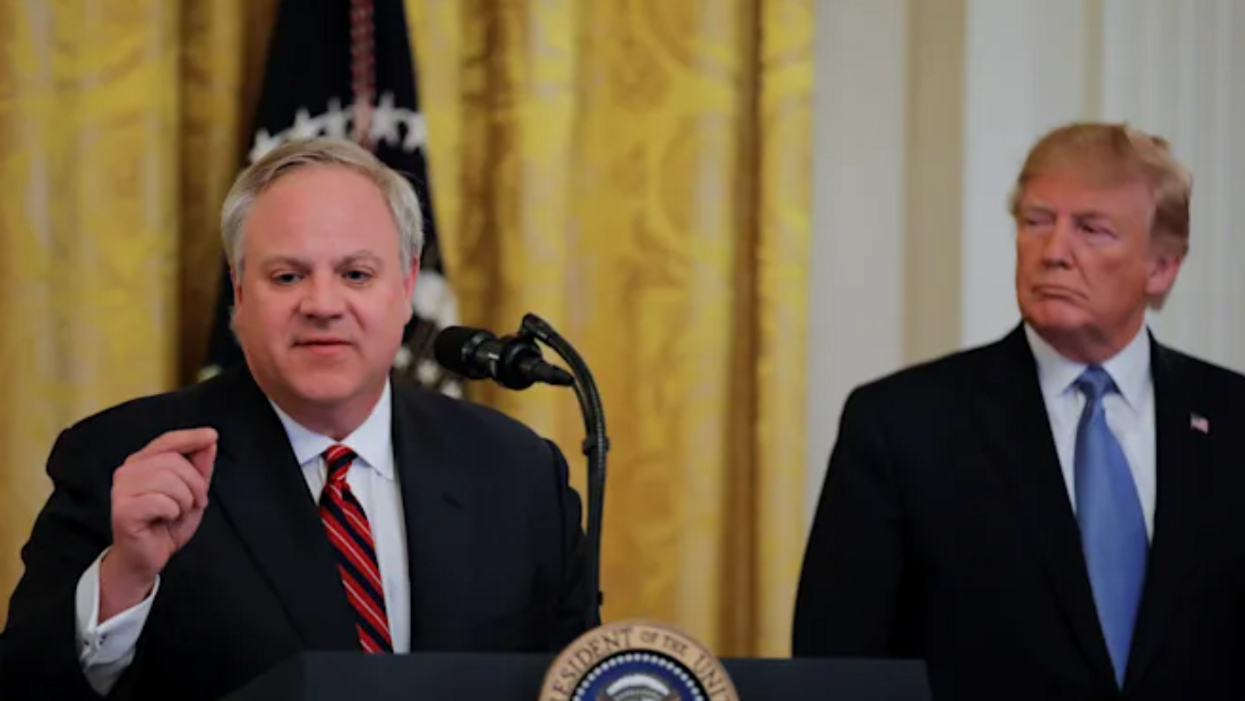 Photo by Reuters
Top Democrats on the House Natural Resources Committee have taken former Interior Secretary David Bernhardt to task for alleged corruption and called on the Justice Department to launch a criminal investigation into his alleged quid-pro-quo with an influential pro-Trump developer from Arizona for a housing permit.
In a 37-page letter to Attorney General Merrick Garland, Reps. Raúl Grijalva (D-AZ), the committee chairman, and Katie Porter (D-CA), chair of the subcommittee on oversights and investigations, accused Bernhardt of misusing his office to effectuate "federal agency decision-making … in the interest of private gain rather than the American people."
Bernhardt, the lawmakers said, pressed an official to approve a permit for developer Michael Ingram, a Republican donor, despite warnings from multiple officials that developments could harm endangered species.
From 2019 to 2021, Bernhardt led the U.S. Interior Department as its secretary. He was the department's no-2 man in 2017 when a departmental agency, the Fish and Wildlife Service (FWS), suddenly reversed its longtime demand for an environmental review of a proposed development of a 28,000-home residential area in Southern Arizona, known as Villages at Vigneto.
Grijalva and Porter said the committee opened an extensive investigation into the decision in 2017, after Steve Spangle, an FWS employee, complained to news outlets that he was politically pressured into approving the development when he was an Arizona Ecological Services Field Office supervisor.
Officials warned that issuing a Clean Water Act permit could threaten endangered species, such as the southwestern willow flycatcher and yellow-billed cuckoo, in the area, which is home to birds and the northern Mexican garter snake, according to the Associated Press.
Bernhardt, the Democrat lawmakers write in their letter, met Ingram in August 2017 but didn't disclose it in his public calendar or travel documents. Two weeks after that meeting, a phone call was allegedly placed to the Interior Associate Solicitor Peg Romanik, ordering him to reverse the FWS's decision to block the project.
Two months later, Ingram donated $10,000 to the Trump Victory Fund, which was reportedly used in a collective GOP effort to funnel millions of dollars to reelect Trump. The permit was approved later that month, the lawmakers' letter alleged. In the days that followed, Ingram and his associates made "highly unusual out-of-cycle donations" of almost $242,000 to Trump's fund, the lawmakers complained.
"Evidence strongly suggests the decision was the result of a quid pro quo between Vigneto's developer, Michael Ingram, and senior level officials in the Trump administration, potentially including then–DOI Deputy Secretary David Bernhardt," the Democrat lawmakers wrote.
Ingram, the latter says, had "frequent access to high-ranking officials across the Trump administration,″including Bernhardt; Ryan Zinke, the Interior Secretary from 2017 to 2019; and Scott Pruitt, the 2017-2018 Administrator of the U.S. Environmental Protection Agency.
"The findings of this investigation show us yet again that the previous administration cast career staff expertise aside while they handed out federal agency decisions to Trump's buddies and big donors on a pay-to-play basis," Grijalva said in a statement.
When reached for comment about the committee's findings and letter, Bernhardt snapped, calling it "a pathetic attempt by career politicians to fabricate news."
Lanny Davis, an attorney for Bernhardt's company, El Dorado Holdings, called the committee's findings "false, misleading, [and] unfair" and said it struck him "as reminiscent of McCarthyism's use of innuendo as a surrogate for fact."