Counter-Terror Agency Sees 'Heightened Threat' From Violent Right-Wing Extremists
@DevilsTower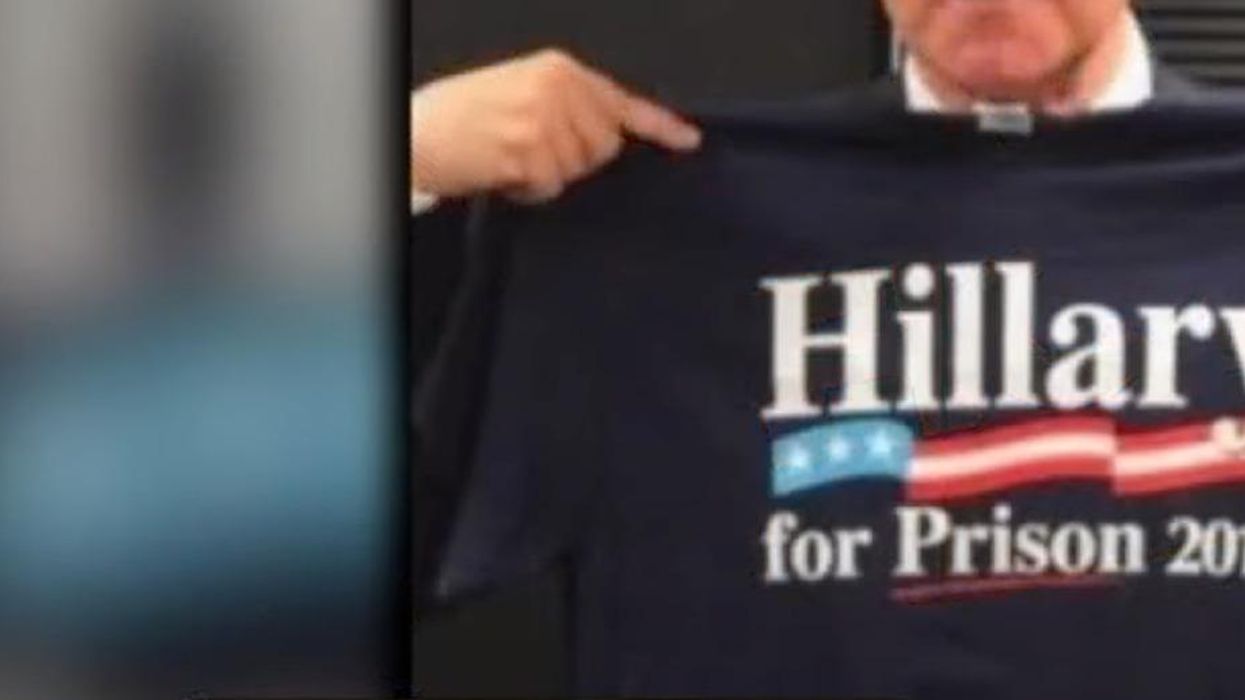 Youtube Screenshot
With public hearings about to resume from the House Jan. 6 committee, and midterm elections coming up in November, the Department of Homeland Security is warning that there is an increased threat of violence from those who believe Republican lies about the 2020 election.
On Tuesday, the National Terrorism Advisory System put out a bulletin warning of a "heightened threat environment" with possible targets, warning that "[t]hese targets could include public gatherings, faith-based institutions, schools, racial and religious minorities, government facilities and personnel, U.S. critical infrastructure, the media, and perceived ideological opponents."
In other words—the threat is everywhere. Apparently, a whole lot of America needs to be hardened and a whole lot of doors need to be locked over the coming months
The upcoming midterms are the first nationwide elections to take place in the wake of January 6. While most Republicans had an immediate reaction of both condemning the events of that day, and blaming those who supported lies about the election, it took only days for Republicans to swing back into the orbit of Donald Trump. Only two months after the attack on the Capitol, a Monmouth poll showed that 65 percent of Republicans believed that President Joe Biden had only been elected because of "voter fraud."
In spite of all evidence—including Republican-led "audits" in states like Arizona—which found no evidence of such fraud, by November the number of Republicans saying that Biden had not been legitimately elected had grown to 73 percent of all Republicans.
A May NPR article showed that many workers who should be preparing for the upcoming midterms, are still spending a lot of their time facing hostile calls about the 2020 results, demands for more audits, and personal threats. Across the country, Republicans have put in place officials and boards who campaigned on the theme that the 2020 election was illegitimate.
With nearly three-quarters of Republicans buying into the right-wing claims that the election was fraudulent, it's not hard to believe that some fraction of that group would believe that any action is justified to remove what they see as an illegitimate government. These extremists are building a tower of grievances, pushing the idea that violence is the only answer.
Individuals in online forums that routinely promulgate domestic violent extremist and conspiracy theory-related content have praised the May 2022 mass shooting at an elementary school in Uvalde, Texas and encouraged copycat attacks. Others have seized on the event to attempt to spread disinformation and incite grievances, including claims it was a government-staged event meant to advance gun control measures.
In particular, claims about the election are being welded to the anti-immigrant, anti-Black "great replacement" conspiracy theory that has been pushed not just in the torch-bearing ranks of white nationalists, and not just in 4Chan-inspired online sewers, but by commentators like Fox News' Tucker Carlson.
The shooter in Buffalo New York was motivated by these claims. So was a man who shot six members of a Taiwanese church in California last month. Like the false narrative about the election, the great replacement conspiracy has become standard fare in the Republican Party. When tens of millions of people buy into a theory that claims there is a plot to strip them of their livelihoods, or even lives, some of them will react violently. Fox and others are doing everything they can to make sure that tens of millions believe.
We assess that there is increased risk of domestic violent extremists using changes in border security-related policies and/or enforcement mechanisms to justify violence against individuals, such as minorities and law enforcement officials involved in the enforcement of border security.

In fact, almost every false claim being pushed by the right—ideas that Democrats have 'thrown open the borders,' lies about critical race theory in schools, fear-mongering about gay and trans people, a demonization of Democratic officials, and government in general—are likely to find traction among people with access to an AR-15. Which is, of course, anyone who wants one.
Reprinted with permission from DailyKos.