Some Cry Foul In Israel As U.S. Donors Give To Political Causes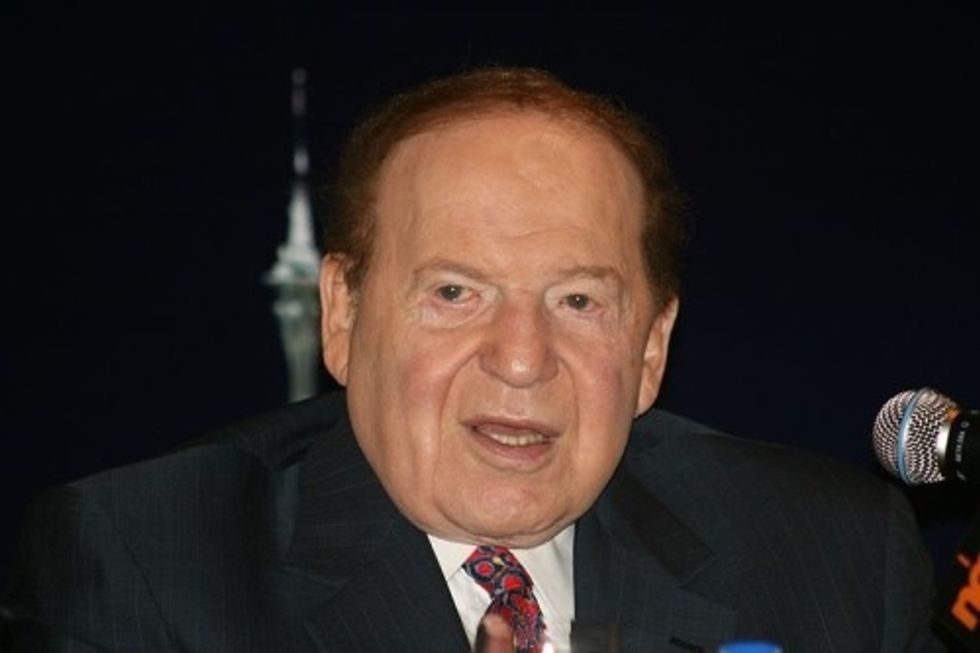 By Calev Ben-David, Bloomberg News (TNS)
JERUSALEM — In a Tel Aviv storefront, 84-year-old volunteer Zelda Harris is working the phones for the V15 group, which is trying to unseat Prime Minister Benjamin Netanyahu. U.S. billionaire S. Daniel Abraham, founder of Slim-Fast Foods, is helping pay for the effort.
Across Israel, men and women in red jumpsuits hand out copies of Israel Hayom, a pro-Netanyahu daily. The paper is financed by American gambling tycoon Sheldon Adelson.
Critics are concerned that cash from overseas donors will affect next month's vote. "I would like to see foreign money out of Israeli politics," said Hebrew University of Jerusalem political science professor Menachem Hofnung. "Legally, it would be very difficult to do" because "you can't stop people from funding certain ideas," he said.
The law prohibits foreigners and Israelis living overseas from donating directly to candidates' campaigns in the general election. The influence wielded on the public by a daily newspaper or a privately-funded organization can't be quantified.
Although foreigners have been active in Israeli elections for the past two decades, the issue has assumed a higher profile this time.
Netanyahu's Likud, which has pulled slightly ahead of his Labor-led chief rival in most polls, has attacked V15 — short for Victory 15 — and dredged up old allegations of foreign campaign funding violations against Labor Chairman Isaac Herzog. He was never charged.
Likud asked the Central Elections Committee and police to investigate whether V15 has violated election campaign laws because of its ties to OneVoice, a group that advocates peace between Israelis and Palestinians. OneVoice had Labor figures on its advisory board and has received funding from the U.S. and European governments.
"V15 and its sub-organization One Voice have numerous Labor lawmakers and candidates for the current Knesset who serve on their boards and as key activists," the Likud said in an emailed statement. "Their actions can only be understood as endorsing Isaac Herzog's Labor party."
Netanyahu allies have also asked whether V15's hiring of Jeremy Bird, national field director for President Barack Obama's 2012 campaign, is a sign that the White House is backing efforts to defeat the prime minister.
A Netanyahu backer in Congress, Senator Ted Cruz (R-TX), asked Secretary of State John Kerry whether U.S. funds to OneVoice have been used for V15 "or any similar effort to exert undue influence over the Israeli political process." State Department spokeswoman Jen Psaki called the allegations an "absolutely false report."
Netanyahu critics find Likud's attacks on foreign funding ironic given his backing from Adelson, perceived support for Mitt Romney when he challenged Obama in the 2012 presidential race, and a planned speech to Congress that's expected to attack U.S. policy on Iran. That address, they add, lets him leverage U.S. ties for an unfair profile boost just two weeks before Israel's election.
"This corrupts the Israel-U.S. relationship for campaign purposes," Labor lawmaker Nachman Shai wrote on Facebook.
Labor Chairman Herzog called the Likud attacks on V15 an attempt to divert attention from accusations that Netanyahu and his family illicitly accepted free travel and that his wife pocketed state money from empty bottle returns. The Netanyahus deny wrongdoing and no charges have been filed.
"We have no connection whatsoever to the activities of V15," Herzog said on Channel 2 on Feb. 1.
V15 spokesman Ori Ramati describes the group as a purely grassroots Israeli movement that's been transparent about its funding and abides by the law.
"The attacks on us reflect the panic and hysteria of the Likud and the right," he said.
The anti-Netanyahu Haaretz daily said in a Feb. 2 editorial that both V15 and Likud should be investigated for possible campaign misconduct.
Most polls show Likud leading the Labor-led slate of parliamentary candidates by one to three seats, and returning as many as 26 members to the 120-member Knesset.
Foreign support for Israeli politicians stretches back to the state's earliest days. It became a high-profile issue when Australian mining magnate Joseph Gutnick financed a publicity campaign before the 1996 election. The slogan was, "Netanyahu is good for the Jews."
Foreign donations to candidates are permitted only for party primaries. Almost all of the $320,000 Netanyahu received for his Likud leadership race in December came from U.S. contributors, according to the Central Elections Committee, which limits individual donations to about $12,000. Herzog received a third of his funding from foreign donors in his party's 2013 leadership race.
At V15's Tel Aviv headquarters, Harris, the British-born octogenarian activist, brushes off the controversy swirling around the group, focusing on the effort to oust Netanyahu.
"I believe there's a chance, because I've been in this country 65 years and I've never seen a dynamic like this in an election," Harris said.
Eytan Gilboa, professor of political science at Bar-Ilan University outside Tel Aviv, deplored the outside influence.
"Just as Israelis should not be seen interfering in U.S. politics, Americans should not be seen interfering in Israeli politics," he said by phone.
Photo via Wikimedia Commons