Curbing Traffic Stops Would Save Lives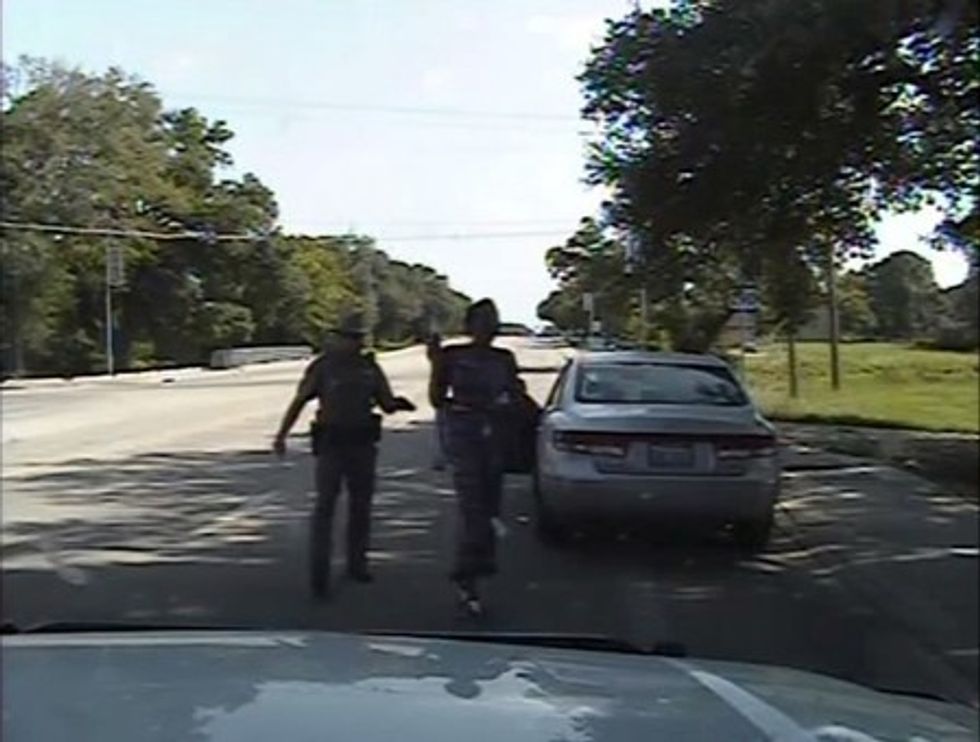 Reprinted with permission fromCreators.
Last weekend, in the wee hours of the night, Chicago police stopped a car carrying four people. When officers approached it, they saw a passenger holding a gun. The outcome was a familiar one: an 18-year-old man was shot by police.
Too often, traffic stops lead to tragedy. Philando Castile was shot to death in his car by a police officer in Minnesota. Last week, a mistrial was declared for a University of Cincinnati officer prosecuted for killing 43-year-old Samuel DuBose, whose car had a missing front license plate. Sandra Bland, yanked out of her car by a Texas state trooper after allegedly failing to signal a lane change, died in jail. All three victims were black.
Cops are also at risk. In March, a police officer died in a shootout with a passenger who ran from a car that had been pulled over in Tecumseh, Okla. In June, a police lieutenant was fatally gunned down after a stop in Newport, Arkansas.
When an officer stops and approaches a vehicle, both the cop and the driver are vulnerable. Any wrong move or misjudgment can turn the encounter deadly.
"Traffic stops and domestic violence are the highest-risk calls — you have no idea what you're walking into," John Gnagey, executive director of the National Tactical Officers Association, told the Orlando Sentinel in 2010.
Even when motorists get off unharmed, the experience can be frightening, infuriating or humiliating. Stops breed fear and distrust of law enforcement, particularly among minorities.
So why do cops rely so much on the practice? Enforcing traffic laws is a large share of what they do. Ignoring motorists who drive too fast or ignore signals could foster chaos on the road.
But there are other ways to combat bad driving. University of California, Berkeley law professor Christopher Kutz points out that police in France do traffic stops at less than one-third the rate that American cops do. In England and Wales, it's one-fourth.
The obvious alternative is using cameras. Speeders and red-light runners can be detected and ticketed by electronic means. Upon paying the fine, says Kutz, the offenders could be required to show that they are licensed and insured.
I've gotten citations from red-light and speed cameras, and while I resented the fines, I was grateful that I wasn't detained on the roadside by an armed officer. The time I got a mere warning for (barely) failing to come to a complete stop on an empty suburban street after midnight was considerably less pleasant.
Being a gray-haired white male, I've been pulled over only three times in my adult life. Castile, 32, had been through that experience 49 times — and "was rarely ticketed for the reason he was stopped," according to the StarTribune of Minneapolis-St. Paul.
Joel Anderson, an African-American reporter for BuzzFeed, said on Twitter last month that he's been stopped more than 30 times since he started driving — including five times for seatbelt violations when he was wearing his seatbelt.
Traffic stops are often an excuse for cops to search a car for drugs and guns. Curtailing police reliance on this pretext would free motorists from being dragooned to "consent" to searches for which the cops lack probable cause.
True, the change would let criminals operate at less risk. But hassling the innocent to catch the guilty is an abuse of our constitutional principles. In Illinois last year, police conducted 2.17 million traffic stops. Just 8,938 yielded contraband — one bust for every 242 stops.
The rare instances when police find evidence of a crime, Kutz told me, "don't justify the enormous social costs of widespread police interventions." This is an extremely inefficient way of detecting drug and gun crimes.
It's also often discriminatory. "Minorities are more likely to be asked for consent to search, and less likely to have contraband," notes Karen Sheley, police practices director of the American Civil Liberties Union of Illinois.
The best option is not to abolish police traffic stops entirely, but to use them only when absolutely necessary. Accidents and impaired driving would require cops to deal face-to-face with motorists. But police could address missing license plates and broken taillights by taking photos and issuing tickets electronically.
One of the chief purposes of law enforcement is enhancing public safety. Curtailing traffic stops wouldn't make the roads more dangerous. But it would save the lives of motorists and police who are now put in peril for no good reason.
Steve Chapman blogs at http://www.chicagotribune.com/news/opinion/chapman. Follow him on Twitter @SteveChapman13 or at https://www.facebook.com/stevechapman13. To find out more about Steve Chapman and read features by other Creators Syndicate writers and cartoonists, visit the Creators Syndicate website at www.creators.com.