Day Two Of Gaza Truce, Egypt Begins Shuttle Diplomacy
@AFP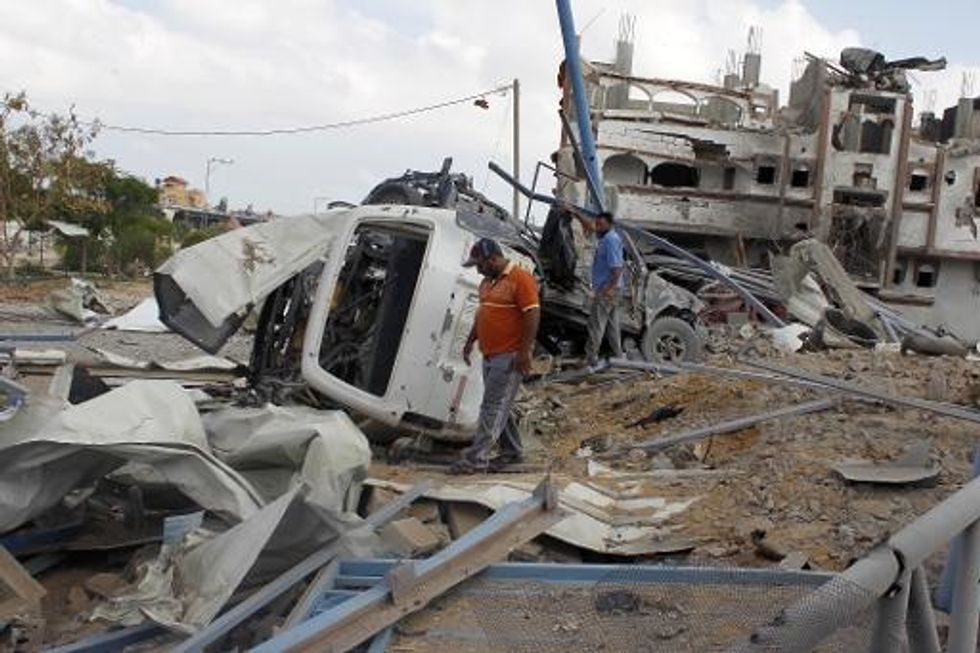 Gaza City (Palestinian Territories) (AFP) – Life in the battered Gaza Strip began returning to normal Wednesday as a ceasefire held for a second day and Egyptian mediators engaged in shuttle diplomacy on extending the truce.
Shops, banks and markets reopened around the devastated enclave where residents seemed more confident that the 72-hour ceasefire, which began Tuesday, would hold after a month of fighting killed 1,875 Palestinians and 67 on the Israeli side.
Many small businesses reopened for the first time in days and dozens of fishermen also headed back out to sea, an AFP correspondent said.
People started repairing damaged property, as the emergency services cleared rubble and searched for bodies in the worst hit areas, including in the Tuffah, Beit Hanun and Shejaiya neighborhoods.
Nearly half a million Palestinians out of Gaza's 1.8 million people were displaced by Israeli bombardment, and many are still sheltering in schools after their homes were flattened in the offensive.
Palestinian deputy economy minister Taysir Amro has estimated the total damage from the 29-day war at up to $6 billion (4.5 billion euros).
In Cairo, efforts accelerated to try to secure a lasting peace after mediators met an Israeli delegation during the night and were to relay their demands to a Palestinian team.
Egyptian officials, with likely input from the United States, are likely to face tough talks aimed at securing a permanent ceasefire as Israel and the Palestinians press conflicting demands.
Palestinian negotiators said they would respond to Israel's terms through Egyptian intelligence officials, although top Hamas figures have already signaled they will not give way.
Ismail Haniya, former prime minister of Gaza and the second-in-command of Hamas's political bureau, was defiant ahead of the talks.
"Our delegation to Cairo has a united people behind it, a valiant resistance and huge sacrifices, and it will not yield on any of our demands," he said in a statement.
Ezzat al-Rishq, a senior Hamas official, also appeared to reject Israel's demand that Gaza be disarmed.
"We will not listen to any proposal on this matter," he told AFP.
"Whoever tries to take our weapons, we will take his life," he tweeted.
The Palestinians insist that Israel end its eight-year blockade of Gaza and open border crossings.
U.S. Secretary of State John Kerry called in a BBC interview for a sustained ceasefire, but stressed that the crucial wider issues will need to be addressed.
"How are we going to eliminate these rockets? How are we going to demilitarize and move towards a different future?" he asked.
A State Department spokeswoman said Washington was "determining at what level and in what capacity and when" it would join the mediation.
International Middle East peace envoy Tony Blair and UN Middle East peace process coordinator Robert Serry are also scheduled to meet Egyptian officials later Wednesday.
In Israel, newspapers analysed the successes, failures and shortcomings of the offensive that failed to take out top Hamas leaders and left the Islamist movement still powerful.
A poll published by in the daily Haaretz said a majority of Israelis thought there had been no victor.
Fifty-one percent of respondents said neither side had won, 36 percent said they thought Israel had won, and just six percent thought Hamas had emerged victorious.
"Guys, stop this talk of defeat. We weren't defeated. We won big in every sense," Lieutenant Colonel Ori Schechter told army radio, batting aside domestic criticism about the operation.
The current truce is the longest period of calm since Israel began air strikes over Gaza on July 8.
A previous attempt to observe a 72-hour humanitarian truce on August 1 — brokered by Washington and the UN — was shattered after just 90 minutes.
Israel has withdrawn its troops, ending the ground operation aimed at destroying Hamas's tunnels, but the army says it stands ready to respond to any truce violations.
The Palestinian health ministry said 1,875 Palestinians were killed during the conflict, including 430 children, and said 9,567 people were wounded, including 2,878 children.
The United States and United Nations have welcomed the truce, saying the onus was on Hamas to keep its part of the deal.
Israel has been subject to increasingly harsh criticism over civilian casualties in Gaza.
A British parliamentary committee report said Wednesday excessive Israeli restrictions on Palestinian territories cannot be justified on the grounds they protect the Jewish state.
The Israeli army says it destroyed 32 cross-border tunnels, struck nearly 4,800 targets and killed 900 Palestinian "terrorists".
"We expect that they still have about 3,000 rockets left. This is a challenge we have to address," army spokesman Lieutenant Colonel Peter Lerner said.
AFP Photo/Said Khatib