Deadline Nears For A Nuclear Deal With Iran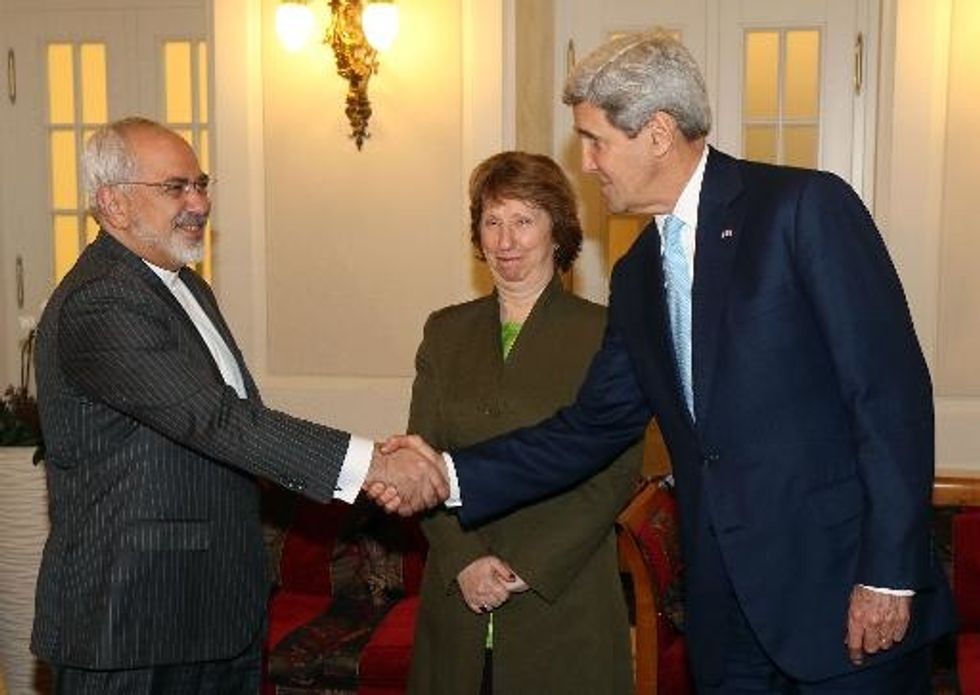 By Paul Richter, Tribune Washington Bureau (TNS)
VIENNA — Iran and six world powers on Sunday began a round of meetings in search of a deal on Tehran's nuclear program, hoping that the approach of a negotiating deadline at midnight Monday would lead to last-minute concessions.
Despite signs that a comprehensive deal is not yet within reach, U.S. Secretary of State John Kerry met with Iranian Foreign Minister Mohammad Javad Zarif and European Union envoy Catherine Ashton for a fifth time in the round of talks that began Tuesday. Kerry met for an hour with Saudi Foreign Minister Saud Al Faisal, and was scheduled to meet again with Zarif, before dining with Ashton and the foreign ministers of France, Britain and Germany.
The two sides are seeking a deal that would give Iran relief from international sanctions if it agrees to restrictions to ensure that it doesn't gain a bomb-making capability. Such a deal could ease a top security threat and open the way to a better U.S.-Iran relationship.
Iran and the six powers remain divided on a few stubborn issues, but they are hoping that, following the traditional pattern of negotiations, the deadline will reveal how far each side is willing to go.
Diplomats for each side said Sunday that they remained focused on making a breakthrough, although privately there were also hints that diplomats were thinking about how to extend the talks if the gaps can't be overcome.
President Barack Obama, in an interview with ABC' This Week, seemed to signal that he thought a deal unlikely, saying that "the gaps are still significant." But he argued that the negotiations of the past year have been beneficial, because they have been based on an interim nuclear deal that has temporarily halted some of the most worrisome parts of the Iranian nuclear program.
Administration officials have told members of Congress that they will seek to extend the talks by continuing the terms of the interim deal signed one year ago, rather than by seeking to negotiate a new deal, congressional aides said. That interim deal gave Iran some limited sanctions relief in exchange for its agreement to halt certain nuclear activities.
Extending the current terms would be the quickest and simplest way to keep the talks alive for a few months at least, analysts say.
The six world powers could also seek to sign a "framework agreement" that would lay out areas where the two sides have come to terms but haven't had time to iron out all the details.
Meanwhile, in Iran, where conservatives and reformists have been sharply divided over the benefits of a deal, there are signs that conservatives are now supporting an agreement because Iranian negotiators have laid down a tough set of demands.
For example, provincial prayer leaders in Iran were unanimous Friday in expressing support for Zarif's team in Vienna. The imams are appointed by Iran's Supreme Leader, Ayatollah Ali Khamenei, and their views reflect his own.
E'temad, a reformist newspaper, described this backing as "unprecedented."
The leaders of the Iran Revolutionary Guard Corps, the hard-line Javan newspaper and Iran's army have also offered words of support for the negotiating team in recent days.
––––
Special correspondent Ramin Mostaghim in Tehran and Times staff writer Laura King contributed to this report.
AFP Photo/Ronald Zak