December 2015 Release For New 'Star Wars' Film
@AFP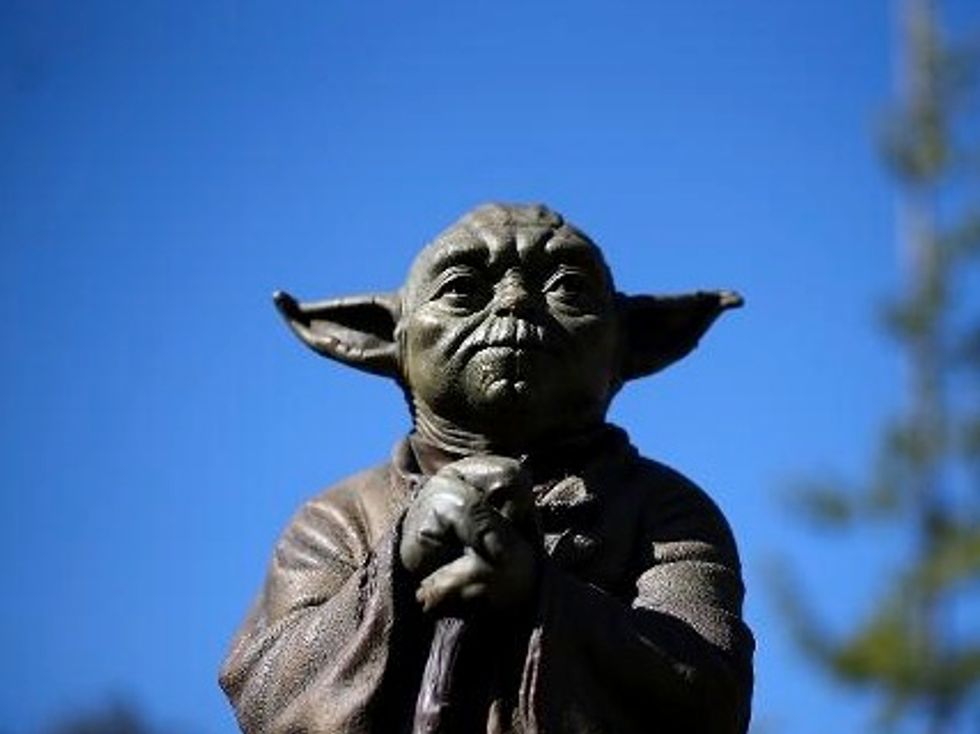 Los Angeles (AFP) – "Star Wars" fans finally have a date for their diary after filmmakers announced a long-awaited new instalment of the iconic sci-fi franchise will be released on December 18, 2015.
The announcement Thursday laid to rest reports suggesting that the film, announced last year for 2015, might be delayed after one of the new movie's screenwriters was replaced last month.
"We're very excited to share the official 2015 release date for 'Star Wars: Episode VII'," said Alan Horn, chairman of Walt Disney Studios, which bought "Star Wars" creator George Lucas's company Lucasfilm for over $4 billion last year.
The new movie "will not only anchor the popular holiday filmgoing season," but the 2015 release date will "also ensure our extraordinary filmmaking team has the time needed to deliver a sensational picture," he added.
"Star Wars for Christmas!!" wrote one fan on the Force.Net website
Lucas — who launched the epic space saga nearly four decades ago and directed four of the six films to date — will serve as a creative consultant for at least three new films, which are expected to come out every two to three years.
The new movie will be directed by J.J. Abrams ("Mission: Impossible III," "Star Trek") from a screenplay by Abrams and Lawrence Kasdan, whose credits include "The Empire Strikes Back" and "Return of the Jedi."
Veteran movie composer John Williams will provide the score, while Abrams, Lucasfilm president Kathleen Kennedy, and Bryan Burk are listed as producers of the eagerly-awaited film.
Filming is due to begin next spring in Pinewood Studios outside London, added a Disney statement, adding that pre-production was "in full swing."
All of the six previous "Star Wars" movies — which have had pre-summer release dates in the United States — have included production in British studios, including Elstree, Shepperton, Leavesden, Ealing and Pinewood Studios.
Disney announced the new film was slated for 2015 when they bought Lucasfilm last year, but media reports have suggested Abrams had doubts he could meet that deadline.
Only last month filmmakers announced the departure of original Oscar-winning screenwriter Michael Arndt.
The return of Kasdan, the screenwriter behind 1980's "The Empire Strikes Back", widely revered as the best of the "Star Wars' films by franchise devotees, was greeted with excitement by expectant fans.
It is unclear whether all the original main cast members will return for the new movie.
Carrie Fisher confirmed she will reprise her turn as Princess Leia in a newspaper interview earlier this year, and Harrison Ford, who played grumpy space adventurer Han Solo, has made repeated hints. Reports also suggested that Mark Hamill will return as Jedi Knight Luke Skywalker.
The first "Star Wars" movie came out in 1977, and there have been two trilogies — three films from 1977-1983 and three prequels from 1999-2005 — while the brand has expanded into theme parks and a huge merchandising arm.
The films have earned some $4.4 billion globally over the last 35 years, and offer "a virtually limitless universe of characters and stories to drive continued feature film releases," Disney said when it bought Lucasfilm in October last year.
AFP Photo/Justin Sullivan