The Definitive List: Who Deserves Blame For The Nomination Of Donald Trump?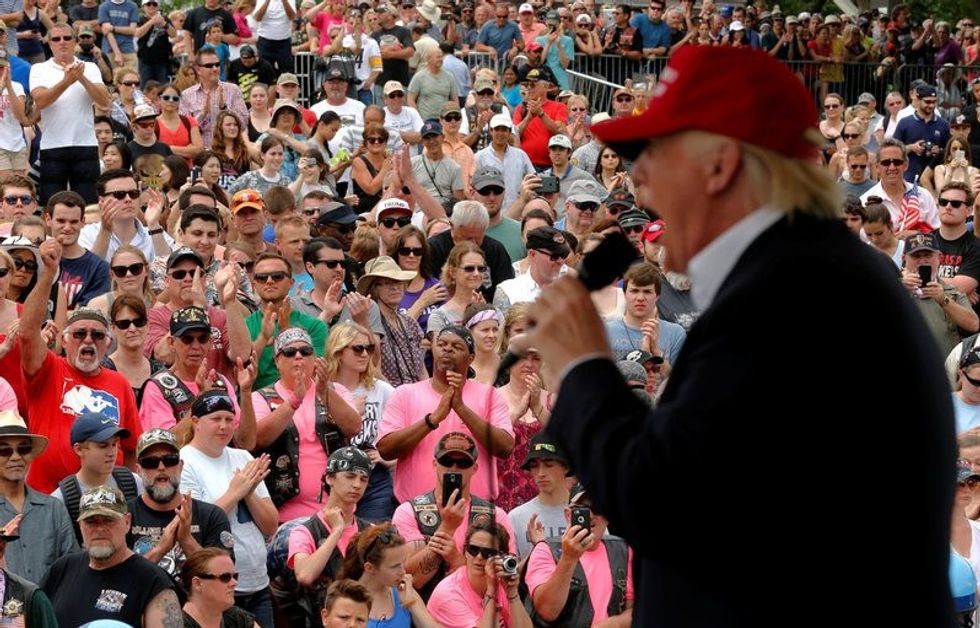 This week, the Republican Party wrapped itself in the white flag.
Donald Trump has won enough delegates to to guarantee that he will clinch the GOP nomination. And one of his fiercest opponents, Marco Rubio, cozied up to him, almost begging for a chance to speak at the GOP convention — even after Trump attacked the party's most prominent Latina.
While a few stray #NeverTrumpers can be heard in the distance, complaining that the self-proclaimed billionaire "makes George Wallace look like Churchill" and vowing to never ever vote for a candidate who is the choice of pretty much any strutting online anti-Semite you can find, resistance is futile.
The GOP is now officially Trump's party. Yet at the same time, "Very Serious People" want us to absolve the GOP for delivering us a candidate whose great public accomplishments include getting rid of the talent portion of beauty pageants, using racism to undermine America's first black president, and winning a major party's nomination by vowing to ban 1.6 billion people from entering the country.
Bloomberg's Megan McArdle tells us not to blame the Republican party for Trump, rejecting the notion that this insecure conman is a "monster that Republican leaders created" and now "broken free of its chains and was hell bent on destroying its former master."
McArdle seems to reject the notion that conservatives should be responsible for the ideas they've advanced over the past 50 years, because voters ultimately ignored the "horrified pleading of conservative leaders and intellectuals" and backed Trump anyway. As if a few months of caution from the "establishment," which conservatives have been training primary voters to reject since the inception of the movement, was supposed to be more effective than generations of feeding voters carefully coded messages designed to stir up racial and religious resentment.
We know Republicans are responsible for Trump, because you can be assured they'll take credit for him if he wins. So here's a quick review of who deserves the most blame.
Republican voters.
Trump hasn't expanded the Republican Party — he has exposed it. Almost no who hadn't been voting Republican for decades showed up to back Trump in the primary. In times past these Republican-leaning voters sat out the primaries and let the party activists decide whom they would back. Very Serious People caution against suggesting that anyone who backs Trump is bigoted. Economic issues are motivating them, we're told — even though they tend to be richer than the rest of America and consumers in general are about as confident in the economy now as they were before the recession. If you believe in personal responsibility, you must acknowledge that Trump voters are at least tolerant of bigotry in pursuit of whatever they think he's promising.
The Republican Party
McArdle rejects the notion that with the Southern strategy, the GOP "cynically decided to go after the South's angry white racist vote." She suggests that it was a logical if opportunistic approach to rising crime in America — that just happened to abandon the black vote for generations. But the Republican National Committee's chairman admitted the underlying racism of its approach in 2005, back when the party was still trying to expand its base. "Some Republicans gave up on winning the African-American vote, looking the other way or trying to benefit politically from racial polarization," Ken Mehlman said in 2005. "I am here today as the Republican chairman to tell you we were wrong." Trump's constant lying and self-revision appear as "honest" to the GOP base, because he says aloud the same things that the party has been hinting and dog-whistling for generations. And the base had been primed to elect someone with no record of or inclination toward public service. "Normally voters might oppose Trump as flat-out unqualified for the job, both by lack of relevant experience and lack of knowledge of government and public affairs," Jonathan Bernstein responded to his Bloomberg colleague. "But by giving a megaphone to people like Pat Robertson, Herman Cain, Ben Carson, and Carly Fiorina, Republicans showed their voters what counts as a 'normal' Republican presidential candidate — and it isn't all that different from Donald Trump."
Fox News and "the media."
Trump has no actual credentials to be taken seriously as a candidate for president. But he had the most important credential to be taken seriously as a conservative — an open invitation to appear on Fox News. You can argue that the most popular news channel in the United States took a hostile view of his early candidacy. He was never denied a chance to show up on the channel for more than a few days, however — despite launching what the channel called "an endless barrage of crude and sexist verbal assaults" against its biggest female star. Now it has all but become an informercial for Trump, with the occasional appeals to sanity from Chris Wallace. Trump had been trying to be taken seriously as a presidential candidate for decades; before the 2000 election he got so serious about his possible Reform Party run that he withheld alimony from his ex-wife when she threatened his ambitions. Birtherism made him a conservative hero and when Fox News gave him a platform for this baldly racist attack on Obama, the network trained conservatives to take him and his outrageous conspiracy claim seriously (which may be why many still believe it today). The remaining media haven't been much better. You are more likely to see an empty Trump podium on CNN waiting to be graced by our Putin with a weave, than a speech from Hillary Clinton or Bernie Sanders. The media legitimize Trump by ignoring his complete lack of policy knowledge, constant mendacity and refusal to release his tax returns. And no interviewer even dares ask about his birtherism now for a simple reason: Mr. Trump doesn't want to talk about it.
Mitt Romney
The last Republican nominee for president is one of the few noble #NeverTrumpers who remain steadfast. Why? "I wanted my grandkids to see that I simply couldn't ignore what Mr. Trump was saying and doing, which revealed a character and temperament unfit for the leader of the free world," he told the Wall Street Journal. Good for MItt. But it's the least he could do. When he stood on stage to accept Trump's endorsement as Trump was still in the midst of his full birther heat, he legitimized the reality star in a way that Fox News never could, all so he could shake off the "challenge" from Rick Santorum and Newt Gingrich.
Ted Cruz and the rest of the Not-Ready-for-2016 Players.
If there was one man who had the credibility with the conservative base to have stopped Trump before he really got going, it was Ted Cruz. Instead, he kept calling Trump "terrific" right up until the point that Donald went birther on him. Then the Texas Senator looked like a conned fool as Trump questioned his faith, called his wife ugly, and suggested his dad was involved in the JFK assassination. He got what what he deserved and so did Jeb Bush, who shied away from attacking or even defending himself against Trump months earlier. The silence and shrugging of Marco Rubio, who occasionally disagreed with Trump but never condemned his wholesale bigotry and complete unreadiness for the job until it was too late, allowed the casino mogul to build momentum. A dozen men who should have known better allowed their party to became the vehicle for the ambitions of a man who has proved the Republican Party has the immune system of an earthworm.
Photo: Republican U.S. presidential candidate Donald Trump addresses the Rolling Thunder motorcycle rally to highlight POW-MIA issues on Memorial Day weekend in Washington, U.S. May 29, 2016.  REUTERS/Jonathan Ernst