Déjà Vu For American Troops Observing Christmas In Iraq Again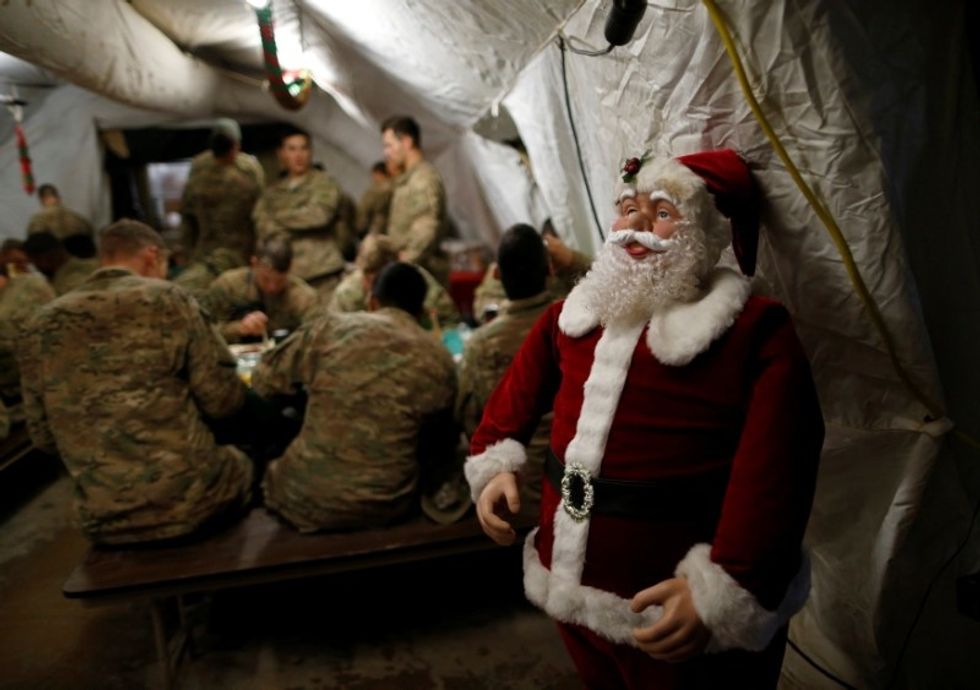 EAST OF MOSUL, Iraq (Reuters) – This is the third Christmas that Staff Sergeant Magdiel Asencio is spending in Iraq. For Sergeant First Class Noel Alvarado, it is number four. And so it is with many U.S. troops stationed less than a hour's drive from the front line with Islamic State.
Few thought they would be back nearly 14 years after the U.S.-led invasion that toppled Saddam Hussein, sparking an al Qaeda-backed insurgency and throwing the country into a sectarian civil war.
Yet here they are, albeit with a fraction of the numbers and a much narrower mission. The roughly 5,200 U.S. troops presently stationed in Iraq are part of an international coalition helping local forces retake the third of their country seized by Islamic State more than two and a half years ago.
Their current target is Mosul, the jihadists' last major stronghold in the country. Iraqi forces control around a quarter of the city, but fierce counter-attacks have rendered progress slow and punishing.
Asencio served in Mosul during the initial invasion, first to provide artillery support and then as infantry.
"It was more of a wild wild west then. We didn't know if something was going to go down and when they needed you to call for fires," he said, standing beside a field artillery unit that hits Islamic State targets inside Mosul nearly every day.
"It's a little more calm this time around. We still shoot, we know we're here in support of the Iraqi army. There's still enemy out there but we're not as into actual direct combat as we were back then."
Many battalion commanders previously served multiple tours in Iraq, often punctuated by combat in Afghanistan. There are even some soldiers in their first tour here whose fathers missed Christmases with them a decade ago to be in Iraq.
"I thought back in 2011 when we closed it all out, it was going to be finalized then," said Alvarado, referring to the withdrawal of U.S. troops that year.
"But being back here is totally different. I've seen [the Iraqi army] pick themselves up a lot. They have a better standard now."
The Iraqi military and police dropped their weapons and fled in 2014 in the face of Islamic State's assault, despite far superior numbers and billions of dollars in U.S. training and equipment.
The coalition has retrained tens of thousands of local troops in the past two years and provides advice on military strategy and planning, as well as artillery support and air strikes that are indispensable to the war against Islamic State.
"Anything we can do to assist them in their operation forward with us not actually squeezing the trigger," said Lieutenant Colonel Stuart James. "So we'll move forward with them, but we're not the ones that make contact."
A top commander told Reuters that U.S. forces were embedding more extensively with Iraqi troops in order to accelerate the Mosul campaign, which started on October. 17.
Coalition advisors were initially concentrated at a high-level headquarters in Baghdad but have fanned out over the past two years to spartan outposts like this one about 15 kilometers east of Mosul to stay near advancing troops.
"Merry Christmas from the most forward TAA at the tip of the spear," James said, using a military acronym for the compound.
The austere outpost nestled in an ancient Christian region has few permanent structures, since the troops plan to move on when the Iraqi forces they are advising advance.
Heavy rain turned much of the grounds into thick mud on Sunday as soldiers huddled inside two dining tents for a special holiday meal where a plastic Christmas tree and a Santa Claus figurine flanked one entrance.
Outside, a soldier in a Santa hat did pull-ups at a makeshift gym.
This is a far cry from the luxurious facilities at the sprawling compound the U.S. military once maintained inside Baghdad's heavily fortified Green Zone and other big bases that have since been handed over to the Iraqis.
Yet Alvarado is not too torn up about spending another Christmas away from home.
"As long as my troops are OK and my family back home they're OK and we're supporting that, then I'm fine with it," he said.
(Editing by Ed Osmond)