Democrat Kelly Outraises McSally In Arizona Senate Race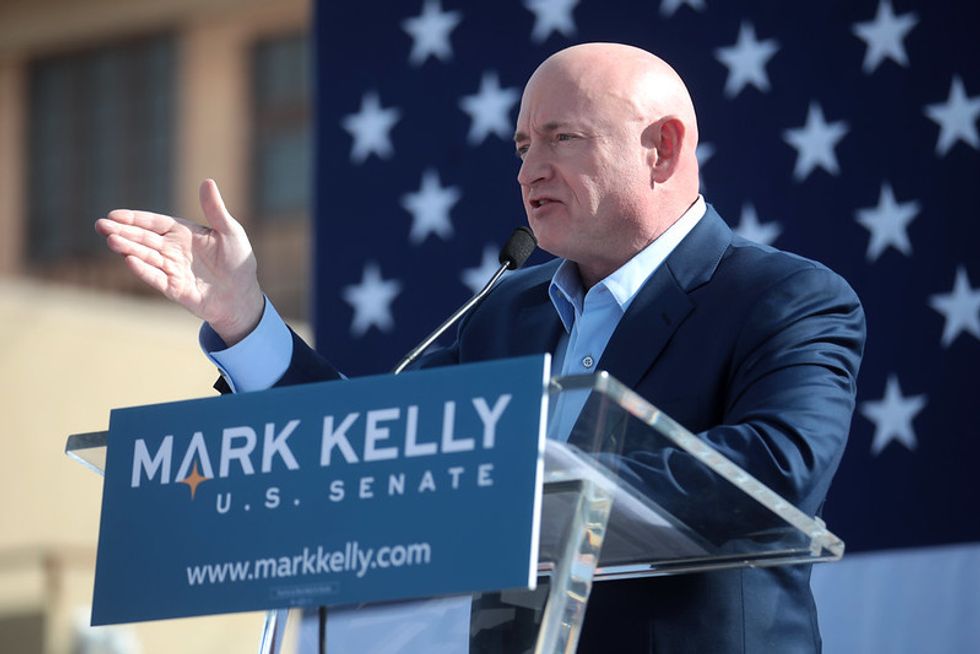 Democratic Senate candidate and former astronaut Mark Kelly blasted past rival Republican Sen. Martha McSally in the most recent fundraising quarter, the Arizona Republic reported Monday.
Kelly raised a massive $5.5 million over the past three months, almost doubling McSally's $3 million raised between July and September. This also marks the third quarter in a row Kelly has out-raised McSally, despite the fact that incumbents usually have a fundraising advantage over challengers.
Compared to the second quarter, McSally's fundraising faltered, bringing in $400,000 less than earlier this year. By contrast, Kelly's fundraising increased, bringing in $1.3 million more than the $4.2 million he brought in last quarter.
The race between Kelly and McSally is considered one of the nation's most competitive 2020 Senate races.
At least some of Kelly's support comes from campaign donors who once supported the late Arizona Sen. John McCain, a Republican. According to the Washington Examiner, some McCain donors were unhappy to see McSally appointed to the vacancy left by McCain after McSally lost her 2018 Senate bid to Democrat Kyrsten Sinema.
"To the extent that McSally embraces Trump enthusiastically, it makes it easier" for moderate Republicans to embrace Kelly, Mike O'Neil, an Arizona pollster, told the Examiner.
Speaking in late September, McCain's widow, Cindy McCain, said she "can see [Arizona] going Democrat" in the 2020 election.
In addition to a competitive Senate race, Democrats are eyeing Arizona as a presidential battleground state.
For the Kelly campaign, another blockbuster fundraising quarter was reason to celebrate.
"The support that we're seeing for this Mission for Arizona is simply out of this world," Jen Cox, Kelly's campaign manager, said in a statement.
Kelly is campaigning on "solutions to tackle rising health care costs and the price of prescription drugs," Cox added, saying the fundraising haul demonstrates "the power of putting Arizona first, not corporate PACs and not divisive politics."
Despite raising less money, the McSally campaign has insisted her numbers show "Arizonans know that Martha is listening and delivering results."
The Trump administration recently swiped $30 million from Arizona's Fort Huachuca in order to finance Donald Trump's long-promised wall along the U.S.-Mexico border. During his campaign, Trump promised Mexico would pay for the wall, but instead, the Trump administration has redirected $3.6 billion from military families around the world.
McSally sided with Trump on his decision to pull $30 million from Fort Huachuca, a project she once called "critical."
Earlier this year, the Federal Election Commission found McSally had violated election law by not properly reporting some $50,000 in campaign donations. McSally paid the $5,028 fine connected to that violation in March.
Current polling trends appear to favor Kelly over McSally. The same polling outfit that saw McSally leading by two points in February showed that support dropping away entirely by August, when Kelly had a five-point advantage.
Published with permission of The American Independent.