Democratic Senate Candidate Ties Trump Around John McCain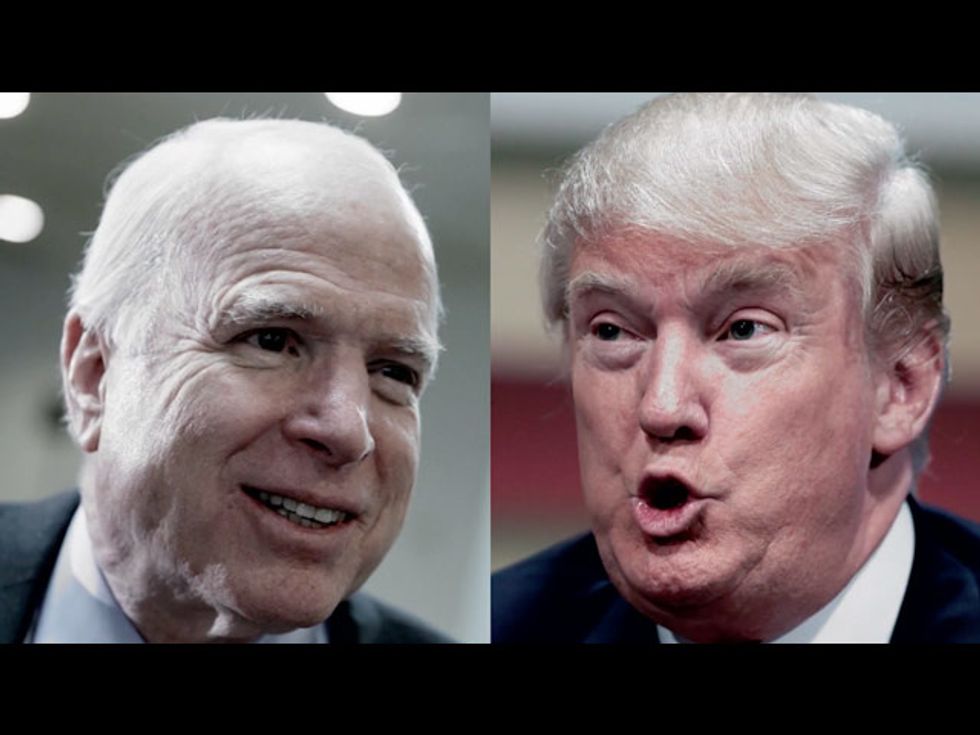 We now officially have an ad from a Democratic Senate candidate using Donald Trump's rise to slam Republicans in a crucial down-ballot race. The contender in question is Rep. Ann Kirkpatrick, who is running against one of the biggest names in GOP politics, Sen. John McCain.
Something to consider: She might not ultimately be running against McCain — because he's facing a far-right primary challenger on the GOP side, former state senator Kelli Ward. As such, this ad skillfully corners McCain on his obligation to endorse the eventual Republican nominee for president, while painting a picture for the voters of just how crazy things have become.
The ad does not appear to be on TV, but the Kirkpatrick campaign's press release says it "will be supported by an online ad buy."
"Donald Trump is dangerous for America," the announcer says — as video then plays of some of The Donald's more infamous remarks: "I could stand in the middle of 5th Avenue — and shoot somebody — and I wouldn't lose any voters, okay… I would bring back a hell of a lot worse than waterboarding."
"But no matter what Donald Trump says, John McCain would support him for president," the announcer says, playing video of McCain promising to support the eventual Republican nominee — even including Trump: "Oh yeah."
The video also mixes in some of Trump's public vulgarity, such as, "She said he's a pussy"; "I'd like to punch him in the face, I'll tell ya," and his dreadful remark about Fox News anchor Megyn Kelly: "You could see there was blood coming out of her eyes, blood coming out of her — wherever."
The ad then tells viewers about a the recent article in The New York Times, which details Senate GOP Leader Mitch McConnell's plans to distance his Senate party members from Trump — but not McCain, the announcer says.
Indeed, McCain is presented as being so feckless that he would still support The Donald even after the latter bashed McCain's military service and years spent as a prisoner of war: "He's a war hero 'cause he was captured. I like people that weren't captured, okay? I hate to tell you."
"There was a time when country mattered more than his political party — but 30 years in Washington have changed John McCain," the announcer says. "We need leaders to stand up to Donald Trump."