Democrats Consider Removing Debbie Wasserman Schulz As DNC Chair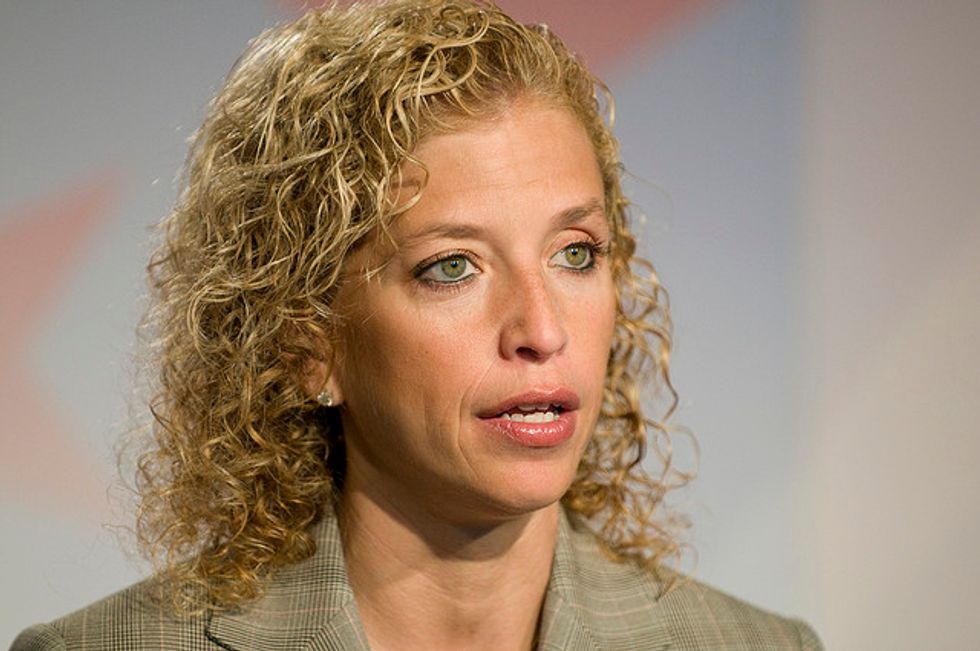 Congressional Democrats are considering removing Debbie Wasserman Schultz from her position as chair of the Democratic National Committee in an effort to placate liberal Democrats and supporters of Bernie Sanders at the party's convention this July.
"There have been a lot of meetings over the past 48 hours about what color plate do we deliver Debbie Wasserman Schultz's head on," said a pro-Clinton Democratic senator to The Hill. "I don't see how she can continue to the election. How can she open the convention? Sanders supporters would go nuts," said the lawmaker, who requested anonymity because of the sensitive nature of the discussions."
While such a candid statement may have been unthinkable a few months ago, the Sanders campaign's has repeatedly targeted of the DNC chair, accusing Wasserman Schultz of favoring Hillary Clinton throughout the primary season.
"Someone else could play a more positive role," said campaign manager Jeff Weaver said on CNN in response to a question about whether she should leave her post. "I'm trying to be diplomatic."
Following Wasserman Schultz's statements about the commotion that took place during the Nevada Democratic convention, in which she condemned Sanders for not forcefully coming out against the disruptions over the course of that event, Jeff Merkley, the sole senator to endorse Sanders thus far, said she was adding fuel to the fire.
"It's very important for her to adopt a role of pouring oil on troubled waters. She did the opposite last week when she poured gasoline on the events that occurred in Nevada," said Merkley.
The murmurs come following months of animosity between Wasserman Schultz and the Sanders campaign, which go as far back as last year, when the Vermont senator accused her of scheduling too few debates at times that no one would be able to watch them. Back then however, the Democratic establishment didn't think the disagreements between the two would lead to the level of animosity that has boiled over in the past month — they also didn't think Sanders would still be in the race in May.
Back in December, Weaver struck a different tone. "Individual members of the DNC can support Hillary Clinton in any way they want," he said, "but they are not going to sabotage our campaign."
Weaver's call recently for Wasserman Schultz removal, a message that Sanders undoubtedly supports, marked the apotheosis of a brewing fight between the liberal and centrist wings of the Democratic Party.
Nevertheless, the such talk appears preliminary. The Hill reported that numerous congressional Democrats discounted any notions that Wasserman Schultz was going to step down before the July convention.
"We don't need to be making a change in chairs right now as we're coming to the conclusion of this. I strongly believe that," said Tim Kaine, a Virginia Democrat who has been floated as a running mate for Clinton.
"That's not going to happen. I certainly wouldn't let it happen," said Bill Nelson, a Democratic senator from Florida, Wasserman's Schultz's home state.
Even Nancy Pelosi, leader of the House Democrats, said in an emailed statement, "DNC Chairwoman Wasserman Schultz enjoys the support of members of the House Democratic Caucus for her leadership in unifying the party and winning in November."
Still, just months ago, nobody was even floating the idea that Wasserman Schultz could be replaced before the convention. While there would still be a long road ahead before any removal proceedings begin for the DNC chairwoman, the fact that "secret" discussions are already bubbling up to the press about removing her as a way of placating Sanders' supporters is certainly a new development.