Democrats Hope Presidential Coattails Lead To Retaking Senate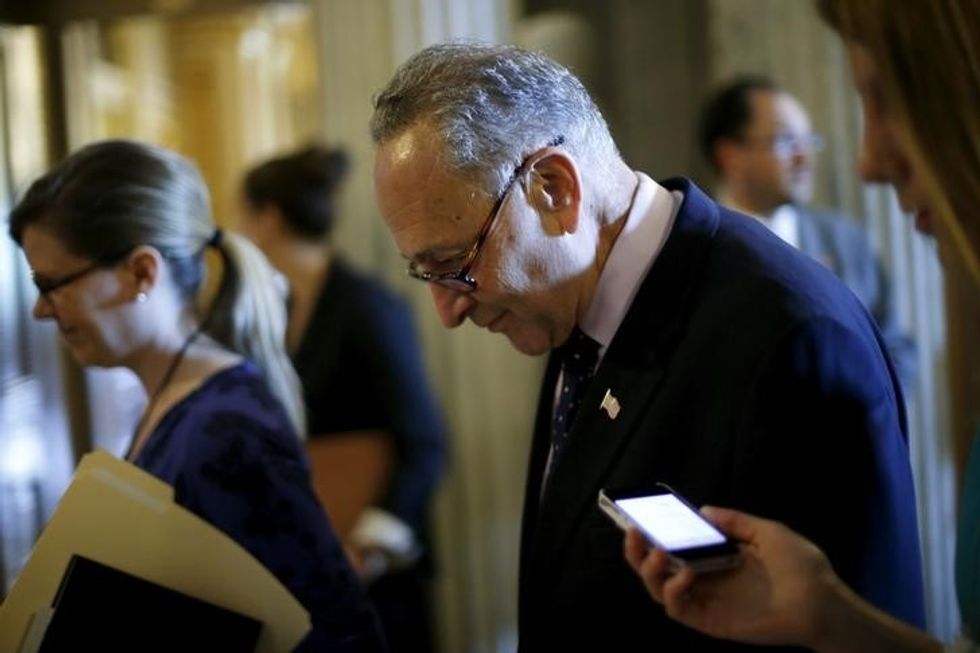 By Steven T. Dennis, Bloomberg News (TNS)
WASHINGTON — If Sen. Chuck Schumer is going to fulfill his dream of running the U.S. Senate, he will likely have to rely on the performance of sometime-rival, sometime-friend and fellow New Yorker Hillary Clinton.
The Democrats' leader-in-waiting needs to pick up five seats to win outright control of the Senate from the Republicans. He's got a national map teed up for a takeover if the party's presidential nominee can inspire a Barack Obama-level performance, whether it's Clinton or Vermont independent Sen. Bernie Sanders. Schumer could also benefit from a Republican Party at war with itself.
All of that is making Democrats increasingly optimistic about their chances of taking the Senate, particularly if Republicans nominate Donald Trump or Texas Sen. Ted Cruz.
"The Republican leadership knows that's terrible when you have a general election," Schumer told a New York audience last week about the prospect of a Trump or Cruz nomination.
Five of the Republican seats Democrats are targeting are presidential battleground states that were won twice by Obama — New Hampshire, Wisconsin, Pennsylvania, Florida and Ohio. Strong enthusiasm for the Republican or Democratic nominee in any of those states could serve as much-needed coattails for Senate contenders.
New Hampshire is a particular bellwether state to watch early on election night to gauge the Democrats' chances. Incumbent Republican Kelly Ayotte is facing Gov. Maggie Hassan, Democrats' prize recruit. Both candidates are raising millions and will have no shortage of outside support.
Republicans acknowledge the difficult map and have set a simple goal: Keep the majority.
"It's going to be a tough cycle," Ward Baker, executive director of the National Republican Senatorial Committee, said in an interview.
Some Republican operatives try to brush off the impact of their party's messy presidential primary for now — noting the potential for it to bring an energy boost, while telling their candidates to focus on issues important to their states.
Baker said Republicans are urging incumbents to focus on state issues and their own races. "We can't count on the presidential, we can't count on anyone but ourselves," he said.
But some privately — and increasingly publicly — are deeply concerned that a nomination of Trump or Cruz could cost them the Senate and House seats besides. Doug Heye, a former spokesman for the Republican National Committee, declared Thursday in a column on the Independent Journal's opinion website that he wouldn't back Trump if he's the nominee and predicted he would be a disaster for the party.
Even if Democrats succeed in winning the Senate, the U.S. House looks firmly in the Republicans' grasp, meaning the next president would face a divided Congress — and the prospect of further legislative gridlock.
Meanwhile, Clinton has been staking out centrist positions in recent months — including saying she wouldn't raise taxes on the middle class — a position in sync with Schumer's own moderate sensibilities.
Schumer, for his part, has long been ebullient about a Clinton run, publicly urging her to get into the race way back in 2013, putting to bed the rivalry that existed when they both represented New York and he was the senior senator.
"Their interests are very much aligned, no doubt about it, after years of dealing with each other as a junior senator and a senior senator from New York, with all the difficulties that sometimes come with such a relationship," said Jim Manley, a former spokesman for Senate Minority Leader Harry Reid and senior director at QGA Public Affairs.
Clinton has already started raising millions in general election money for a coordinated campaign with the Democratic National Committee — money that will help not only the nominee but Democrats up and down the ballot in battleground states.
Republicans, though, note that GOP incumbent senators have early fundraising advantages over their likely rivals, several of whom still have to navigate primaries.
Democratic hopes start with the assumption they will defeat Illinois Sen. Mark Kirk and Wisconsin Sen. Ron Johnson, each of whom have trailed in early polling respectively against Democratic establishment picks Rep. Tammy Duckworth, who still faces a primary, and former Sen. Russ Feingold, one of his party's top recruits of the cycle whom the GOP is trying to tar as a liberal Stanford professor.
Republicans are countering with robust digital initiatives. They tout early fundraising leads in key states like Ohio, where Sen. Rob Portman has built a massive war chest for a likely matchup with former Democratic Gov. Ted Strickland, who is backed by national Democrats. Strickland has led narrowly in some polls, but faces a spirited primary from Cincinnati City Councilman P.G. Sittenfeld and lags Portman in fundraising.
Portman, meanwhile, is a former U.S. trade representative and budget director who is a favorite with Wall Street and party leadership.
He has moderated his stances on some issues — most notably supporting same-sex marriage, citing his gay son. He also joined fellow Ohioan, Democratic Sen. Sherrod Brown, in opposing Trade Promotion Authority last year, citing the lack of enforceable currency provisions in an Asia-Pacific trade deal. That put him at odds with the U.S. Chamber of Commerce, but nods to a tough issue in a key Rust Belt state.
If Portman loses, it's likely that the Democrats will have won both the Senate and the White House.
One complicating factor: Portman, who prepped both Mitt Romney and John McCain for their presidential debates, could be a serious vice presidential choice given his Ohio background and policy credentials. Ayotte also will get mentioned, but tapping either for the national ticket could complicate Majority Leader Mitch McConnell's ability to hold on to the chamber.
Beyond Ohio and New Hampshire, Democrats are targeting Sen. Pat Toomey in Pennsylvania, with national party figures preferring Katie McGinty to former Rep. Joe Sestak, who narrowly lost to Toomey six years ago. Still, Toomey has held leads in early polling and has amassed a big war chest himself.
Florida, meanwhile, is a free-for-all, given that Sen. Marco Rubio has said he won't run for re-election. National Democrats tout Rep. Patrick Murphy, a former Republican, over firebrand Rep. Alan Grayson, while several Republicans will be duking it out. And Republicans haven't ruled out begging Rubio to reconsider should he be knocked out of the presidential sweepstakes early on.
Democrats have more ambitious dreams of expanding the map to redder states like Missouri, Arizona and North Carolina. But those are much longer shots.
Republicans only have a pair of pickup opportunities — Nevada and Colorado, both of which look like tough fights for the GOP.
Reid is retiring, and his Nevada Senate seat has Republican Rep. Joe Heck likely going up against Reid favorite Catherine Cortez Masto, a Democratic former state attorney general who would be the first Latina in the Senate. Republicans still have to settle on a challenger against Democratic Sen. Michael Bennet in Colorado.
Both states have a growing Latino vote, however, and while the national Republican Party had hoped to moderate its rhetoric on issues like immigration, the dominance of Trump has pushed the party in the opposite direction.
©2016 Bloomberg News. Distributed by Tribune Content Agency, LLC.
Photo: U.S. Senator Chuck Schumer (D-NY) speaks with reporters just off the senate floor during a procedural vote on the Trans-Pacific Partnership (TPP) trade agreement, at the U.S. Capitol in Washington June 23, 2015.  REUTERS/Jonathan Ernst