Will Americans Go Backward Into Disease And Depression, With Trump?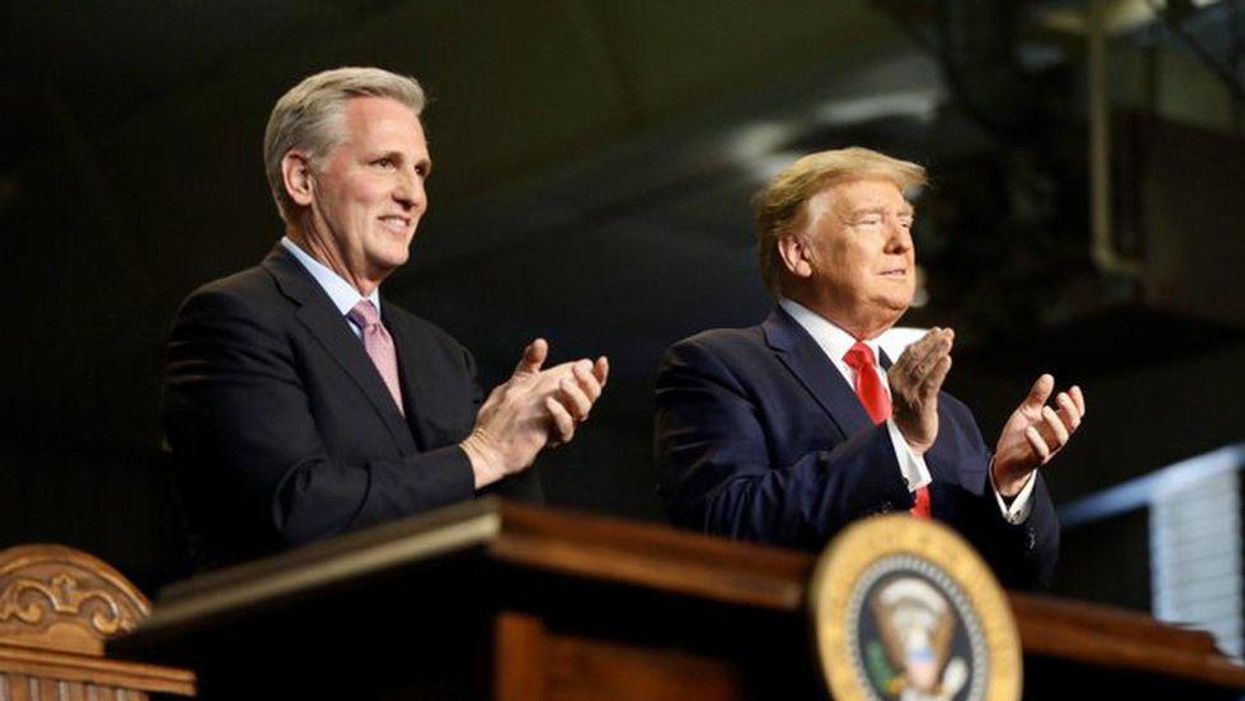 Photo by Kevin McCarthy (Public domain)
In the professional stratum of politics, few verities are treated with more reverence than the outcome of next year's midterm, when the Republican Party is deemed certain to recapture majorities in the House and Senate. With weary wisdom, any pol or pundit will cite the long string of elections that buttress this prediction.
Political history also tells us that many factors can influence an electoral result, including a national crisis or a change in economic conditions — in other words, things can change and even midterm elections are not entirely foretold. There have been a few exceptions to this rule, too.
Such an exception ought to be possible in a country where, increasingly, the Democratic Party represents majority opinion on most salient issues, while the Republican Party wields power mainly because of rules, traditions, population imbalances and constitutional anomalies that thwart the majority. In no other democratic nation is the will of most citizens so systematically frustrated.
So the Democrats must fight their way uphill, and they would be wise to start now. The way to begin is to define the terms of battle with a message that reflects the lived experience as well as the hopes and expectations of voters in America after former President Donald Trump's 2020 election loss — and draws a powerful contrast with the opposition.
That message begins with the behavior of the Republicans, who no longer even pretend to have policy solutions to the crises that America confronts. Instead, they function solely as sycophantic servants of Trump, whose synthetic grievances over his impeachments and defeat continue to be their shared obsession. The Grand Old Party is no longer grand and scarcely a party, but it is terribly "old" in the most insulting sense: an entity decrepit and stuck in the past.
In recent days, the Republican leadership and a few of its media minions have seemed to sense how badly and bloodily they botched the pandemic. Suddenly, after more than a year of pretending it would go away and months of undermining the vaccination campaign, some of them are urging Americans to get inoculated. But with so many loonies and cultists infesting their active base, the party can't dispel the aura of needless, stupid death that surrounds it. Geniuses that they are, the Republicans apparently noticed President Joe Biden's strong approval, which rests on his competent, compassionate, scientific response to the pandemic.
Meanwhile that awful negative aura extends over the Republican obstruction of Biden's investments in economic recovery and national infrastructure, which are favored by a big majority of voters — and even a plurality of their own party rank and file. As the benefits of the Democratic program reach more households, the inadequacy of the Republicans will only be underlined.
The last time Democrats defied the midterm curse was in 1998, when Newt Gingrich overplayed his hand by impeaching Bill Clinton — another Republican outrage against the popular will. Their paranoid and conspiratorial tendencies have only grown worse over the past two decades.
Today's Republicans can be relied upon to exhibit the same character deficit as the 2022 cycle unfolds. That process began earlier this month, when a mob of fascist thugs disrupted a town hall hosted by Democratic Rep. Katie Porter in her Southern California district. While Porter spoke about solutions to climate change and the pandemic, they interrupted her with shouted slogans and tried to drown her out. The disturbance was planned, organized, and led by her Republican opponent, a white nationalist and anti-vaccination activist who disgracefully joined in physical attacks on her supporters.
The attack on Porter, so reminiscent of the worst Tea Party scenes in 2009, is a harbinger of things to come. It is a clear reminder to every voter of what the GOP now represents as an engine of authoritarian violence, big lies and bigotry — the continuation of January 6. They are nothing more than Trump, a hollow figure who returns endlessly to a past that reeks of depression, disease and deception. And they are willing to violate every democratic principle to drag the country backward with him.
But most Americans don't want to go backward with Trump and his goons. Now they must mobilize to defend democracy and keep moving forward.
To find out more about Joe Conason and read features by other Creators Syndicate writers and cartoonists, visit the Creators Syndicate website at www.creators.com.