Desperate Culture Warriors Try To Seize 'Top Gun: Maverick' Success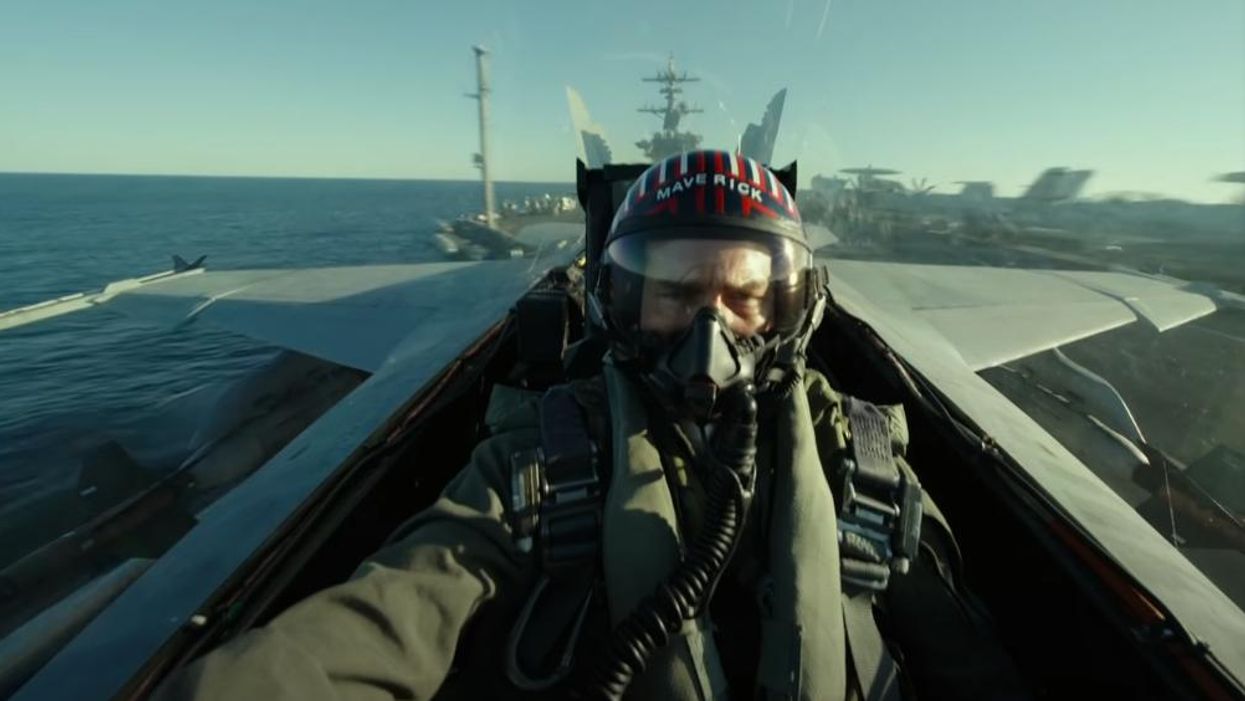 YouTube Screenshot
Right-wing culture warriors are constantly finding new things to get mad about, turn into content, and, if possible, monetize — from the supposed cancellation of Dr. Seuss to the purported wokeness of Mr. Potato Head. But that machine doesn't only concoct culture war defeats to rail against — its cogs also need to identify successes.
Enter Top Gun: Maverick, which broke Memorial Day box office records with a $156 million gross over the four-day weekend. A simple but logical explanation for this large audience would be that it is a well-made, critically acclaimed sequel to a beloved property that stars a major movie star flying fighter jets and opened on a holiday weekend opposite no competition. But right-wing culture warriors saw the Tom Cruise vehicle as a nail, whipped out their hammer, and declared that its success is due to its supposedly "anti-woke," "pro-America" politics. Their implicit argument is that films that don't share their political views shouldn't be made in the first place.
The right-wing content mills have all tossed out versions of the same point. Breitbart's headline was "Masculine, pro-American 'Top Gun: Maverick' blasts to $146M opening, towers over woke flops." Outkick.com went with "'Top Gun: Maverick' soars on pro-America, woke-free message." At the Daily Caller, it was "'Top Gun: Maverick' crushes the box office as Americans crave non-woke content."
By Monday, these arguments had moved from the right-wing digital space to Fox News. On Fox & Friends, guest co-host Rachel Campos-Duffy said the film's success is because "they didn't wokeify it. It's unabashedly patriotic." Outnumbered co-host Tomi Lahren responded to a quote from the Breitbart piece with "Amen," adding, "Can we please bring back good movies like this, because the movies that we have had the last couple of years have not been great; they've been woke. They're all about an empty virtue signal for those that make them."

The right seems to think "wokeness" matters for audiences whenever it is useful for their argument. Breitbart's John Nolte compared Top Gun: Maverick favorably to the Star Wars sequels, writing that the film "didn't do what Star Wars did and pervert a romantic-adventure series into a shrill Womyn's Studies lecture."
But Top Gun: Maverick is likely to finish with a much smaller audience than those films: The Force Awakens currently holds the all-time domestic box office record, the other two films in the sequel trilogy come in at No. 10 and No. 15, and all three had bigger opening weekends, according to Box Office Mojo. By Nolte's logic, Americans love "shrill Womyn's Studies lectures," though I think it's more likely that they just love Star Wars films. (I did not personally enjoy any of those films for reasons unrelated to whatever Nolte is talking about.)
I was one of the millions of Americans who saw and enjoyed Top Gun: Maverick over the weekend. If you like well-executed films, fast planes doing cool things, dad vibes, and the theatrical experience, I'd recommend seeing it on the biggest screen possible.
Is the film "anti-woke"? The cast is significantly more diverse than in the original film, with a female naval aviator effectively serving as the next-generation Tom Cruise character. But this isn't really interrogated — it's a Hollywood blockbuster. If the film's box office take had entered the danger zone, it's easy to imagine the same culture warriors pointing to that diversity as the reason.
Is it "pro-America"? The heroes are U.S. naval aviators, and it's assumed that their mission is a just one. But there's no real discussion of America or why America is good – it's a Hollywood blockbuster. It's certainly no less patriotic than First Man, the 2018 moon landing film that right-wing culture warriors attacked on specious grounds.
I found Top Gun: Maverick to be an enjoyable movie. But while it's certainly possible to read hidden depths into its script, it is fairly clear that any such depths are unintentional. As director Joseph Kosinski explained in an interview with Esquire, he saw the film as a character study meant to entertain broad audiences:
The first movie, is a boy becoming a man and I think this story is a man becoming a father. And that's what a Top Gun movie is. It's a rite of passage story that's character-driven but wrapped in this big action movie exterior.
Hopefully that entertains everybody. Regardless of whether or not you're into planes.

In fact, that does entertain everybody — or at least, enough people to break the Memorial Day box office record. The right seems driven to shoehorn its weird political concerns into the film, but the film's success doesn't require more complications than that.
Reprinted with permission from Media Matters.