Despite Russian Bot Campaign, #TrumpShutdown Hashtag Burns President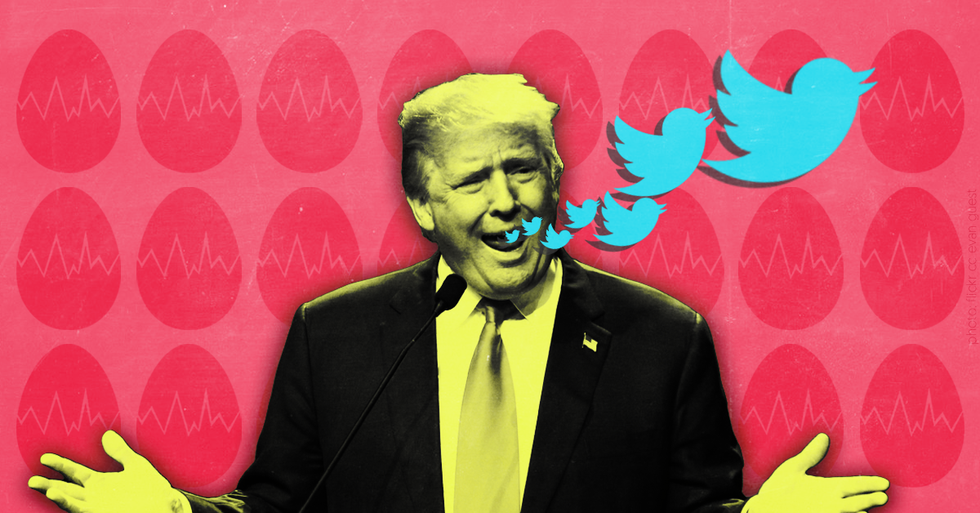 Reprinted with permission from Shareblue.
As Republicans readied to shut down the government Friday night, Donald Trump and his allies were busy trying to pin the blame on Democratic Sen. Chuck Schumer — despite the fact that Republicans hold the majority in the Senate.
Trump's attempt to deflect blame for the shutdown included, of course, a Twitter hashtag campaign, which was meant to show that the public blames Schumer for the shutdown. His entire family and top aides joined in on the effort, posting tweets with the hashtag #SchumerShutdown in the hopes of amplifying its reach.
But as the Republican-controlled Senate moved to shut down the government late Friday night and into the early hours of Saturday morning, another hashtag was dominating Twitter's top trends — and this one pinned the blame squarely on Trump's shoulders.
By just before midnight Friday evening, #TrumpShutdown was the top trending hashtag worldwide. The hashtag continued to dominate throughout the morning on Saturday, making for an unpleasant surprise when Trump awoke on the anniversary of his inauguration.
Clearly infuriated that his own hashtag campaign had failed while #TrumpShutdown was soaring, Trump desperately took to Twitter Saturday morning to push an alternative hashtag.
"This is the One Year Anniversary of my Presidency and the Democrats wanted to give me a nice present," he 
tweeted
, adding the hashtag "#DemocratShutdown" to the end of his tweet.
Notably, by 11:30 AM Eastern time, #DemocratShutdown was the #2 trending hashtag — not worldwide or in America, though. Rather, it was trending among a network of Russian-linked Twitter accounts tracked by the group Securing Democracy.
(Screenshot/Securing Democracy Hamilton 68 Dashboard)
While the pettiness of Trump launching a hashtag war on the anniversary of his inauguration is laughable, it also reveals a startling reality about his mindset.
As federal workers are left wondering when they'll see their next paycheck, Trump is not focused on how the government shutdown will affect our civil servants. Rather, he's fixated on how the shutdown will affect his own image.
And he's not alone. Senate Majority Leader Mitch McConnell actually rejected a resolution Friday night that would have ensured that members of the military would receive their paychecks even if the government remained closed.
Trump and his Republican allies have made their priorities clear. They don't care about having a functional government — they only care about who they can blame for their own dysfunction.