Detroit Power Outage: 'Another Reminder Of How Much Work We Still Need To Do'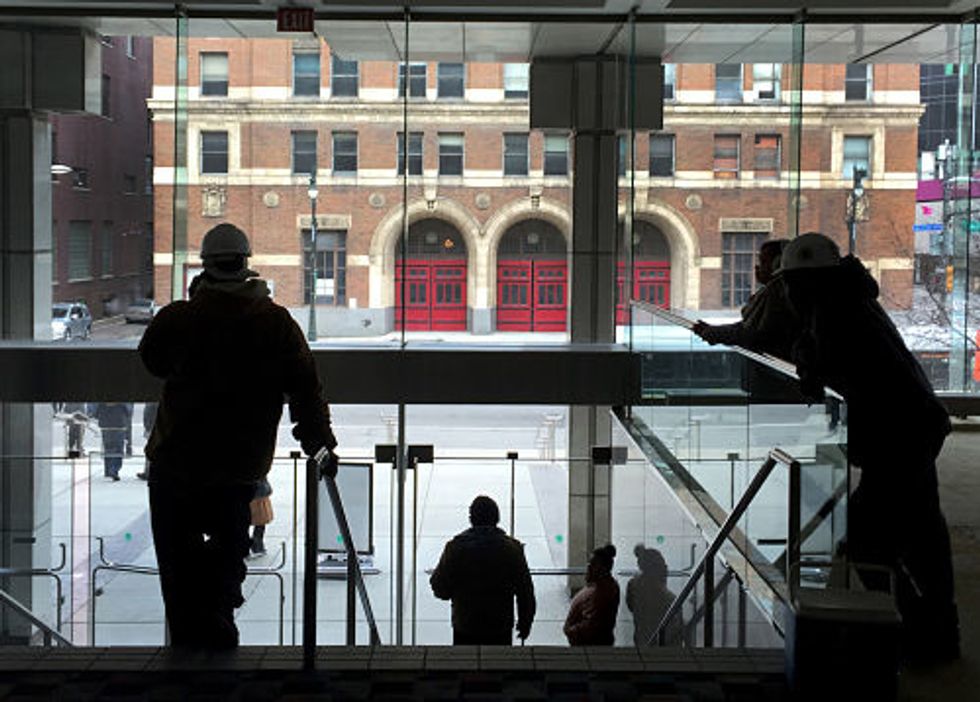 By J.C. Reindl, Detroit Free Press (TNS)
DETROIT — The culprit of Tuesday's power outage in Detroit, the city-run power grid, is in the beginning stages of a four-year, $200-million modernization project that could solve its longstanding reliability problems.
The plan will finally remove the City of Detroit from the electricity business and hand control of the grid to DTE Energy, which already powers all homes and most buildings in the city.
"Every month that goes by, we will be more and more on a new system, and the likelihood of this happening will go down," Mayor Mike Duggan said. "It's part of rebuilding the city."
Tuesday's outage — which caused schools to close, court hearings to adjourn and dead traffic lights — was the latest public example of Detroit's decayed infrastructure. City leaders hope it's the type of embarrassing problem that will fade as Detroit invests more heavily in public services after bankruptcy.
"This is another reminder of how much work we still need to do," Duggan said.
The city's grid has been run for decades by the Detroit Public Lighting Department and powers thoroughfare streetlights, traffic signals and a network of about 900 public buildings and institutions, from fire stations to Joe Louis Arena. But decades of deferred maintenance have led to frequent outages like Tuesday's, including one last summer.
All houses and private buildings in Detroit are plugged into the separate DTE grid system, which did not lose power Tuesday.
DTE is gradually rebuilding and absorbing the city grid into its own system under an arrangement that formally began July 1 but has been in planning since before Detroit's bankruptcy.
The utility company plans to invest $200 million in new electric cables, transformers and substations for the old Detroit grid and is about four years away from completion, according to DTE President Jerry Norcia.
When it is done, the city's 115 electrical users will become DTE customers, and the utility will also gain responsibility for powering traffic signals.
The initial modernization work this summer focused on upgrading electrical gear near school buildings in hopes of reducing the likelihood of students missing class due to outages — a persistent problem.
The project is separate but related to the ongoing effort to overhaul the city of Detroit's street lighting system. That work is being handled by the newly created Public Lighting Authority of Detroit, which aims to replace lights in all residential streets by the end of 2015 and all thoroughfares by the end of 2016.
DTE has supplied the power for streetlights in Detroit neighborhoods since the 1990s.
Duggan identified the cause of Tuesday's outage as a faulty cable that feeds a west side substation that has yet to undergo DTE's modernization. The lighting department attempted to redirect power to a different circuit, but then that circuit failed and triggered the shutdown of the whole system, the mayor said.
The faulty cable was coming out of the city-owned Mistersky power plant, which dates to 1930 and stopped generating electricity with natural gas a couple years ago. Yet Mistersky remains stuffed with electrical gear that is crucial to operating the city grid.
DTE President Norcia said the bad cable is likely more than 50 years old. The precise reason why it failed is still to be determined.
"Once we have everybody restored, we'll focus our efforts on investigation and looking for ways to make sure that this doesn't happen again, or happen less frequently," Norcia said.
Photo: Work stopped and construction workers were sent home from Cobo Hall during a massive power outage that hit downtown Detroit on Tuesday, Dec. 2, 2014. (Diane Weiss/Detroit Free Press/TNS)