Why Deutsche Bank Remains Trump's Biggest Conflict Of Interest
@eisingerj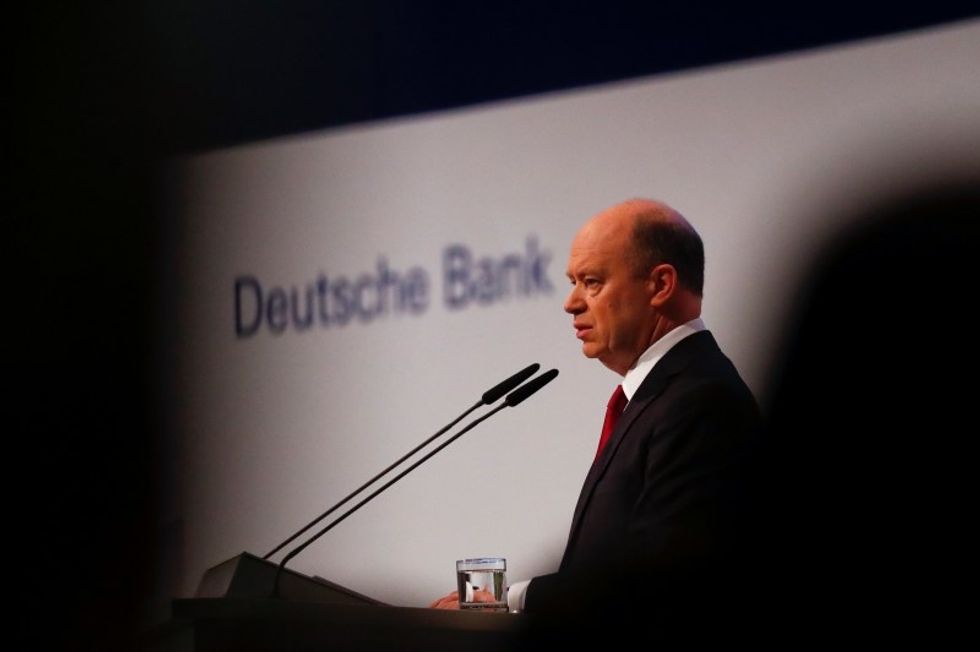 Reprinted with permission from ProPublica.
If you measure President Donald Trump's conflicts of interest by the amount of money at stake, or the variety of dicey interactions with government regulators, one dwarfs any other: his relationship with Deutsche Bank.
In recent weeks, Deutsche Bank has scrambled to reach agreements with American regulators over a host of alleged misdeeds. But because the president has not sold his company, the bank remains a central arena for potential conflicts between his family's business interests and the actions of officials in his administration.
"Deutsche poses the biggest conflict that we know about in terms of dollar amounts and the scale of legal exposures," says Brandon Garrett, a University of Virginia law professor and author of Too Big To Fail: How Prosecutors Compromise with Corporations. In trying to clear up its outstanding regulatory troubles, the bank "may have tried to do its best to avoid the appearance of impropriety but it may be impossible for them to do so."
Deutsche is Trump's major creditor, having lent billions to the president since the late 1990s even as other American banks abandoned Trump, who frequently bankrupted his businesses. While the president hasn't released his tax returns, he has made public some information about his debts. According to these incomplete disclosures and reports, the Trump Organization has roughly $300 million in loans outstanding from the bank. Trump continues to own the business, although he has turned over day-to-day management to his sons.
At the same time that it is Trump's biggest known creditor, Deutsche is in frequent contact with multiple federal regulators. While the bank agreed last week to pay $630 million to settle charges by New York state's top financial regulator as well as the U.K.'s Financial Conduct Authority that it had aided Russian money-laundering, it's still undergoing a related federal investigation into those activities, which it is also trying to settle. That will be an early big test of the Justice Department under Attorney General Jeff Sessions. The Justice Department also has an ongoing probe of foreign exchange manipulation by several banks, including Deutsche Bank.
Even if the bank clears up the ongoing federal cases, it will remain weighed down by past transgressions. During the housing bubble, Deutsche Bank misled buyers about the quality of its mortgage securities and omitted important information. In 2015, its London subsidiary pleaded guilty in connection with the multi-bank conspiracy to manipulate global interest rates and paid $775 million in criminal penalties.
Deutsche will soon have an astonishing six independent monitors monitoring its conduct — the most ever for one company, according to Garrett. Drawn from the ranks of consultancies and law firms, these overseers make sure Deutsche complies with previous state and federal settlements and regulations relating to its foreign exchange manipulations, global interest rate fraud, sales of dodgy mortgage securities, derivatives trading, and sanctions evasion.
Indeed, the independent monitor of Deutsche's derivatives reporting, Paul Atkins from Patomak Partners, has his own conflict of interest. Atkins served on Trump's transition team and played a role in appointing federal financial regulators. He is now monitoring whether Trump's business partner complies with the terms of a settlement with the Commodity Futures Trading Commission on derivatives reporting.
A Patomak spokeswoman declined to comment.
Meanwhile, the Federal Reserve has regulators sitting in Deutsche's offices, as it does with every big bank, keeping a watchful eye on the firm's safety and soundness. Last year, the Fed failed Deutsche Bank during its annual stress test, finding that it had insufficient capital and could not withstand another financial crisis. And the Securities and Exchange Commission and the CFTC regulate its investment banking and trading activities.
A Deutsche Bank spokeswoman declined to comment. The White House did not return an email seeking comment.
The Trump Organization's wide-ranging business dealings could raise quandaries for an array of government agencies, from the Department of Labor, which regulates the company's employment practices, to the General Services Administration, which leases Trump his hotel in Washington, D.C. "Just about everything that every branch, every type of enforcement, every action from every agency could touch on Trump's conflicts. There is no end to the corruption and ethics concerns," Garrett says.
But the potential conflicts may be most acute at the Justice Department. Whether the Justice Department walks away from an investigation or takes a hard line against Deutsche Bank, its every move will be scrutinized as either too tough or too weak.
With new management, Deutsche Bank has embarked on an effort to rebuild its reputation. Deutsche CEO John Cyran has conducted an apology tour for the bank's multiple and serial misdeeds. The money-laundering settlement isn't Deutsche's only recent move to close out government probes. In January, it agreed to pay $95 million to end a tax fraud investigation by the U.S. Attorney for the Southern District of New York. And in December, it became one of the last of the global banks to resolve civil charges over the creation and sale of misleading mortgages investments, agreeing to pay a penalty of $3.1 billion.
In these agreements, Deutsche capitalized on the Obama Department of Justice's eagerness to settle, according to defense attorneys who don't represent the bank but are familiar with the cases. Outgoing administrations desire to wrap investigations up so departing prosecutors may shine their resumes on the way out the door.
The Obama administration had an added incentive to reach settlements because it worried the Trump administration Justice Department might seek smaller penalties or otherwise go soft on corporations. That helps explain why Deutsche Bank's mortgage securities settlement, which included $4.1 billion in credit for consumer aid in addition to the penalty, was far below the $14 billion figure reported in the fall as Justice's opening bid. While most observers expected that figure to come down sharply, Deutsche's terms were still widely considered favorable.
Even so, Deutsche's share price remains depressed as investors worry about the bank's future payouts and ongoing fragility. The bank faces class action suits alleging efforts to manipulate interest rates and the currency markets.
Given the government's responsibilities, Trump's regulators face a fraught and sensitive task of proving their independence and fair-mindedness when it comes to Deutsche Bank. Prior White Houses have taken great care to avoid interfering in Justice Department investigations and prosecutions. Despite his early support for Trump's campaign and their personal friendship, Sessions has said he will not recuse himself from any Justice Department probe into the president, the Trump family or any of his political advisors.
The relationship Deutsche Bank has with the president cuts two ways, defense lawyers and former prosecutors say. It might be advantageous to be in business with a president who appears to regard the office as an opportunity for brand enhancement and enrichment. The bank might hope for leniency from the president's regulators because of its business ties to him.
There are signs that Deutsche's new management is not eager to continue serving as Trump's financier. Trump sued the bank in 2008 to avoid paying a loan for a Trump hotel in Chicago. The parties settled, but lawsuits have a way of fraying friendships. A former top executive at Deutsche Bank says the current top management does not like the real estate developer. "They don't want to do business with him anymore," he says.
Given the tension, Deutsche may worry about the mercurial president. The bank's concern is that the Trump administration could use its regulatory powers to secure better business terms. Nationalist strains course through his inner circle. A top Trump economic advisor recently accused Germany of currency manipulation. Trump, some observers fear, may seek to boost American financial institutions over foreign ones like Deutsche.
In recent months, Deutsche has also sought to renegotiate its loans with Trump, according to a Bloomberg report, in an effort to reduce its exposure to the president. The bank hoped to eliminate the president's personal guarantee on loans. But such a move would not eliminate the conflict of interest, since the president's company, which Trump still owns, would remain on the hook to pay back the loans.
IMAGE: Deutsche Bank CEO John Cryan addresses the bank's annual general meeting in Frankfurt, Germany, May 19, 2016. REUTERS/Kai Pfaffenbach