DeVos Refused To Visit Public Schools During New York Trip
@EricBoehlert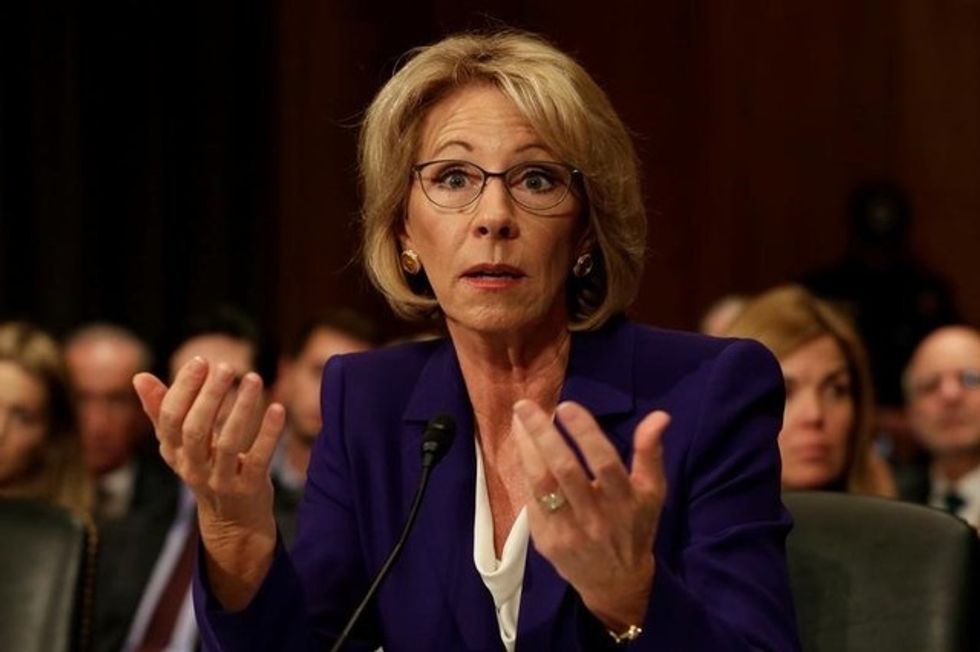 Reprinted with permission from Shareblue.com

Education Secretary Betsy DeVos wrapped up her two-day trip to New York City, refusing to visit a single public school in the largest public school system in the country.
With over 1,200 schools, the New York public school system would have presented DeVos with an up-close look at the vibrant challenges, and successes, associated with public education in a major American city.
Instead, DeVos, a charter school advocate, stiffed the students, teachers and administrators who are part of the public system.
Instead, she only visited two private, religious schools. There, she offered support — via bizarre comments — for the government funding of religious schools.
"I know very well there are powerful interests that want to deprive families their God-given freedom," she said, "I know that those sycophants of 'the system' have kept legislators here from enacting a common-sense program that would open options to thousands of kids in need."
According to one running tabulation, DeVos has visited 22 public schools to date and 19 private/charter schools. Her visitation rate is completely out of whack with American education, which is overwhelmingly public.
Note that in New York City, more than one million students who attend public schools in the city. For comparison, an estimated 57,000 students are enrolled in yeshivas like the two DeVos visited.
"Her actions have repeatedly demonstrated her disdain for public education," Randi Weingarten, president of the American Federation of Teachers said in a statement to Shareblue Meida.
"DeVos is about defunding and destabilizing public schools," Weingarten stressed, "not strengthening and building the public schools she's charged with overseeing and improving."
Meanwhile, her two New York City school visits were described as awkward. "DeVos spent 45 brisk minutes touring Yeshiva Darchei Torah, barely talking to students and refusing to chat with reporters," the New York Daily News reported.
A deeply unpopular figure nationally, DeVos has essentially been hiding from the press since she gave a rare interview to "60 Minutes" in March — and it did not go well.
When asked to defend the poor performance of charter schools in Michigan, where DeVos made her name as a charter school evangelical, the Education Secretary had no response.
"60 Minutes" reporter Leslie Stahl asked DeVos, "Have the public schools in Michigan gotten better?"
Devos replied, "I don't know."
Later, when Stahl asked her if she had visited any of the underperforming schools in the state, Devos said, "I have not intentionally visited schools that are underperforming."
Just like she did not find time to intentionally visit any public schools in New York City.