Disney Using The Force Of Unboxing Videos To Hype Star Wars Merchandise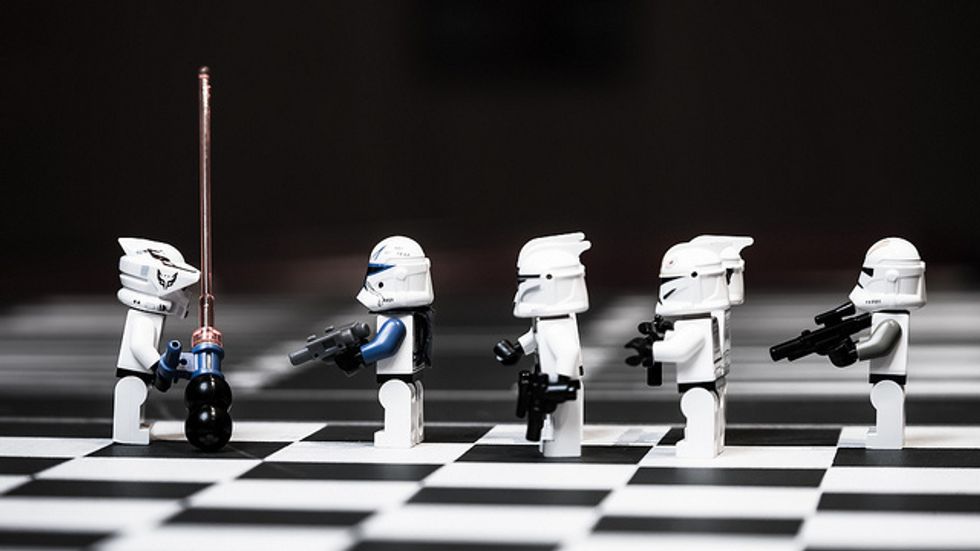 By Shan Li, Los Angeles Times (TNS)
Long ago in a galaxy not so far away, selling toys was a lot simpler. Put a commercial on TV. Lure shoppers to Toys R Us.
Today, it's not so easy to attract the attention of digital-savvy kids and their parents, who are watching less television and more online programming.
In a major departure from the usual movie/toy tie-in, Walt Disney Co. is heading to YouTube with an audacious marketing ploy to promote products tied to the upcoming film "Star Wars: The Force Awakens."
Disney, already known as a merchandising machine, will kick into hyperdrive for an 18-hour online marathon starting Sept. 3 designed to whip fans into a frenzy.
The event — mixing the power of YouTube stars with the oddly popular phenomenon of watching people open toy boxes online — underscores how mainstream entertainment giants are trying to adapt to the Internet and attract tech-loving young customers.
YouTube personalities around the world will be shown unboxing toys tied to the movie, and that will be combined with other content such as movie trailers and commentary. The online event will end when retailers throw open their doors as Sept. 3 ends at midnight — Disney is calling Sept. 4 "Force Friday" — to start selling the new Star Wars merchandise.
By heading online in this way, Disney is taking a page from the modern playbook of celebrities and politicians who have discovered the power of speaking directly to a target audience. The company is betting that its online extravaganza will create the same buzz as elaborate product debuts from the likes of Apple Inc. and Tesla Motors Inc.
If Disney succeeds, it could inspire more companies to go digital first when launching products, experts said. But the Burbank, Calif., company also runs into the potential danger that its customers could tune out what is essentially a nearly daylong ad.
"YouTube is something which allows a brand like Disney to have a very elaborate and detailed and extended infomercial," said James Dix, senior media analyst at Wedbush Securities. "TV networks really can't do that. They can't just turn over a channel for 18 hours to a brand."
That's especially important as children increasingly gravitate toward tablets and smartphones instead of dolls and action figures, analysts said. Traditional toymakers have to scramble to entice kids and their parents, and Disney is simply going where they are.
"We have a mobile, on-demand society," said Jason Moser, toy analyst at the Motley Fool. "Companies are utilizing technology in such a way that they can meet consumers on their own terms and their own timeline."
With YouTube, Disney can harness the growing appeal of unboxing videos, in which YouTube personalities remove gadgets, clothes or toys from their packaging and sometimes give a quick initial review.
YouTube said 1 in 5 users admits to having watched an unboxing video. Eighteen of the top 100 most-watched channels on YouTube globally are focused on toys and toy unboxings, attracting 8.1 billion views in the first quarter of 2015, according to Tubefilter.
"Children love watching them," said Jim Silver, editor in chief of toy review website TTPM.
The most popular toy unboxers on YouTube, with handles such as DisneyCarToys and DC Toys Collector, rake in substantial revenue as viewers watch ads, Silver said. YouTubers have varied styles: Some show only the hands with voice narration, while others rely heavily on the charisma of the unboxers themselves.
"It's almost like watching a show," Silver said.
Josh Silverman, executive vice president of global licensing at Disney Consumer Products, said the company went the YouTube route partly because the unboxing phenomenon is "huge."
"It's grown exponentially over the past few years," he said. "It's the perfect opportunity and marriage for us to take these Star Wars products and connect directly to fans."
Disney's digital marathon, which can be viewed on the Star Wars YouTube channel, kicks off in Sydney, Australia, on the morning of Sept. 3 (which, in Burbank time, is the afternoon of Sept. 2). A family of YouTube stars, known as Bratayley, will unwrap the first toy on live stream. That will be followed by other unboxings, staggered over the 18-hour stretch, from 13 other digital personalities, speaking their native languages, in cities including Tokyo, Paris, New York and Rio de Janeiro.
In between, Disney will air other content, including observations from two hosts based at YouTube's sprawling Los Angeles production studio. They will show off the same toys as the YouTubers and also will chat with guest stars such as writers of the Star Wars books. Movie trailers and footage from recent Star Wars events will also air.
The entire 18-hour event will also be streamed on Disney-owned ABC's website and mobile app. In addition, "Good Morning America" will broadcast the unboxing in New York live on its show.
The online showcase concludes in San Francisco at Lucasfilm with an expanded lineup of Star Wars merchandise such as apparel and accessories.
Then, as Sept. 4 begins, retailers such as Wal-Mart, Toys R Us and Target will open with shelves stocked full of Star Wars merchandise. The power of the Star Wars franchise should translate into good sales on the new product line, regardless of how the YouTube endeavor goes, analysts said.
Disney is smart for trying to carve out another way to reach potential customers, analysts said, but there is a trade off. Although the company will be able to reach a global audience, they will likely attract a narrower demographic: kids who like unboxing videos and hard-core Star Wars fans.
"This is definitely an effort to go for that generation that didn't grow up with Star Wars and is less familiar with it," Moser said. "They are reaching out to a much smaller window, plus the die-hard enthusiasts."
The YouTube personalities come from the network of Maker Studios, the digital media company that Disney bought last year for at least $500 million. The company, which is behind online hits such as "Epic Rap Battles of History," is one way Disney is trying to its reach younger viewers.
Chris M. Williams, Maker's chief audience officer, said toy-related Maker content generates 1.5 billion views a month, mostly on YouTube.
"Many of these artists got started by being fans themselves," he said. "That is extraordinarily compelling to audiences. They see it's made for them."
The latest installment of the Star Wars saga won't premiere until Dec. 18., nearly four decades after the Star Wars brand began in 1977 with the first Harrison Ford-starring film. In addition to the six movies, waves of merchandise have kept the George Lucas space opera alive and also served to introduce the franchise to new generations of film buffs.
Disney — which acquired "Star Wars" producer Lucasfilm in 2012 — is expected to expand the brand with the same merchandising zeal that has spun hit films such as "Frozen" into billion-dollar franchises. Disney's products generate $40 billion plus from licensed merchandise sold each year at retailers.
Roughly three years after the Lucasfilm deal was announced, Disney's strategy for the company is coming into focus. Besides a slew of films — this year's "Star Wars: The Force Awakens" will be followed by several planned sequels and spinoffs — the company has worked to integrate the franchise across its businesses.
At the company's forthcoming theme park and resort in Shanghai, for example, visitors will be able to tour a Star Wars-themed attraction. Star Wars Launch Bay will allow guests at Shanghai Disney Resort to meet the heroes of the space opera, tour set pieces and view props from the latest film.
Also, this month at the company's D23 Expo in Anaheim, the company announced it would build 14-acre "Star Wars"-themed areas for Disneyland in Anaheim and Disney's Hollywood Studios in Orlando, Fla.
Even if Disney has a huge hit with YouTube, many experts are skeptical that the same formula can be repeated to introduce entirely new franchises or other, less-beloved brands.
"If they were introducing a new science fiction franchise, that would be different," Wedbush analyst Dix said. "Why would anyone by interested in watching?"
___
(Reporter Daniel Miller contributed to this story.)
Photo: Stars Wars means tie-ins. R∂lf Κλενγελ via Flickr