Do Remote Bosses Cause Inequality?
@FromaHarrop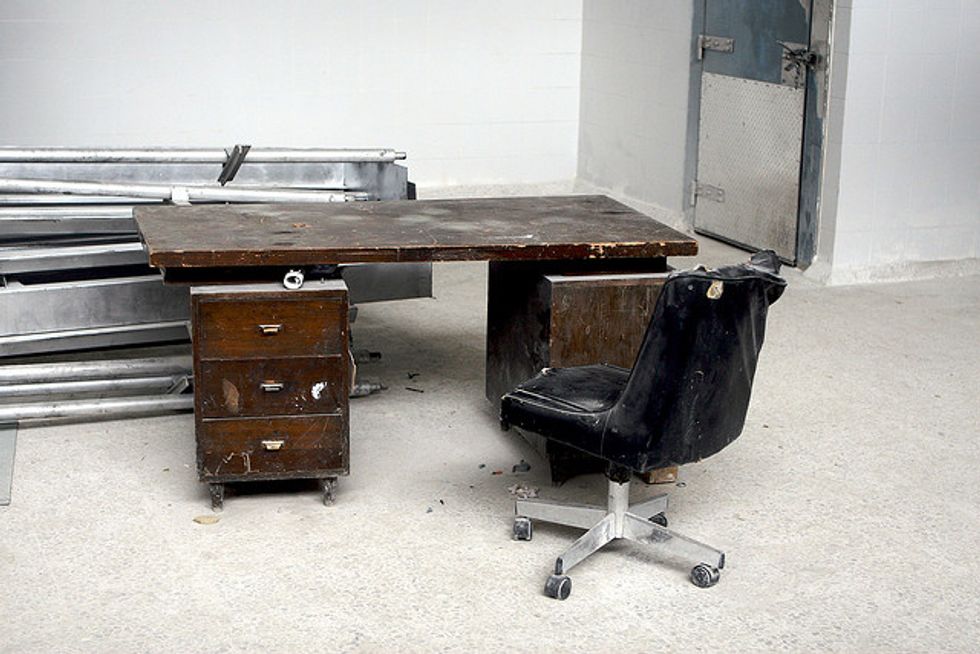 Could there be a reason for the widening pay gap that's not exactly economic? There could be.
The employment rate has fallen to a very low 5.1 percent. A tightening labor market is supposed to lead to higher wages, but that's not happening. Some of the lowest wages are actually falling.
Productivity gains — whereby workers produce more in the same amount of time — traditionally boost paychecks. Not nowadays.
Bosses and their investors are grabbing most of the profits. That's not just because they can but because there's no longer much of a social cost for not sharing. Technology and globalization have created a thick buffer between the top earners and public opinion.
That wasn't always the case. After World War II, lingering public anger over the Great Depression and some profiteering during the war created an expectation that business and labor would share in the postwar prosperity, former MIT professor Frank Levy once told me.
A golden age for the American worker ensued. Productivity rose fast and wages along with it. Until 1973.
Between 1973 and 2014, net productivity grew over 72 percent while the real wages of the median worker rose just 8.7 percent, according to a new study by the Economic Policy Institute.
"If the hourly pay of typical American workers had kept pace with productivity growth since the 1970s," the report said, "then there would have been no rise in income inequality during that period."
There could be several reasons for this. One must be employers becoming ever more remote from their employees. That has turned working people from being their teammates to being mere economic inputs, alongside the cost of energy, raw materials and borrowing.
As the old black-and-white movies showed, factory owners and Main Street merchants lived in the same town as their workers, even if on opposite sides of the tracks. Bosses who treated their people badly were shunned.
Owners and workers now often live on different continents. The captains of the growing gig economy, as epitomized by Uber, may not even set eyes on those enriching them. The dealings are done impersonally online. (Uber is fighting against having to even recognize its drivers as employees. That would entitle them to some added benefits.)
Walmart's decision last year to start raising its infamously low wages came out of world headquarters in Bentonville, Arkansas. Wolfe Research had downgraded Walmart stock because the chain's overworked staff was unable to keep the shelves stocked. The stores were looking shabby because of "Walmart U.S.'s relentless focus on costs," it said.
So the pay raise — still well below the $15-an-hour level being legislated in some states and cities — was clearly not motivated to win the affections of the 500,000 workers. (The good opinion of stockroom clerks — and their families –would have mattered to the local retailers that Walmart had long ago put out of business.)
We can accuse these employers of greed until we're blue in the face. But shaming is a dull weapon against weakened social restraints.
The very rich are more and more separated from everyone else. In their circles, net wealth is often regarded as the supreme mark of personal excellence. The workers, as the conservative movement tells them, should be grateful they even have a job.
It's hard to see what can change all this. Higher minimum wages are an obvious place to start — as are labor laws mandating paid vacation.
One thing that might raise the social price for gross inequality is publicizing the difference in pay between the top executives and the lowest workers. The question always remains, Are the bosses too cushioned to care?
Follow Froma Harrop on Twitter @FromaHarrop. She can be reached at fharrop@gmail.com. To find out more about Froma Harrop and read features by other Creators writers and cartoonists, visit the Creators Web page at www.creators.com.
Photo: Pulpolux via Flickr