Doctor Hospitalized In New York With Ebola After Returning From West Africa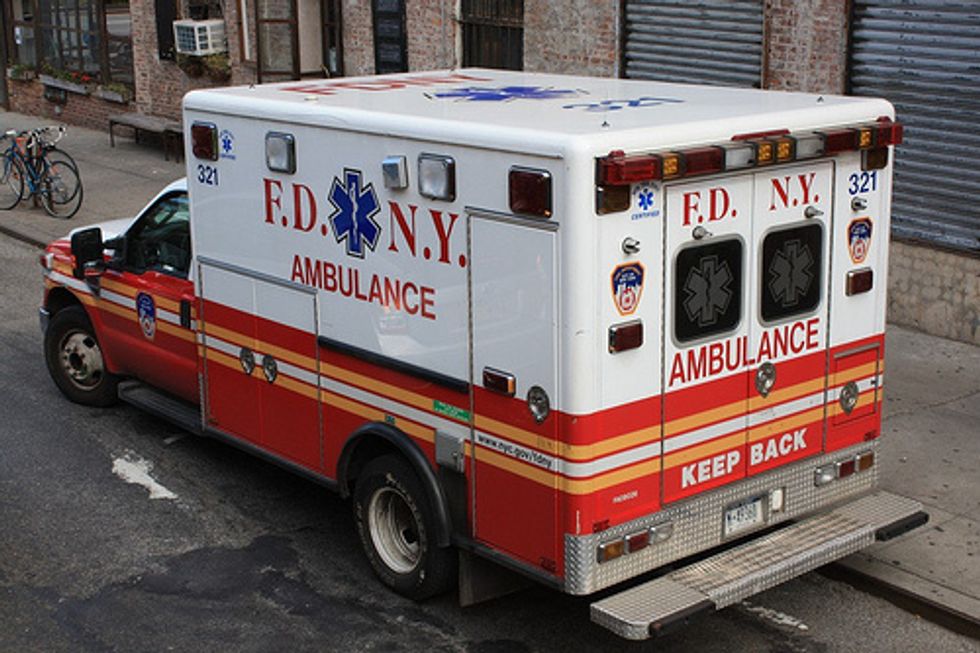 By Tony Pugh, McClatchy Washington Bureau (MCT)
WASHINGTON — A New York City physician who recently returned from treating Ebola patients in West Africa has become the nation's latest Ebola patient.
Dr. Craig Spencer 33, is in isolation at Bellevue Hospital Center, which is one of eight hospitals in New York state that were recently designated to treat Ebola patients.
Spencer was transported to the hospital Thursday morning by a Hazardous Material Tactical Unit of the city fire department.
Three of Spencer's friends, including his fiancee, will now be quarantined for 21 days — the incubation period for Ebola infection — after being in contact with Spencer while he was potentially contagious.
In a Thursday evening news briefing, New York Mayor Bill de Blasio said the hospital staff was "battle tested" and well prepared for an Ebola patient.
He said the city had been preparing for months for a possible Ebola case and that New Yorkers "are not at all at risk" for catching the deadly virus.
Officials from the U.S. Centers for Disease Control and Prevention were already at the hospital when Spencer arrived, said CDC Director Tom Frieden. They were inspecting the hospital's newly constructed Ebola treatment unit, which is a self-contained space with a dedicated blood lab.
"They were prepared just for this moment," said New York Gov. Andrew Cuomo, who urged city residents not to panic because Ebola is a tough virus to contract, requiring direct contact with body fluids of an infected, contagious person.
"I know it's a frightening situation," Cuomo said. "New York is a dense place, a lot of people on top of each other, but the more facts you know, the less frightening," it becomes.
Spencer apparently contracted the virus while treating Ebola patients in Guinea for the humanitarian group, Doctors Without Borders.
He left Guinea on Oct. 12 and boarded his return flight from Europe to JFK Airport on Oct. 14. He showed no symptoms of illness during the trip.
Spencer, who had been limiting his personal contacts since returning to the U.S. on Oct. 17, had gone for a three-mile jog on Thursday morning before he notified Doctors Without Borders that he had developed a fever.
"Doctors Without Borders, in the interest of public safety and in accordance with its protocols, immediately notified the New York City Department of Health & Mental Hygiene," said a statement from the group.
Health care workers in full protective gear facilitated an "orderly removal" of Spencer from his apartment, said Dr. Mary Travis Bassett, New York City's health commissioner.
Officials are awaiting blood-test results from the CDC to confirm the infection, but the agency already has an Ebola response team on the way to New York, Frieden said.
Spencer had gone bowling with friends on Wednesday at "The Gutter," a Brooklyn bowling alley that has since been closed pending examination and cleaning by health officials, Bassett said.
Spencer took several subway trains, but because he wasn't symptomatic — only fatigued — Bassett said he likely posed no threat to other riders. Spencer only began having Ebola symptoms, such as high fever and gastrointestinal problems, Thursday morning.
"He did not have a stage of disease that creates a risk of contagiousness on the subway," Bassett said. "We consider that it is extremely unlikely, the probability being close to nil, that there would be any problem related to his taking the subway system."
Officials will be checking Spencer's recent travels, including to a local restaurant, to make sure there are no other people who may be at risk for infection, Bassett said.
If necessary, the health department will isolate and quarantine known contacts of Spencer.
"The chances of the average New Yorker contracting Ebola are extremely slim," said a city health department statement.
City and state officials are also working closely with the hospital to ensure that all staff follow new CDC guidelines designed to prevent health care workers from contracting Ebola.
The virus is spread by direct contact with the bodily fluids of an infected person.
"You cannot be infected simply by being near someone who has Ebola," the health department advised.
Photo: Martin Wippel via Flickr