Doe Prosecutor: No Determination Whether Wisconsin Gov. Walker Committed Crimes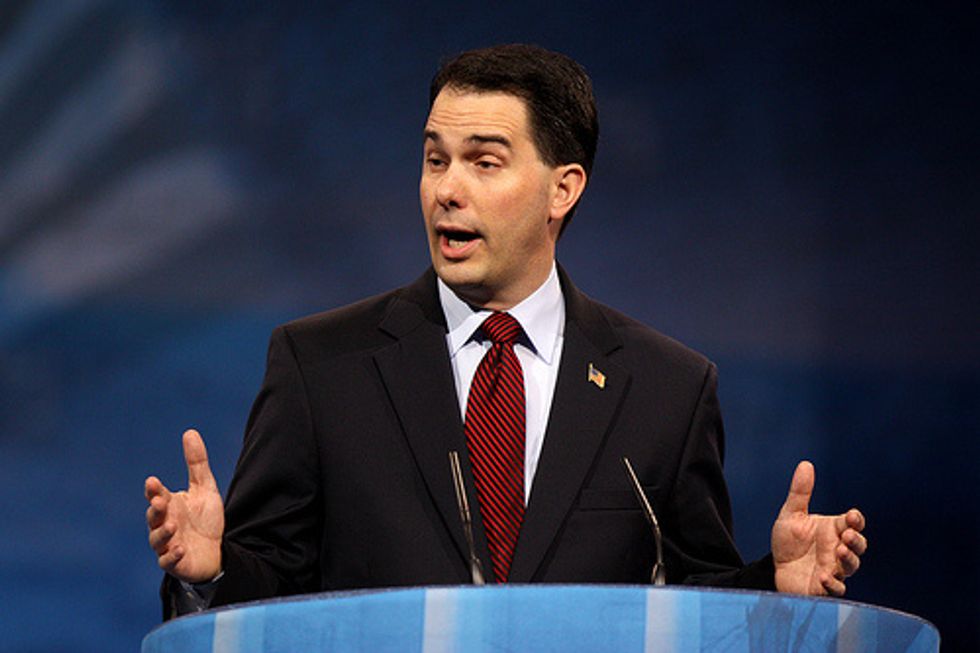 By Jason Stein, Milwaukee Journal Sentinel
MADISON, Wis. — A prosecutor cautioned Thursday that he hasn't made a final determination about whether Wisconsin Gov. Scott Walker (R) and his campaign illegally coordinated fundraising among conservative groups during the recall elections during 2011 and 2012.
In a statement Thursday, an attorney representing special prosecutor Francis Schmitz warned the media and public against jumping to conclusions of guilt based on documents within a once-secret John Doe probe that emerged in a federal lawsuit last week.
Those documents written by prosecutors laid out what they call an extensive "criminal scheme" to bypass state election laws by Walker, his campaign, and two top Republican political operatives — R.J. Johnson and Deborah Jordahl. So far, no one has been charged and the probe has been halted for now by a federal judge.
Walker has denied any wrongdoing.
"While these documents outlined the prosecutor's legal theory, they did not establish the existence of a crime; rather, they were arguments in support of further investigation to determine if criminal charges against any person or entity are warranted," Schmitz attorney Randall Crocker wrote in the statement. "Mr. Schmitz has made no conclusions as to whether there is sufficient evidence to charge anyone with a crime. It is wrong for any person to point to this sentence in a legal argument as a finding by the special prosecutor that Governor Walker has engaged in a criminal scheme. It is not such a finding."
In the statement released Thursday on behalf of Schmitz, his attorney said that "Governor Walker was not a target of the investigation."
"At no time has he been served with a subpoena," Crocker wrote of Walker.
However, Crocker's statement doesn't address whether Walker's campaign was a target of the investigation and a subpoena. The Wall Street Journal and later the Milwaukee Journal Sentinel have reported that Walker's campaign received one of a number of subpoenas in the case and is part of the legal fight challenging them.
Crocker didn't immediately respond to a question about why he had issued the statement Thursday.
The governor and his close confidants helped raise money and control spending through 12 conservative groups during the recall election campaigns, according to the documents released last week.
The documents released last week include an excerpt from an email in which Walker tells Karl Rove, former top adviser to President George W. Bush, that Johnson would lead the coordination campaign. Johnson also is Walker's longtime campaign strategist and the chief adviser to Wisconsin Club for Growth, a prominent conservative group.
"Bottom-line: R.J. helps keep in place a team that is wildly successful in Wisconsin. We are running 9 recall elections and it will be like 9 congressional markets in every market in the state (and Twin Cities)," Walker wrote to Rove on May 4, 2011. Rove runs American Crossroads, which backs Republican congressional and presidential candidates.
Beginning in March 2011, there were "open and express discussions" of the need to coordinate the activities of entities like Americans for Prosperity, Wisconsin Club for Growth, the Republican Party of Wisconsin, the Republican State Leadership Committee, and the Republican Governors Association, Schmitz wrote. Conference calls were held between the Walker campaign, the governors association and the business lobbying group Wisconsin Manufacturers & Commerce, he wrote.
The scope of the criminal scheme under investigation "is expansive," Schmitz wrote in the documents released last week. "It includes criminal violations of multiple elections laws, including violations of Filing a False Campaign Report or Statement and Conspiracy to File a False Campaign Report or Statement."
Walker spokesman Tom Evenson said Thursday that the statement by prosecutors vindicates the governor.
"After the media's slanderous reporting last week, today's statement by prosecutors should serve as an opportunity for the media to correct the record and report the real facts of this story," Evenson said.
Walker said last week that he couldn't comment directly on his email to Rove but indicated that Johnson will remain with the campaign for the fall election.
After conservatives sued in federal court in Milwaukee alleging the probe violated their First Amendment rights to free expression, U.S. District Judge Rudolph Randa halted the investigation for now — a ruling under appeal to the 7th U.S. Circuit Court of Appeals in Chicago. The lawsuit was brought by Wisconsin Club for Growth and one of its directors, Eric O'Keefe.
Photo: Gage Skidmore via Flickr
Interested in U.S. politics? Sign up for our daily email newsletter!