Blood On Their Hands -- And NRA Money In Their Pockets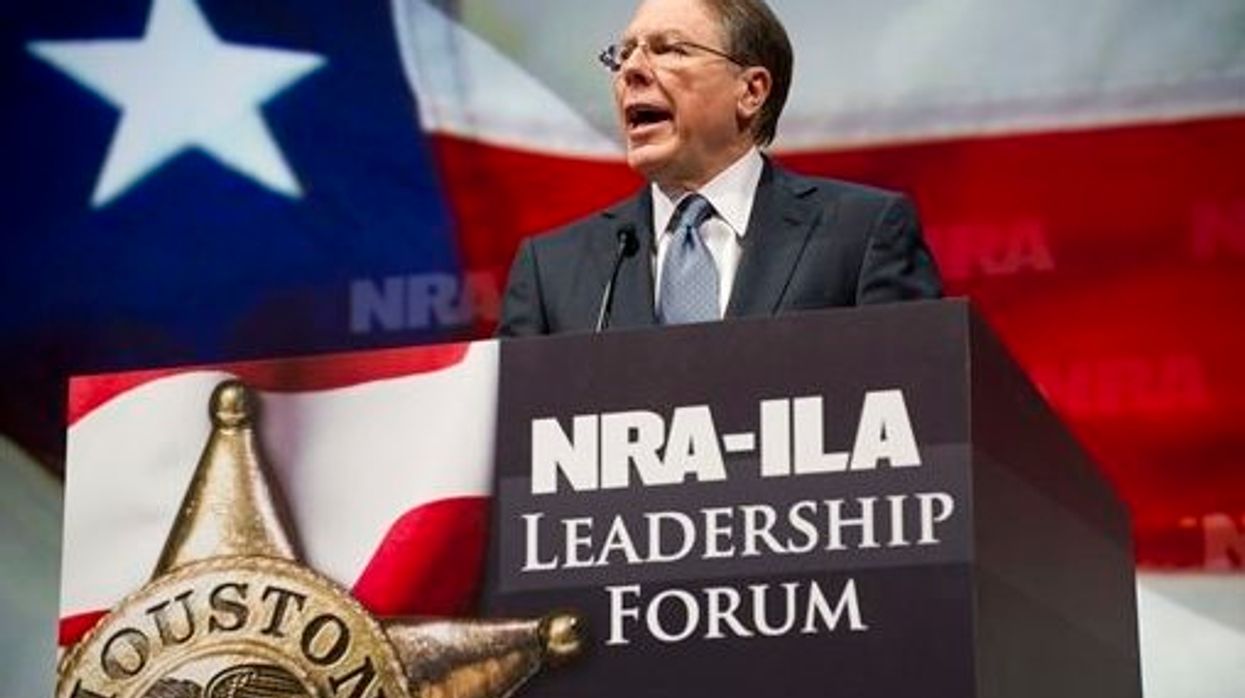 The gut-wrenching tragedy in Texas has turned into a thoroughly degraded political spectacle of corruption and cowardice. If anyone still wonders why America suffers from gun violence at a level unmatched by any other nation, the answer can be found on gaudy display in Houston. The Republican politicians who obediently kneel at the National Rifle Association's annual gathering there — as well as those too sniveling to show up right now in person but instead on video, like Gov. Greg Abbott — have blood on their hands and money in their pockets.
The crooked gang that has driven the NRA toward bankruptcy through the graft of millions in crony contracts and lavish "expenses" over their decades of self-dealing has greased its political allies, too. At last count the organization has doled out upwards of $100 million over the last few election cycles to its faithful servants, who echo its litany of bogus constitutionalism and absurd alibis against gun safety regulation.
That the NRA event will occur just across the Lone Star State from the bereaved town of Uvalde is more than a tragic coincidence. Under pressure of investigation from the attorney general of New York, where the NRA has been registered as a public charity for 150 years, the outfit's leaders may relocate to the more corruption-friendly Texas climate. The Republican leadership there is an utterly servile instrument of the gun lobby, insisting that they will tolerate no regulation of firearms whatsoever. If a disturbed teenager has the cash to buy two assault weapons that he will use to brutally murder small children, why should they stop him when the gun lobby says no?
Abbott, who held a happy hour fundraiser on the same day as the Uvalde slaughter, embodies the callous indifference to the murderous consequences and deceptions of the gun lobby. He is a quintessential "thoughts and prayers" and "pro-life" hypocrite, whose devout faith doesn't extend to protecting children after they are actually born. Abbott is the kind of deliberately "do-nothing" placeholder who leaves open the door to the massacre of children that makes people question democratic governance and fills them with despair.
While children are giving traumatic accounts of the slaying of their classmates and how they smeared themselves with their blood to pretend to be dead, Abbott is pretending that he will do something. Only the most naive will believe him, however, because we have seen this rodeo clown show before.
Four years ago in Texas, when a 17-year-old student shot dead eight students and two teachers, and grievously wounded 13 others at Santa Fe High School, Abbott promised he would offer new solutions. He called for "roundtable" discussions reflecting all points of view. He hinted at expanded background checks and ways to keep guns away from obviously dangerous individuals. "It's time in Texas that we take action to step up," he said, "and make sure this tragedy is never repeated ever again in the history of the state of Texas." Oh yeah.
But Greg Abbott did nothing — absolutely nothing — as bloody murders continued across his state— at the El Paso Walmart, in Midland-Odessa, and now Uvalde. In fact, he has continued to promote unfettered access of weapons of war to wanton killers. Now the Texas rodeo clown is telling the crowd he's concerned about "mental health," when the truth is that he has cut the state's mental health budget consistently.
To be sure, Americans need expanded access to mental health care, especially now in the aftermath of the pandemic, but that isn't the most effective way to address gun violence. We know that gun regulation works, because even the most violent cities that curb guns have fewer killings than those that do not. New York City has far fewer murders than Houston, where the monstrous NRA will celebrate as the innocents are buried. Today, the leading cause of death among children and teenagers in the United States is gun violence.
Don't mess with Texas? Sorry, but Texas is a bloody mess — and the enablers of its terrible distress begin but do not end with its governor.
To find out more about Joe Conason and read features by other Creators Syndicate writers and cartoonists, visit the Creators Syndicate website at www.creators.com.