The Donald Trump Apology Tour
@FromaHarrop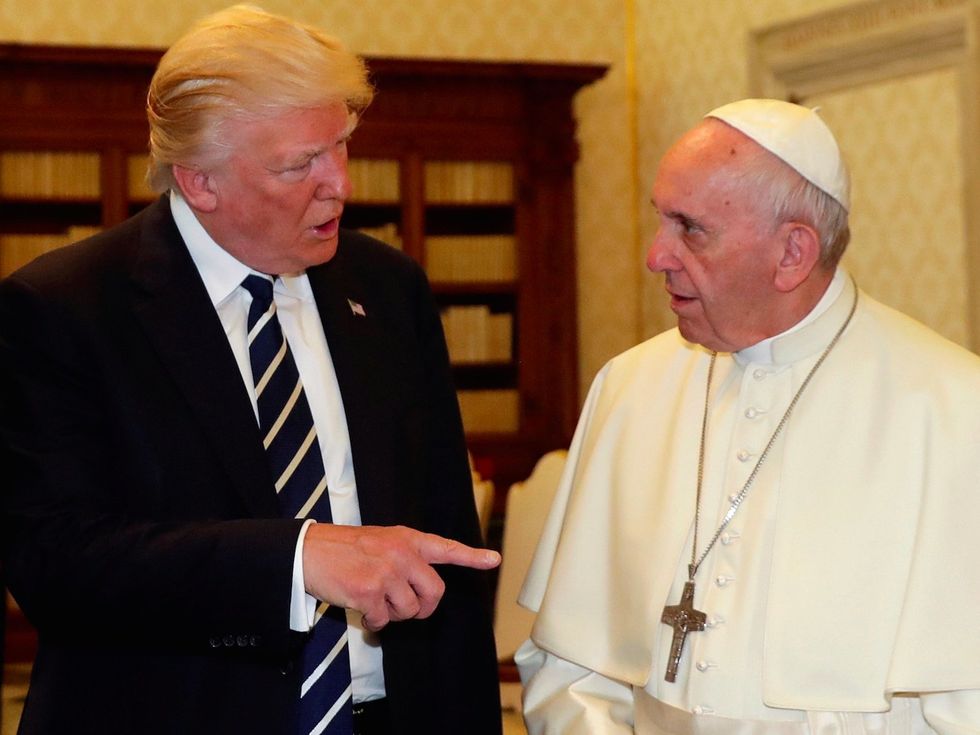 Reprinted with permission from Creators.
Barack Obama much annoyed many of his critics when he noted less-than-stellar moments in American history during his trips abroad. They called it Obama's apology tour.
While greatly admiring Obama's polish on the world stage, I did find these we're-not-perfect flourishes to be mildly irritating. We're all flawed nations talking to other flawed nations. No need to publicly admit one's faults. This is not couples therapy.
But President Trump has launched his own brand of apology tour. The big difference is that Obama was apologizing for our country. Now the country is apologizing for Trump.
The most straightforward apology was offered by Defense Secretary Jim Mattis while at a security conference in Singapore. Trump had delivered a double whammy of pulling out of the Pacific trade agreement and the Paris climate accord. Mattis was trying to reassure Asian allies that the U.S. position on global cooperation isn't as bad as it looks.
"Bear with us," he said in response to some pointed questions. And he shared a famous quotation often attributed to Winston Churchill: "Once we have exhausted all possible alternatives, the Americans will do the right thing."
So glad Obama didn't say that.
The public can only guess at this point why the highly competent Mattis subjects himself to the grueling job of explaining Trump to the world. One suspects that he's doing it as a patriotic gesture, to somehow shield American interests from the erratic president's eruptions. I eagerly await his autobiography, as well as the prison memoirs sure to emerge from others in the administration.
In retaliation for German Chancellor Angela Merkel's remark that Europe can no longer rely on American leadership, Trump tweeted: "We have a MASSIVE trade deficit with Germany, plus they pay FAR LESS than they should on NATO & military. Very bad for U.S. This will change."
The general manager of the American Chamber of Commerce in Germany felt obliged to intercede. "It's important that we differentiate between politics and business," she said. "A trade war is in the interest of no one — especially not the U.S. administration."
Trump used the recent terrorist outrage in London as an occasion to both malign and misquote the city's besieged mayor. He tweeted, "At least 7 dead and 48 wounded in terror attack and Mayor of London says there is 'no reason to be alarmed!'"
For the record, here's what Mayor Sadiq Khan said: "Londoners will see an increased police presence today and over the course of the next few days. No reason to be alarmed."
The acting American ambassador to London quickly stepped in with broom and sanitizer to clean up the droppings.
"I commend the strong leadership of the (mayor of London) as he leads the city forward after this heinous attack," Lewis Lukens tweeted.
Translation: Don't pay attention to that crazy man in the Oval Office. Deep down we're the same old United States of America.
The ambassador's rejoinder is an example of an apology wrapped in an alternative response. The thankless task of covering for Trump's verbal stampedes could well explain why leading law firms have turned down invitations to represent Trump in the Russia investigation.
Furthermore, close association with Trump has become hazardous to one's reputation. And even if he offered to pay handsomely, actually getting paid could be another matter. Trump's record of stiffing contractors is impressive.
I never thought I'd miss the days when President Obama would say such things as, "There have been times where America has shown arrogance and been dismissive, even derisive." That it's true didn't make it appropriate.
But alas, Trump is proving the point. And for that, on behalf of most good Americans, I would like to apologize.
Follow Froma Harrop on Twitter @FromaHarrop. She can be reached at fharrop@gmail.com. To find out more about Froma Harrop and read features by other Creators writers and cartoonists, visit the Creators webpage at www.creators.com.