Donald Trump Attacks Hillary Using Old Photo Of Her With Bill Cosby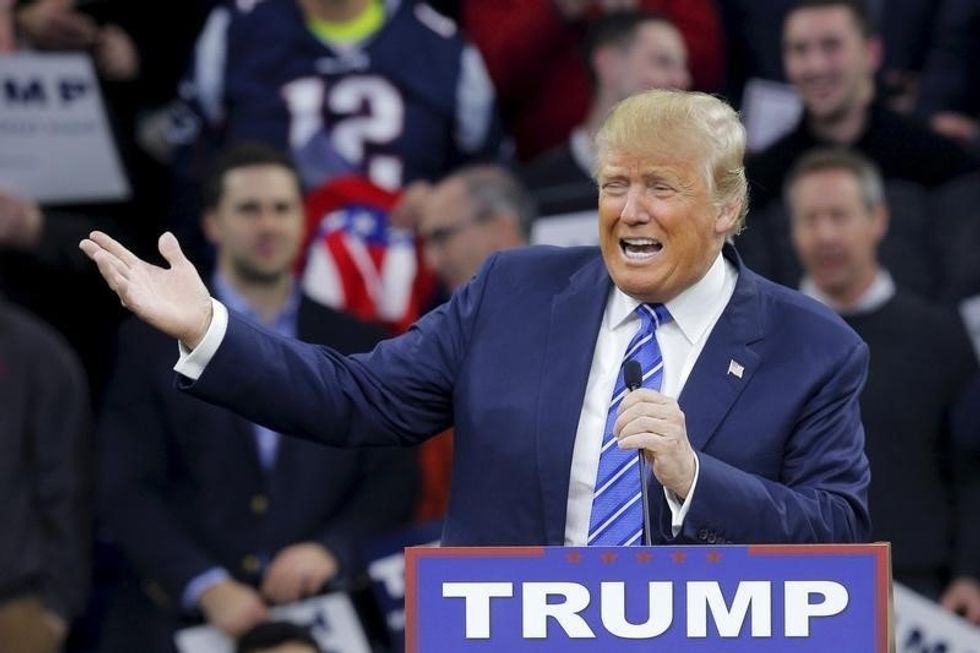 Donald Trump is fighting back against Hillary Clinton by dredging up as many old scandals as he can think of — whether they have anything to do with her nor not. His latest Web video is a response of sorts to the Democratic frontrunner's condemnations of his sexist comments on the campaign trail.
"Hillary and her friends," Trump writes in the video's caption text. The video awkwardly splices sound bites culled from various Hillary speeches over the years: "Women's rights are human rights, and human rights are women's rights… once and for all… let's keep fighting for opportunity and dignity."
All the while, images are shown of Bill Clinton and Monica Lewinsky; sexting-scandal-ridden former Rep. Anthony Weiner, who is married to Hillary's close aide Huma Abedin; and to top it off, an old photo of Hillary Clinton campaigning alongside Bill Cosby during her 2000 race for senator from New York.
A video posted by Donald J. Trump (@realdonaldtrump) on
"True defender of women's rights," the on-screen text says, in all capital letters. "Trump. Make America Great Again!"
Cosby was recently charged in Pennsylvania with aggravated indecent assault, for an alleged sexual assault upon former college basketball player Andrea Constand in 2004. Dozens of other women have spoken up publicly over the past two years, accusing Cosby of sexually assaulting them over the past several decades, usually by slipping drugs into their drinks. In a deposition released last year from Constand's 2005 civil suit, Cosby admitted to giving illegal drugs to women before he had sex with them, though he did not admit to the drug use being nonconsensual.
In 2000, back when Cosby campaigned for Clinton, there was no public awareness of the allegations against him. In fact, Cosby received the Presidential Medal of Freedom in 2002, conferred upon him by President George W. Bush.
Photo: U.S. Republican presidential candidate Donald Trump speaks at a campaign rally in Lowell, Massachusetts January 4, 2016. REUTERS/Brian Snyder