Donald Trump — The Insult Comic Presidential Candidate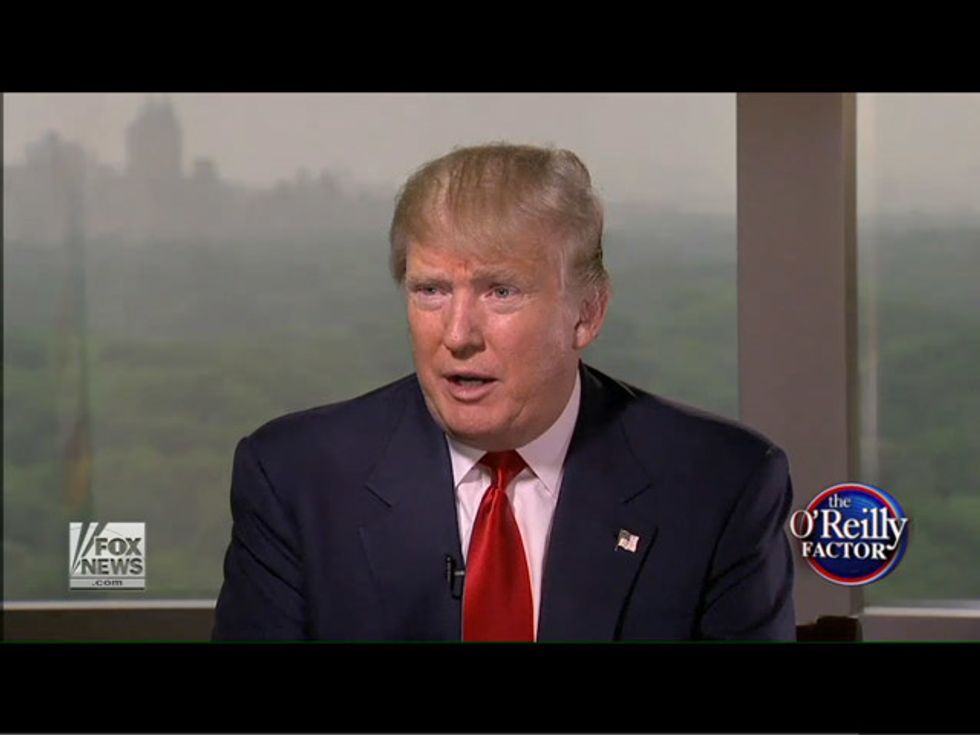 Donald Trump appears to have laid out a clear game plan for his campaign: insult every other Republican candidate in the race, like Don Rickles with bizarre hair — and make it harder for any of them to ever win.
We're not actually suggesting that The Donald is a Democratic plant on a mission to attack and undermine the real GOP candidates from behind their own lines — but if the Dems had tried to engineer such a candidate, they could not possibly have done a better job.
The Democratic National Committee's own statement on Tuesday certainly seemed to be suppressing glee beneath the tongue-in-cheek tone:
Today, Donald Trump became the second major Republican candidate to announce for president in two days. He adds some much-needed seriousness that has previously been lacking from the GOP field, and we look forward to hearing more about his ideas for the nation.
In an interview Tuesday on Fox News, Bill O'Reilly asked Trump: "Are you going to slash and burn through this Republican field?"
The blunt response: "Well, I don't have a lot of respect for many of them."
Trump even got in a word against ex-president George W. Bush, after O'Reilly brought up Bush's 2007 remarks about being able to look into Russian president Vladimir Putin's soul. "Bush didn't have the IQ," he said.
The insult comic strategy crystalized with The Donald's epic announcement speech, in which he boasted that the rally itself was superior to all the other candidates' announcement events:
This is beyond anybody's expectations. There's been no crowd like this. And, I can tell, some of the candidates, they went in. They didn't know the air conditioner didn't work. They sweated like dogs. They didn't know the room was too big, because they didn't have anybody there. How are they going to beat ISIS? I don't think it's gonna happen.
He put the crosshairs on Jeb Bush, who had announced the day before: "I mean, you looked at Bush, it took him five days to answer the question on Iraq. He couldn't answer the question. He didn't know. I said, 'Is he intelligent?'"
Trump continued: "He's weak on immigration. He's in favor of Common Core. How the hell can you vote for this guy?"
Right after the announcement, he was off to Iowa — where, as The Des Moines Register reports, he continued to attack Jeb Bush, this time for his clothing choices.
"I watched Jeb Bush yesterday," Trump said, referencing the former Florida governor's Monday campaign announcement. "He can't even put on a tie and jacket. He's running for president. Maybe he knows something I don't know. Maybe I should take it off because I want to be one of everybody. You know what? You run for president, maybe put on a tie. I thought it was ridiculous."
He also targeted Marco Rubio — this time on immigration: "Rubio was really weak on immigration, his poll numbers plummeted and all of the sudden he says: 'Oh, I'm very strong on immigration.' Well, you know where he is."
Trump then put a spin on the classic Karl Rove strategy of attacking an opponent for your own weaknesses: "And by the way I have better hair than he does, believe me."
During the freewheeling Q&A session (below), he took a dig at certain other unnamed candidates for having lost elections by large margins:
You know, these politicians give up nothing. They run, they lose, they win. You got these people, they're losing elections, now they decide to run for president. Many of them have lost elections. I say wait a minute, she lost, he lost. How do you run for office, and lose by huge margins — I won't say who — but they lose by these massive margins. And then you're "Oh, that's okay, now I'll run for president."
(Trump was possibly referring to Carly Fiorina and Rick Santorum, who lost elections for Senate seats in 2010 and 2006, respectively.)
Months before he entered the race, Trump dropped some hints about the kind of petty provocations other candidates could expect from him. Speaking in April on the differences between himself and Rick Santorum, he said, "I have a big plane. He doesn't." 
He also trashed Carly Fiorina, his fellow CEO candidate and the only Republican woman in the race, calling her a failed businesswoman and a bad politician:
Look, you have a woman who got fired from her job. And I mean fired viciously. She got fired viciously. She then went out and lost in a landslide when she ran in California for the Senate [to Barbara Boxer in 2010]. And I mean, she lost in a landslide. She got clobbered. And now she's running for president. Now, I'm all for it. I think she's a very nice woman. But she got fired. And, she lost in a landslide. Does that qualify you to run for president?
And on Mike Huckabee, he tweeted in May:
Huckabee is a nice guy but will never be able to bring in the funds so as not to cut Social Security, Medicare & Medicaid. I will.

— Donald J. Trump (@realDonaldTrump) May 7, 2015
But of course, for a man who built his political following in the last campaign cycle by fanning the conspiracy theories about President Obama's place of birth, he also had to get in some birtherism on the Tea Party candidate who actually was born in another country — Ted Cruz.
"It's a hurdle and somebody could certainly look at it very seriously," Trump said in March. Cruz "was born in Canada, if you know, and when we all studied our history lessons, you're supposed to be born in this country, so I just don't know how the courts would rule on it. But it's an additional hurdle that he has that no one else seems to have."
And maybe, just maybe, Donald Trump could be the man to look at these issues very seriously.