Is Donald Trump's Toxic Campaign Ruining Ivanka Trump's Brand?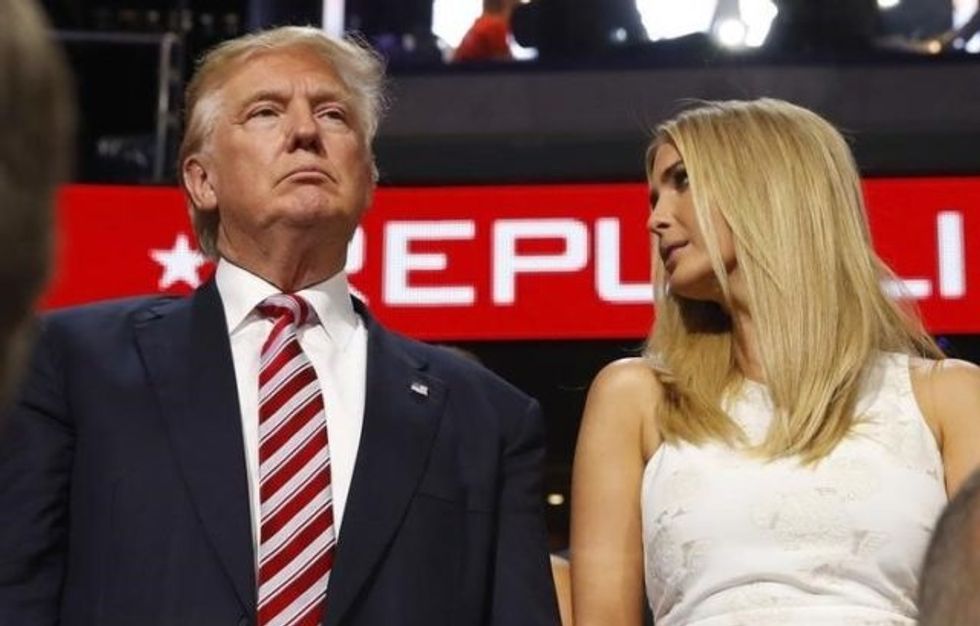 On the heels of news that future hotels won't bear the family surname, which has been thoroughly tarnished by Donald Trump's toxic presidential campaign, there's another bad sign for the Trump brand. Shoppers are boycotting Ivanka Trump's clothing and accessories label in protest of its namesake's continued support of her father's misogynist rhetoric, particularly following the release of a 2005 video in which he brags of grabbing women by the genitals. The boycott has been effective enough that, as Fortune and Raw Story report, "Fewer than 1 in 4 women would buy clothes from Ivanka Trump."
The boycott was spearheaded by Shannon Coulter, the head of a San Francisco marketing agency. Coulter says Trump's casual boasting about sexual assault triggered dark memories of sexual harassment she's experienced in her career.
"It was a feeling of recoiling. It was emotional, visceral. Then I had a pounding headache for a few days. I was filled with nausea," Coulter told the Guardian. "[W]hen I heard Donald Trump talking on that tape, I recognized in his words the same feeling that I had that day—of being nothing more than an object. No matter how smart you are or how hard you work, they can do that to us."
Earlier this month, Coulter took to Twitter to urge shoppers to avoid the Ivanka Trump brand. The protesters hope to hurt the Trumps where they'll feel it the most—in their bulging wallets—by hopefully putting a dent in profits. Last year, the Ivanka Trump label took in about $100 million in revenue, according to Forbes.
Coulter said that in addition to the leaked tape, her motivation to launch the campaign was inspired by the delayed and tepid response from Trump's daughter. ("My father's comments were clearly inappropriate and offensive and I'm glad that he acknowledged this fact with an immediate apology to my family and the American people," Ivanka told Fast Company, days after the video made news.) The Bay Area marketer said she's also irked by Ivanka's feminist-lite rhetoric and actions, such as launching the #WomenWhoWork initiative as part of her fashion brand, while defending her father's most outrageous anti-women comments.
"[Women] were ready to give Ivanka a pass because she's his daughter and it's hard to be objective about your dad. But the Trump tape just sent people over the edge," Coulter told Cosmopolitan. "I think [women] took particular offense, as I did, to the fact that Ivanka tries to make feminism a part of her brand but is standing by, as an official campaign surrogate, a guy who is an alleged serial sexual assaulter of women. The disconnect was too big. And they were ready to speak up about it and flex their consumer power about it."
"If Ivanka Trump had distanced herself from the campaign I would not be boycotting her," Coulter told the Guardian. "But something changed for me when that tape was released."
The hashtag #GrabYourWallet—a clear reference to Trump's lewd leaked remarks—is the trademark of the boycott. Coulter is not only suggesting women not buy Ivanka Trump brand shoes, clothes and accessories, but that they also avoid stores selling the brand.
Cosmopolitan reports that since starting the boycott on October 10, Coulter's tweets "have earned an estimated 1 million impressions on Twitter, according to her analytics report." But it's an uphill battle, since Fortune casts some doubt on its poll finding of three-quarters of women who wouldn't buy from Ivanka ("Of course, it's possible that these women are saying one thing, but doing another"). In addition, recent research indicates about half of millennial women are still willing to buy Ivanka's Trump brand, despite her father's campaign.
Reprinted with permission fromAlterNet.
Kali Holloway is a senior writer and the associate editor of media and culture at AlterNet.
Photo: Donald Trump stands in the Trump family box with his daughter Ivanka awaiting the arrival onstage of his son Eric at the conclusion of former rival candidate Senator Ted Cruz's address, during the third night at the Republican National Convention in Cleveland, Ohio, July 20, 2016. REUTERS/Aaron P. Bernstein