Donald Trump's Very Weird Russia Thing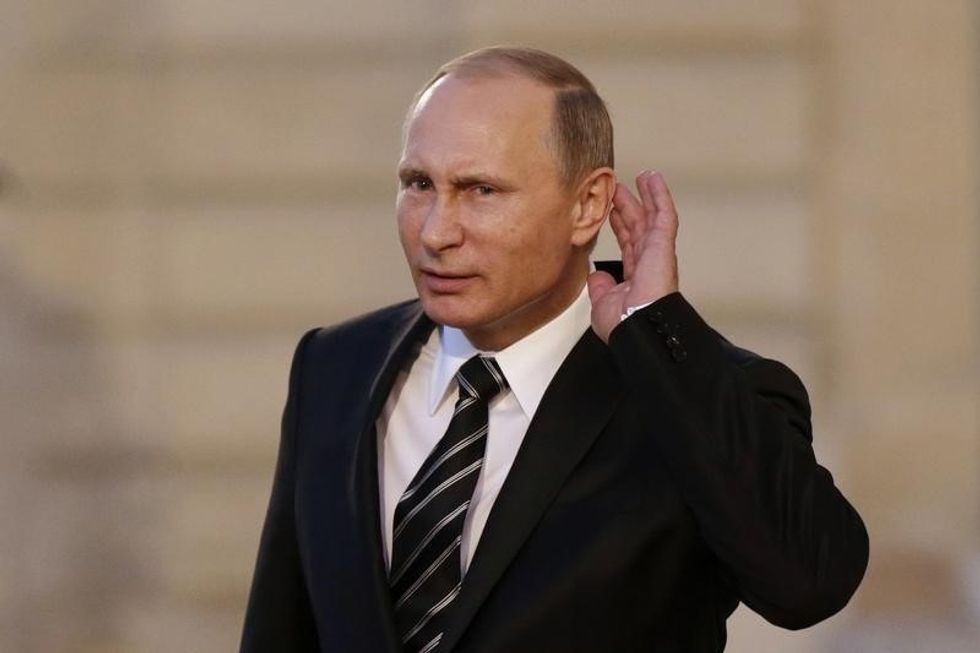 Donald Trump, the Republican Party presidential nominee, has a Putin thing. The Trump campaign has a Russia thing. And Trump Tower has a Russian mobster-running-an-illegal-gambling-operation thing.
The Clinton campaign has a Russian-hacker thing, as does the Democratic National Committee. WikiLeaks is apparently on the receiving end of the yield from the Russian-hacker thing—the Clinton campaign and the DNC being the purloined-upon.
Roger Stone, the dirty trickster and Trump campaign adviser, seems to have a very good WikiLeaks thing going for him, but it would have gone much better if that video footage of Trump on the "Access Hollywood" bus hadn't crapped all over it. Still, you've got to admire the sheer ambition of certain men, the lengths to which they will go to achieve their idea of world domination.
Stone's former business partner, Paul Manafort, had to leave the Trump campaign, of which he was chairman, when documents unearthed in Ukraine called attention to his work for the pro-Russia side in Russia's grab of the Crimea. Oops, wrong side.
The persistent subdominance of Russia-linked themes in this election has reached levels a Russian absurdist would love. Had it not been for the leak of the 2005 Access Hollywood video, this campaign would be all Russia, all the time. Russia messing in our election with a very psy-ops approach, Russia messing with our heads. And that's f*cking weird.
While there may be an anti-Russia bias in U.S. media, that doesn't disprove the obvious fact that the Trump campaign has ties to Russia, that Trump has admired Putin and has sought his favor, and that law enforcement and U.S. intelligence sources seem convinced Russian intelligence agents are involved in the hacking of the emails of Trump's opponent. It's like a "Get Smart" plot.
There's a toxic brew of archetypes served up in the Russia election drama. In Vladimir Putin one finds the kind of classic, cold authoritarian who served as a role model for Trump, starting with his father, whose "stinginess with praise" for his children was noted by Jason Horowitz in a New York Times story about the Trump family.
When challenged in a televised forum about expressing admiration for Putin, the dictator who disappears journalists and has incited violence against LGBT people, Trump responded, "Well, I think when he calls me brilliant, I'll take the compliment, OK?"
Maybe I shouldn't be indulging in such armchair psychologizing, being completely unqualified. But shit, you don't need to draw me a picture. Truth be told, this campaign has completely unshackled me. Pussy pussy pussy pussy, piz'da (Russian for pussy). But enough about me.
What we have in Donald Trump is a little rich boy spoiled with everything he could possibly want, save his father's affection—the one thing he couldn't grab with impunity.
Roger Stone is long known as a dirty trickster who does his thing by jamming the works, sneaking through the back door and planting false narratives, sometimes through the use of a little walking-around money. For Stone, the thrill in winning is the thrill of the cheat, as when he told the Weekly Standard how he worked for the candidacy of third-party candidate John Anderson in 1980 in order to help Ronald Reagan win the electoral votes of the state of New York. He's the ultimate evil imp, the joker, dandied up in a striped suit, transparently transgressive of the truth, boasting of his ability to change the dynamic of a race.
For Trump's 2016 presidential run, Stone started out as an official member of the campaign staff, but left in August 2015 after conflicts with others on the campaign, only to assume a role as an "informal" adviser. He helped usher the exit of campaign manager Corey Lewandowski, and the hiring of his old business partner, Paul Manafort, to take Lewandowski's place.
In the same Weekly Standard story, writer Matt Labash mentions in an aside that Stone, during the course of the writer's interviews with him, suggested the two go to Ukraine together, where Stone has a client in Volodymyr Lytvyn, who was making a run for Parliament. What Labash doesn't mention is that Stone's client has been implicated in the murder of journalist Georgiy Gongadze, a thorn in the side of then-president Leonid Kuchma, for whom Lytvyn served as chief of staff. It's a story full of intrigue—surreptitiously recorded tapes, an interior minister who may or may not have killed himself. The perfect client for the likes of Roger Stone.
Perhaps Stone's most epic bit of stagecraft—thus far—is the so-called Brooks Brothers riot, when, as recounts of the 2000 election returns took place in Florida, he organized Republican Capitol Hill staffers to board buses to Miami and raucously storm the Miami-Dade board of elections offices where the recount was taking place.
In the interest of boosting Trump's electoral fortunes, according to the Associated Press, Stone gave $2,500 through a pro-Trump PAC to Kathy Shelton for her story of Hillary Clinton's work as a public defender on behalf of a man who had sexually assaulted Shelton when she was 12 years old. At Trump's pre-debate press stunt October 9, which also featured three women who have accused former President Bill Clinton of sexual assault or harassment, Shelton accused Hillary Clinton of making her life a misery during the course of the trial, which resulted in Shelton's rapist (who pled guilty) ultimately gleaning a light sentence on a lesser charge. Trump has alleged that Clinton "laughed at" Shelton's victimization during an interview with an Arkansas reporter, a charge PolitFact has deemed "false." (There's no evidence of Clinton doing anything other than what a good public defender should do on behalf of her client.)
Stone is also said to have raised money for Kathleen Willey, one of Bill Clinton's accusers, to pay off her mortgage, according to the AP. Stone has also coordinated with radio conspiracy theorist Alex Jones to advance the claim that Hillary Clinton belongs in jail. (Jones' latest contribution to campaign rhetoric is a contest with cash rewards for people who attend Clinton rallies and shout, "Bill Clinton is a rapist!")
But Stone's biggest boast of the 2016 campaign so far was made August 8, regarding his purported communication with WikiLeaks founder Julian Assange through "a mutual friend," promising an "October surprise." On August 21,Stone tweeted that "it will soon [be] [Clinton campaign chair John] Podesta's time in the barrel." On October 4, as he periodically does, Assange appeared from his self-imposed exile in the Ecuadorian embassy in London, live-streaming on the laptops of reporters throughout the world like a Cardassian general popping up on the screen of the Starship Enterprise command deck, promising a pre-election dump of documents that would embarrass Hillary Clinton.
The surprise turned out to be the hacking of Podesta's email account by perpetrators purportedly linked to Russian intelligence agencies, according to FBI sources who talked to the Wall Street Journal—a charge Vladimir Putin himself does not deny.
"Everyone is talking about 'who did it' [the hacking]," Putin said in a speech at the October 12 VTB Capital "Russia Calling!" Investment Forum in Moscow,according to Reuters. "But is it that important? The most important thing is what is inside this information."
Big Daddy speaks. Trump is simply the conduit through which Putin communicates with America, chuckling as he executes a massive headtrip. It surely plays well to the folks back home in Russia. Let me hear your balalaikas ringing out….
From 1980, when he worked on the Reagan campaign, to 1996, Roger Stone was a business partner of Paul Manafort in the consulting firm Black, Manafort, Stone and Kelly (BMSK). A staple of their business was representing the interests of dictators and strongmen such as Ferdinand Marcos of the Philippines, Mobutu Sese Seko of Zaire, and Angolan guerilla leader Jonas Savimbi before the U.S. Congress and government agencies.
In 1992, the Center for Public Integrity published a report called "The Torturers' Lobby," naming BMSK among the top five public relations and lobbying firms representing regimes with horrendous human-rights records. When BMSK merged with another firm in 1996, Manafort left to form a new entity, Davis, Manafort & Freeman, and got in deep with Oleg Deripaska, a Russian oligarch, and Viktor Yanukovych, the pro-Putin president of Ukraine who was deposed in a 2014 popular revolution sparked by Yanukovych's about-face on his promise to sign an association agreement with the European Union in favor of stronger economic ties with Russia. He fled to Russia, where he remains today.
On August 14, the New York Times reported that ledgers left behind in a Kiev office by officials of Yanukovych's Regions Party showed $12.7 million in cash payments designated for Manafort in what Ukrainian officials describe as an illegal, off-the-books operation. Manafort denied ever having received such payments, but the revelation was too much even for the Putin-loving Trump campaign, and Manafort made his way toward the door. Initially, it looked as if he would stick around after the hiring of Breitbart News chief executive Stephen K. Bannon and pollster Kellyanne Conway to run the show, but that arrangement soon proved untenable, and Manafort left the campaign.
It's not just Manafort and Stone who enjoy the company of Russian and Ukrainian oligarchs; Trump has shown himself to be quite impressed with those who have reaped the rewards of being part of Putin's kleptocracy. Upon announcing that the 2013 Miss Universe pageant (of which Trump was then part-owner) would take place in Moscow, Trump tweeted: "Do you think Putin will be going to The Miss Universe Pageant? [I]f so, will he become my new best friend?"
Although apparently disappointed after having tried so hard to lure the Russian dictator to the pageant, the man who is now the Republican standard-bearer was nonetheless pleased with the draw of his November event. "All of the oligarchs were in the room," Trump told the New York Post after he returned to the U.S., according to a report by Michael Crowley in Politico. Among them were Aras and Emin Agalarov, the father-and-son team whose Crocus City Hall was the pageant venue.
Emin Agalarov, Crowley tells us, is a B-list pop star who got Trump's attention when he made a music video featuring 2012 Miss Universe, Olivia Culpo, whom he stalks in the vid. Soon Trump was making the deal for the Moscow pageant with Emin's dad, and talking about teaming up on real estate development projects in Russia. (Trump even appeared in a later video of Emin's, reciting his trademark line—"You're fired!"—from his reality show, "The Apprentice.") Agalarov is said to be close to Putin. As of yet, no Trump-Agalarov partnership has been announced, though Crowley notes that Trump's attention may have turned toward his plans to run for the U.S. presidency.
But just months before Trump announced his pageant plans for Moscow, something far stranger took place at Trump Tower, according to an investigation by David Corn and Hannah Levintova of Mother Jones. In April 2013, federal agents raided an apartment in Trump Tower—luxurious digs a floor below the Donald's own sumptuous sanctuary—as "part of a larger raid that rounded up 29 suspected members of two global gambling rings" that were allegedly overseen by a big-deal Russian mobster named Alimzhan Tokhtakhounov, who was said to have collected $10 million in just two months from the gambling operation. Caught in the web was the owner of the Trump Tower apartment, Vadim Trincher, and his business partner in the gambling enterprise, Anatoly Golubchik. Each was sentenced to five years in prison and made to forfeit $20 million in assets. Corn and Levintova write:
The indictment also targeted an associated gambling ring operated by Trincher's son Illya, Hillel Nahmad, the son of a billionaire art dealer, and others. (Nahmad also reportedly owned the entire 51st floor of Trump Tower.) This crew managed a high-stakes betting operation and money-laundering shop.
Nahmad and Illya Trincher pled guilty.
Not caught was Tokhtakhounov, who remains a fugitive from U.S. justice. But that didn't stop him, just months after being indicted by the U.S. attorney in Manhattan, from attending Trump's Miss Universe pageant, and walking the red carpet.
Not quite Putin, but one big kahuna.
Overshadowed by his #pussygate scandal in the second presidential debate was Trump's defensive response after Democratic presidential nominee Hillary Clinton accused him of being a Putin admirer when agents of Russian intelligence operations were hacking into the emails of the Democratic National Committee.
"I don't know Putin," Trump said. "I think it would be great if we got along with Russia because we could fight ISIS together, as an example. But I don't know Putin." Apparently not in that "new best friend" category yet.
Trump continued: "But I notice, anytime anything wrong happens, they like to say the Russians are—she doesn't know if it's the Russians doing the hacking. Maybe there is no hacking. But they always blame Russia. And the reason they blame Russia because they think they're trying to tarnish me with Russia. I know nothing about Russia. I know—I know about Russia, but I know nothing about the inner workings of Russia. I don't deal there. I have no businesses there. I have no loans from Russia."
Had anybody asked Trump if he had loans from Russia? No. Clinton simply mentioned that he might have business interests there, which is probably a fair bet, if for no other reason than Trump's Miss Universe adventure in Moscow where, gee whiz, all the oligarchs were in the room.
He then went into a seeming non sequitur about what a "great balance sheet" he has, saying because of that balance sheet, the U.S. government chose him to develop the site of the Old Post Office Pavilion in Washington DC.
"One of the primary area things—in fact, perhaps the primary thing—was balance sheet," Trump continued. "But I have no loans with Russia. You could go to the United States government, and they would probably tell you that, because they know my sheet very well in order to get that development I had to have."
Still, no one had asked him if he had loans with Russia, and now he had mentioned it twice.
And now he had contradicted himself with his assertion that he had no knowledge of Russia, having said during a Republican primary debate, "I know Russia well. I had a major event in Russia two or three years ago, Miss Universe contest which was a big, big incredible event, an incredible success."
While Trump may have no firsthand knowledge of hacking, during a July press conference, he invited Russia to hack into Clinton's private email server, the one on which she controversially conducted government business during her tenure as secretary of state, and the subject of endless investigation by Republicans in Congress.
MSNBC's Joe Scarborough asked Trump to justify his praise for Putin in light of the fact that Putin "is a person that kills journalists, political opponents and invades countries."
"Our country does plenty of killing also, Joe," Trump responded. "He's running his country and at least he's a leader, unlike what we have in this country."
It's a hell of an election season, what with the Russian thing, and the pussy thing. Which has me thinking, pussy, Russia, pussy, Russia, Pussy Riot. Whatever happened to them?
Huh.
Adele M. Stan is AlterNet's senior Washington editor, and a weekly columnist for The American Prospect. Follow her on Twitter @addiestan.
Photo: Russian President Vladimir Putin cups his ear to listen to a question as he departs after a summit on the Ukraine crisis at the Elysee Palace in Paris, France, October 2, 2015. REUTERS/Philippe Wojazer