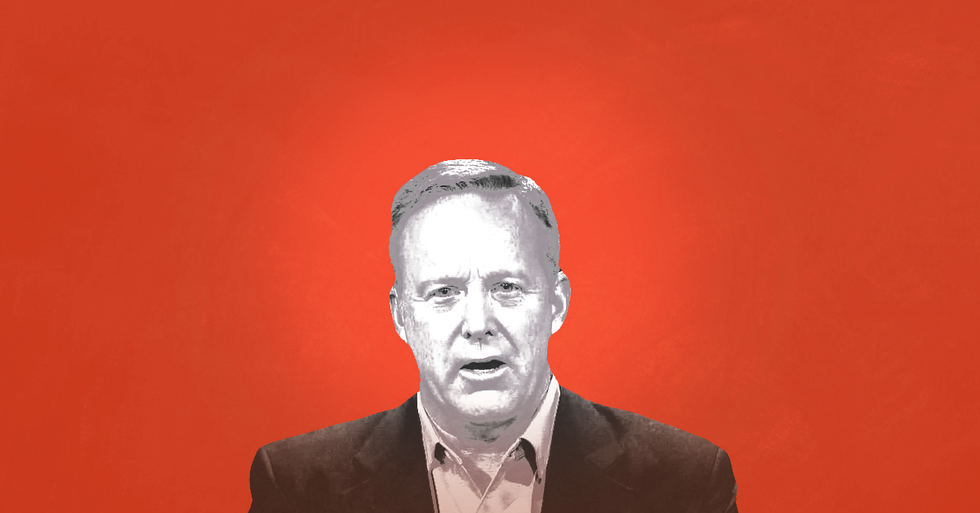 Reprinted with permission from MediaMatters.
UPDATE: Shortly after the publication of this post, news broke that financier Anthony Scaramucci had been forced out of his position as White House communications director, which was announced 11 days ago and scheduled to begin next month. He was reportedly escorted from the building this morning. It is currently unclear if he will take another job in the White House or the administration. In the event that he does not stay in the administration, networks shouldn't hire him, either.
---
Outgoing White House press secretary Sean Spicer will need a new job when his tenure in the Trump administration concludes at the end of August, and he's apparently hoping that one of the news outlets he's spent the year berating will step up and pay him a salary.
Spicer spent last Wednesday "in talks with major broadcasters about a new career in TV where he can share his insider knowledge of President Trump," according to The New York Post, which reported that Spicer took meetings with top executives at the Manhattan headquarters of ABC, CBS, NBC, and Fox News.
It has become customary in recent decades for high-ranking White House communications advisers to convert their public service into a high-paying media sinecure. Former President George W. Bush's White House aides Dana Perino and Nicolle Wallace and President Barack Obama's advisers Jen Psaki and Josh Earnest are among the long list to make this transition. In return for their media salaries, these aides-turned-political-analysts offer network viewers an inside look at how messaging decisions are made at the highest level.
But if network executives have a modicum of self-respect and the slightest sense of self-preservation, they will not offer Spicer this deal. To give the former White House press secretary a mainstream media gig would ensure that Trump's communications aides face no punishment whatsoever for using the imprimatur of the White House to lie to and seek to undermine reporters. With that incentive structure firmly in place, there is no reason to expect that behavior to change. If networks are helpless to prevent this assault on their work, surely they can at least avoid rewarding it.
President Donald Trump's administration has been driven by a vicious, unyielding effort to destroy the credibility of journalists, setting them up as the "the opposition party" and the "enemy of the American people" in order to call their reporting into question. Spicer could have used his position to provide some space from the administration's vitriol. Instead, he was an unapologetic leader in this campaign, regularly denouncing journalists for producing "fake news." Spicer reportedly had a "strong antipathy toward both political journalism as a craft, and political journalists as a class of people" long before he joined the administration. There is no reason to think he would halt those attacks once he received a network salary, and indeed, that platform might make his attacks ever more potent. Why would a credible media outlet hire someone who holds journalism in contempt?
Trump constantly tells lies, great and small, creating an immense challenge for journalists who have to sift through his statements and compare them to reality. In turn, Trump's obviously false statements regularly puts his aides to the test, forcing them to decide whether they are willing to stand by those lies. But Spicer never seemed to have a problem choosing between Trump and the truth — he was willing to say literally anything, no matter how absurd, in order to defend Trump. There is no reason to think that he wouldn't do the same on air if a network put him on its payroll. Why would a credible media outlet hire someone who doesn't clear even the lowest possible bar for truth-telling?
Network executives who may be tempted to think that Spicer offers them more in value than they'd lose in credibility should take heed of the humiliation CNN put itself through last year. The network hired Corey Lewandowski shortly after he was fired from his post as Trump's campaign manager, in spite of Lewandowski's notoriety for verbal assaults and physical altercations with journalists. For all intents and purposes, Trump found a way to give Lewandowski a raise at the network's expense, as the former aide continued to advise the candidate, travel with him, receive hefty "severance" checks from the campaign, and use his on-air time to defend every indefensible Trump action. After network head Jeff Zucker repeatedly defended the move while sustaining months of criticism from journalists of all stripes, CNN suffered the final indignity when Lewandowski resigned, seeking a job in the administration.
CNN, which has experienced the most hostile attacks from the Trump administration of them all, is notably the only network to publicly say it is not interested in hiring Spicer. According to network host Brian Stelter, the decision is a deliberate response to "those anti-media attacks, the criticism of CNN and other outlets, all of the sort of inaccurate and false statements from the podium." If CNN has truly learned its lesson — and I am somewhat skeptical of a network that retains Jason Miller, Jeffrey Lord, and Kayleigh McEnany as on-air pro-Trump shills — that's a good sign.
It's also a good example for executives from the other networks, who may face a revolt from the journalists they employ if the hand a six-figure salary to one of their main antagonists. Opposition to a Spicer hire is already seeping onto MSNBC's airwaves. "What hypocrites any broadcast network will be if they hire him," anchor Thomas Roberts said last night before turning to look behind himself in the studio. "And he's not here yet, but I'm just saying, what hypocrites every network will be if they hire Sean Spicer."
Networks seeking to maintain their credibility in the face of a White House assault on the press without recent precedent should pass on Spicer. If he's going to get a media payday, let it be from Rupert Murdoch's Fox News. That network's hosts and analysts regularly defend whatever the president says, and for decades they've sought to undermine the rest of the press for their own benefit. Spicer can have a seat on Fox & Friends' curvy couch in the morning and do hits on Sean Hannity's show at night. He'll fit right in.
Header image by Sarah Wasko / Media Matters