E.J. Dionne: We're Not Greece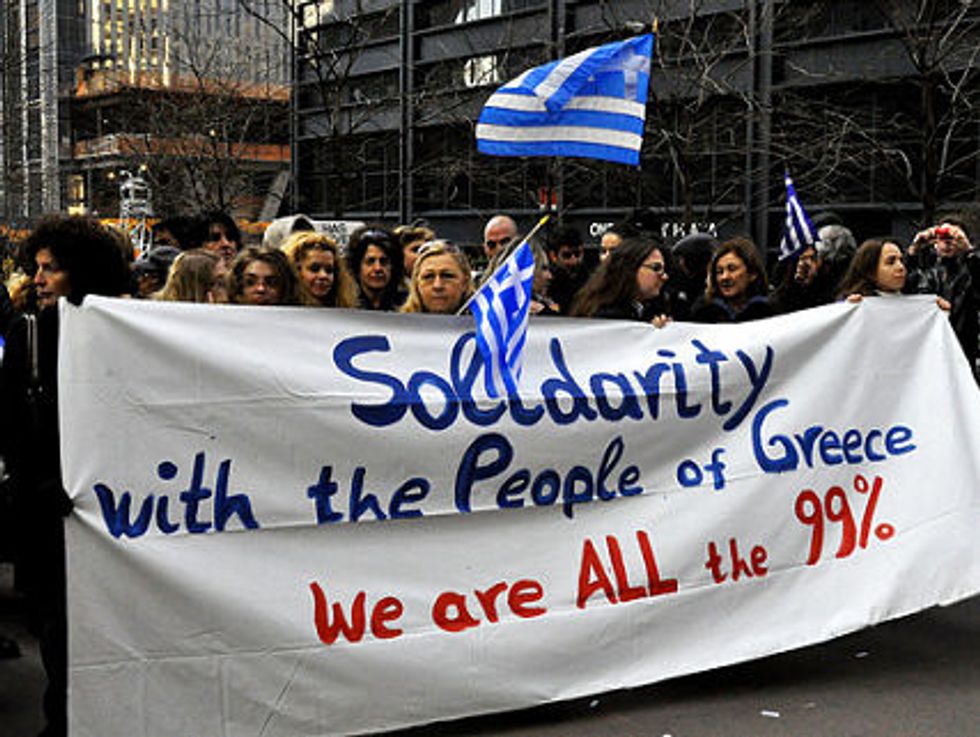 SAN FRANCISCO — If the United States were still governed under the Articles of Confederation, might California be in the position of Greece, Spain or Italy?
After all, California has a major budget crisis and all sorts of difficulties governing itself. Its initiative system allows voters to mandate specific forms of spending and to limit tax increases and also make them harder to enact. Absent a strong federal government with the power to offset the impact of the recession and the banking crisis, how would California fare in a global financial system?
OK, no metaphor is perfect, and there's a compelling case that this sprawling and economically diverse state would perform better in the global economy than the beleaguered nations of southern Europe. Moreover, Gov. Jerry Brown deserves credit for trying to get a handle on the California budget crisis. He's going to the voters this fall with a referendum to raise about $8 billion in taxes to stave off further cuts. Without the money, Brown says, education spending would have to be slashed beyond the cutbacks that have already taken effect.
But the metaphor is instructive because it turns on its head the usual nonsense from anti-government politicians that the United States is on the road to becoming Greece. No, we're not. Our issues are entirely different. To the extent that the crisis in Europe has lessons for the United States, they go the other way.
First, we are lucky to have a robust federal government, which the European Union lacks. Early in the recession, the feds were able to offset problems in the country's most troubled regions with a stimulus program (and also with that auto bailout that so many, including Mitt Romney, opposed). The stimulus should have been bigger, and it should have extended over a longer period. But it helped.
Second, we bailed out our banks right away and also have a more effective central bank. We thus avoided some of the problems now facing Europe, notably Spain. Again, we need to do more, not less, to deal with the damage caused by the housing bubble, which is especially threatening in parts of California. But the U.S. bit the bullet immediately to deal with potential insolvency in the banks, and the Obama administration's stress tests helped restore confidence in the system.
By contrast, Europe created a common currency without a central bank as powerful as the Federal Reserve, and without a continental fiscal policy that cuts across its member states. In a genuine federal system, the better-off states help the states that fall into trouble. Greece needs both reform and large transfers from the wealthier states of Europe — yes, that means Germany — to reverse its economy's free fall. Our federal system mostly disguises the transfers that take place across state and regional lines. (Many of these, by the way, take money out of California.) Yet because we all think of ourselves as Americans, we don't usually object to them. It's not quite like asking Germans to help Greeks or Italians.
What's happened so far in Europe is austerity without enough stimulus. This is a recipe for keeping economies down, unemployment high and electorates in an entirely understandable rage. No wonder historians and economists are now regularly offering frightening comparisons between the Europe of our times and the Europe of the early 1930s. If established parties tell voters they must suffer indefinitely, extreme parties begin to look attractive. This argument is at the heart of French President Francois Hollande's call for reversing austerity, and his hand was strengthened by his Socialist Party's legislative election victory last weekend.The real lesson from Europe is not that we should all tighten our belts and endure more pain but that we need to get the global economy moving. That means our Federal Reserve should pursue more expansive policies. And if congressional Republicans weren't so determined to block nearly every initiative President Obama puts forward, they would agree to pump more money into state governments and into infrastructure spending to speed a decline in unemployment.
As for Europe, it has gotten a reprieve from Greece's voters, but German Chancellor Angela Merkel should not see this as a mandate for continuing current policies. I understand why Merkel is reluctant to transfer German money to Greece, Spain and Italy. But her approach is no longer sustainable. The world needs growth, and it needs it fast.
E.J. Dionne's email address is ejdionne@washpost.com.
(c) 2012, Washington Post Writers Group