Egyptian Court Upholds Prison Terms For Three Activists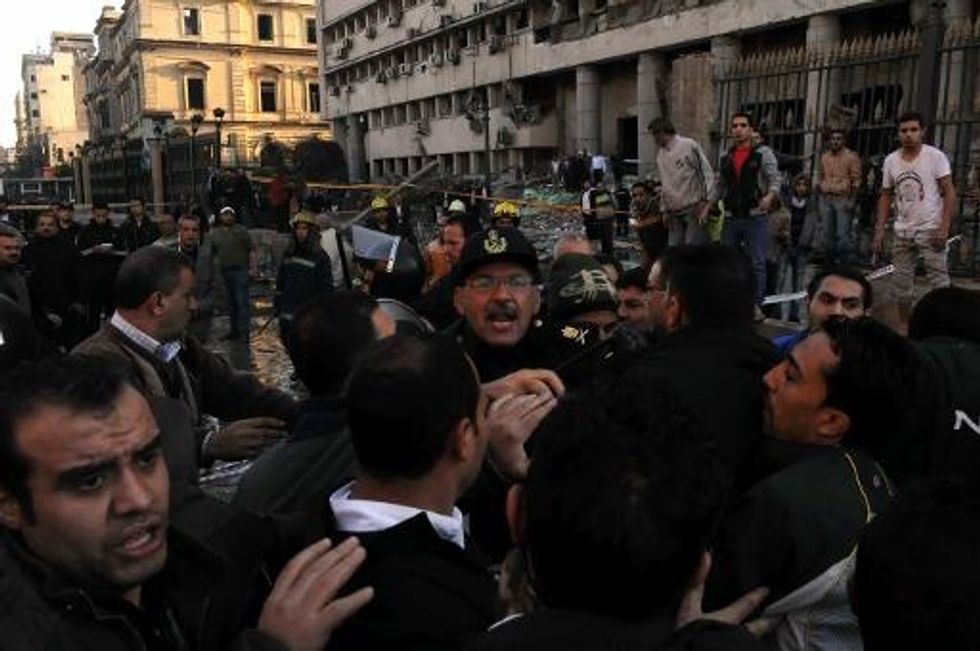 By Laura King, Los Angeles Times
CAIRO — An appeals court on Monday dealt another blow to the Egypt's beleaguered liberal activists, upholding three-year prison terms handed down to a trio of figures known for their role in the country's 2011 revolution.
The three — Ahmed Maher, Ahmed Douma and Mohamed Adel — had been convicted in December of violating a tough anti-protest law that took effect the previous month. The appeals court also upheld heavy fines levied against the trio — 50,000 Egyptian pounds each, which is more than $7,000.
Supporters swiftly took to social media to decry the sentences, which came in amid a rash of challenges to the protest law. The measure, which essentially criminalizes spontaneous street demonstrations, is viewed by many activists as an affront to the ideals of the massive popular uprising that brought down longtime dictator Hosni Mubarak.
Prospects for overturning Monday's verdict appeared grim. The case can be taken to Egypt's Court of Cassation, the end stage of the appeals process, but the court routinely takes years to act.
Egypt's judiciary has played a prominent part in the 9-month-old crackdown on dissenters that began with the ousting of Islamist president Mohamed Morsi. Authorities initially focused on targeting Morsi's backers, jailing thousands and killing hundreds more in confrontations with security forces. But within months, secular activists were caught up in the judicial dragnet as well — among them journalists, filmmakers, academics and bloggers.
The lack of due process has triggered sharp criticism from human rights groups and some Western governments. With the prisons packed far beyond capacity, Egyptian courts have been staging mass tribunals, including a notorious case last month in which 529 defendants were simultaneously sentenced to death. Defense lawyers say they are routinely denied the right to present evidence.
Another high-profile legal proceeding has been the trial on terror-related charges of three journalists with the international broadcaster Al Jazeera English, two of whom hold foreign passports. Supporters, who have staged an online campaign for their freedom, marked their 100th day of imprisonment on Monday with new calls for their release.
Seventeen other people are on trial in that case, three of them foreigners who left Egypt before the proceedings began.
Egyptian authorities have given no signs of easing a series of repressive measures enacted in the wake of July's popularly supported removal of Morsi from office. Former army chief Abdel Fattah Sisi, who led the coup, is running for president, and Egypt's Cabinet has approved a new law giving authorities even broader powers to move against suspected terrorists. Morsi's Muslim Brotherhood organization has been branded a terror group.
Egypt has been hit by a wave of bombings and other attacks by suspected Islamic militants, aimed mainly at the security forces. The interim government blames the Brotherhood, even though other militant groups have claimed responsibility for nearly all the attacks.
AFP Photo/Ahmed Gamel