Ultra-Right Mega-Donors Are Financing Election Denial Operations
@alexvhenderson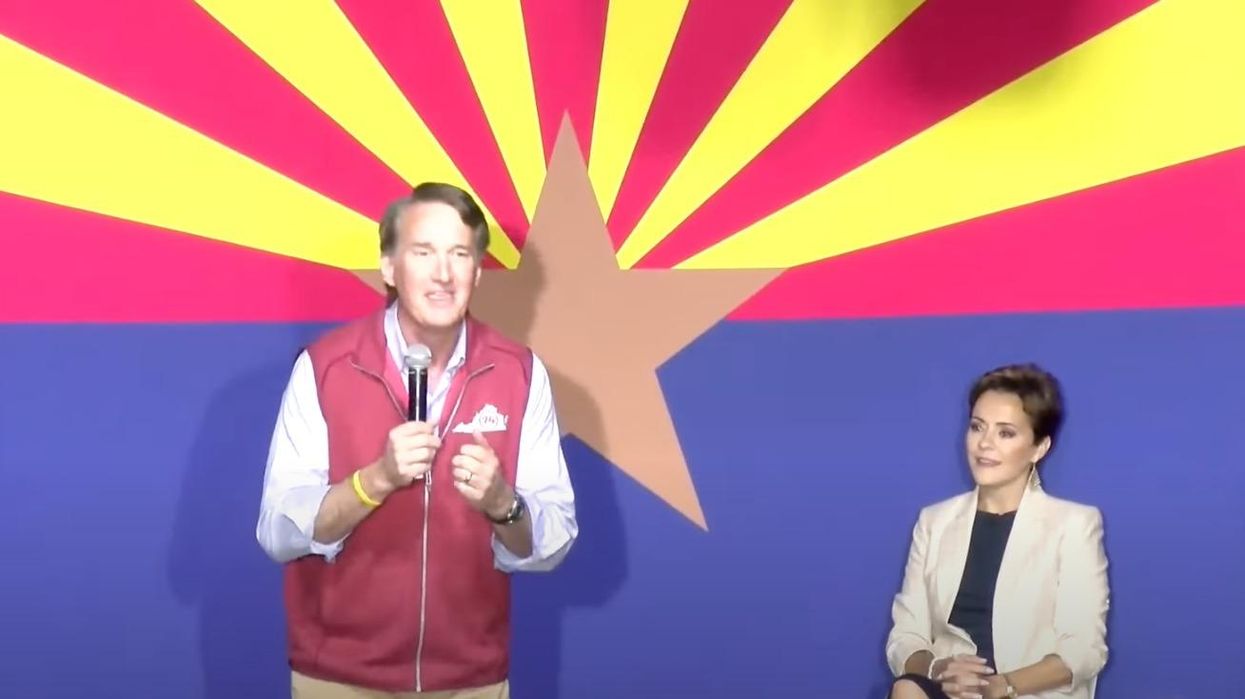 Youtube Screenshot
In an article published on November 3, the Daily Beast's Roger Sollenberger reported that "nearly 80 percent" of the $1.7 million that right-wing shipping magnates Dick and Elizabeth Uihlein donated to Republican candidates "between January 7, 2021 and August 31, 2022" went to "campaigns or committees tied to the 147 Republicans who voted, on January 6, (2021), to overturn President Joe Biden's victory." But their fondness for MAGA election denialists, according to Sollenberger, goes beyond donations.
Now Sollenberger, writing for the Beast in an article published on November 28, reports that in 2021, Arizona Republican Party Vice Chair Gina Swoboda was hired as executive director for "the Uihlein-backed dark money nonprofit Restoration Action Inc." Her salary was $108,750 per year.
"Swoboda, a former Trump campaign official and the vice chair of the Arizona Republican Party, is now leading a misguided charge against the ballot count in that state on behalf of GOP gubernatorial candidate Kari Lake," Sollenberger explains. "Swoboda currently serves as 'election integrity' coordinator for Lake, whose repeated false claims of voter fraud have ingratiated her to former President Donald Trump and who still refuses to acknowledge her election loss to (Democratic Arizona Secretary of State) Katie Hobbs."
The Beast reporter continues, "After the election, Lake promoted Swoboda's appearance on a right-wing podcast. In addition to hiring Swoboda, the filing shows Restoration Action's accounts swelling for the second year in a row. According to the filing, in the 12 months following the January 6 attack on the Capitol, Restoration Action's revenue topped $20.5 million — double what the group raised in 2020, and light years beyond its $64,000 haul in 2019."
Sollenberger notes that Restoration Action is "tied to the larger Restoration of America network, funded almost exclusively by the Uihleins."
Brendan Fischer, who serves as deputy executive director of the watchdog group Documented, told the Beast, "Restoration Action is a hub for election denial, including funding some of the key players pushing election falsehoods in Arizona at the moment. This is a reminder that there's big money behind the push to undermine democracy. Through Restoration Action and other entities, an array of groups pushing election conspiracy theories are backed by literally tens of millions of dollars from just one billionaire couple."
Restoration America, according to Sollenberger, "also threw $600,000 to the super PAC affiliated with January 6 rally organizer Tea Party Patriots" and "another $1.5 million…. to the Lawyers Democracy Fund, a conservative dark money group that advocates for changes in election law."
"The group sent another half a million to Fight Voter Fraud, which has also pushed baseless claims of election malfeasance, including in 2021," Sollenberger reports. "Another recipient, the Liberty Initiative Fund, donated $675,000 to a group fighting for more restrictive voter ID requirements in Michigan. That Michigan group raised $2.2 million total, with $1.5 million coming from Uihlein himself.
Reprinted with permission from Alternet.