Electionomics: How Donald Trump's Union Busting Is Killing The American Dream In Las Vegas And Beyond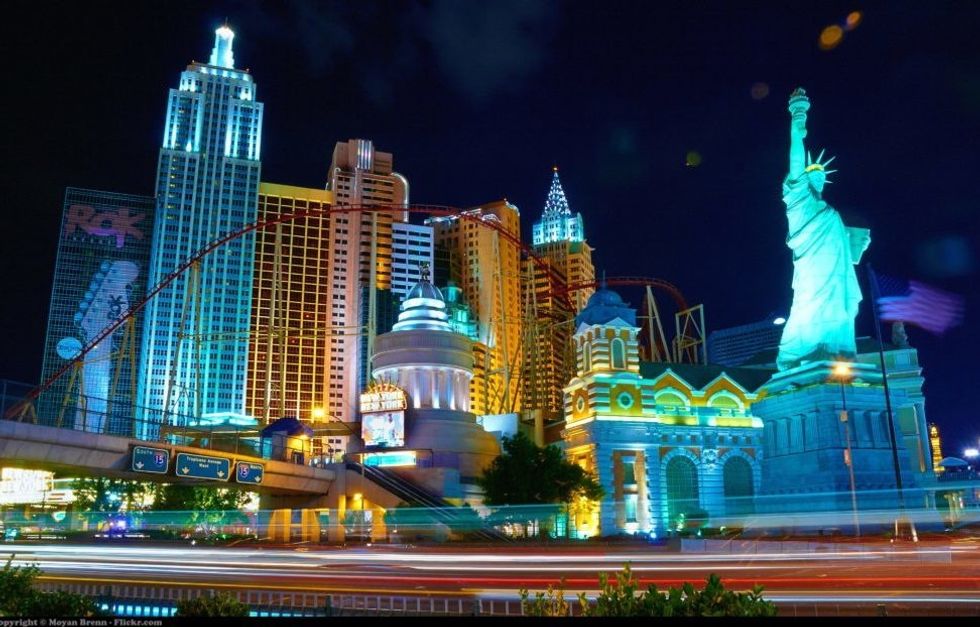 Published with permission from AlterNet.
Union busting is never pretty. But in the case of Donald Trump, it's especially ugly. The Republican presidential nominee has campaigned on promises to make America great again by bringing back good jobs. But in Las Vegas, a company he owns with casino mogul Phillip Ruffin has worked methodically to keep hundreds of its own employees from achieving the American dream.
For the past 18 months, the Trump International Hotel has waged an anti-union campaign in response to an organizing drive by workers. The effort to quash the union has led the National Labor Relations Board to issue a complaint against the Trump Hotel, alleging that the hotel fired union supporters and interrogated and intimidated employees.
In late July, the NLRB denied a final appeal by the hotel challenging last December's vote by workers to be represented by the Culinary & Bartenders Union. More than a month later, the company is still refusing to recognize the union and negotiate a contract.
When Trump unveiled his economic plan, he promised that "no one will gain more from these proposals than low- and middle-income Americans." Nowhere in the plan did he mention the right of workers to organize, or the crucial role unions played in building the great American middle class that he pledges to restore.
While Trump may have been silent about his attitude toward unions, the actions of his company in Las Vegas speak volumes about how a President Trump would deal with workers who exercise their right to organize. If Trump has no qualms about sanctioning a union-bashing campaign conducted under the intense national glare of a presidential campaign, imagine how he would act as chief executive when confronted with decisions about the basic rights of workers.
In fact, there is no need to imagine: Trump's record speaks for itself. In the last decade, Trump's companies were cited for two dozen violations of the Fair Labor Standards Act. According to the International Business Times, the Trump Organization paid almost half a million dollars to "settle a claim with nearly 300 Los Angeles golf club employees in a class-action suit alleging unpaid wages and age discrimination, among other offenses."
Meanwhile, according to an investigation by the USA Today Network, "at least 60 lawsuits, along with hundreds of liens, judgments, and other government filings…document people who have accused Trump and his businesses of failing to pay them for their work."
Then there is Trump's practice of bringing in foreign workers, as he did at Trump Plaza in the 1980s, displacing American construction workers. Trump's rhetoric distorts the reality that when given the opportunity to shave a few bucks, he will also take the low road of low-wage union avoidance and contracting out to foreign interests.
The anti-union campaign in Las Vegas was preceded by a similar effort in Chicago, where the Trump International Hotel and Tower vigorously fought an organizing drive by the hotel workers union. During the presidential race, Trump has spoken favorably of right-wing "right-to-work" laws, which weaken the best job security protections workers have—a union contract—by preventing employers and employees from negotiating an agreement that requires all workers who receive the benefits of a collective bargaining agreement to pay their share of the costs of representing them. So-called right-to-work laws force unions to represent every eligible employee, whether or not he or she pays dues or fees, thereby allowing workers to pay nothing and still get all the benefits of union membership.
Trump doubled down on his anti-labor stance by picking Mike Pence as his running mate. As reported in the American Prospect, Pence has been an opponent of minimum wage increases, prevailing wages and even the right of local governments to offer more generous wages or benefits than those provided by the state.
All of this should give pause to working- and middle-class voters thinking about casting a ballot for the Trump/Pence ticket in November. Trump may talk a good game when it comes to the economic woes facing tens of millions of Americans, but actions speak louder than words. A vote for Trump would be a vote for the privileged class in which he has spent his entire life. What's happening in Vegas at the Trump Hotel would surely not stay in Vegas.
Julie Gutman Dickinson is a partner with the union-side law firm, Bush Gottlieb.
Photo: Wikimedia Commons.