Elizabeth Warren Joins The Senate, Scott Brown Gets Ugly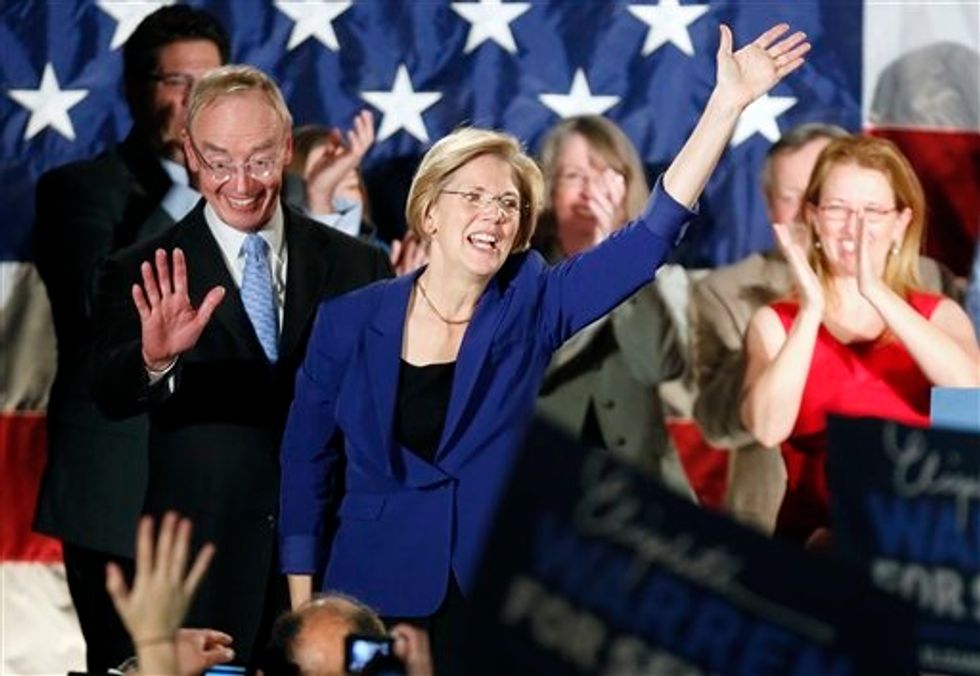 Elizabeth Warren was sworn in Thursday as the junior U.S. senator from the state of Massachusetts, after more than a decade of fighting against the burden of usurious debt burden on the middle class.
Republicans and Wall Street fiercely opposed Warren to head the Consumer Financial Protection Bureau she created, prompting the president to choose her as special advisor to set up the bureau, and then Warren's ultimate decision to challenge Scott Brown for his Senate seat.
Warren will likely become the senior senator from Massachusetts in just weeks when John Kerry (D-MA) replaces Hillary Clinton as Secretary of State, prompting a special election for his seat.
Brown, who won Ted Kennedy's former seat in a special election in 2011, has not announced if he will oppose Ed Markey, the senior congressman Kerry hopes will become Massachusetts' new junior senator. But Brown seemed to be positioning himself to challenge the congressman with comments he made on Wednesday when asked on a local radio show if he'd run.
"I'll tell you what… they're making it awfully tempting. You've got Ed Markey: Does he even live here anymore?" Brown said.
"You've got to check the travel records. I've come back and forth [from Washington to Boston] every weekend, almost, for three years, and I see, you know, most of the delegation, and I have never seen Ed on the airplane—ever," Brown added.
Markey owns his family home in Malden, which is in the district he's represented in the House of Representatives for 26 years. His wife Susan Blumenthal owns a house in Chevy Chase, Maryland. She works at the National Institutes of Health in Washington D.C..
Brown's win in the 2011 election came at the beginning of the Tea Party wave. His promise to be the 41st vote that would stop Obamacare was very well-received in the state, despite the fact that "Romneycare," the near-universal health care that the Affordable Care Act was modeled after, has been in place since 2006 and remains popular.
Early in 2012, 35.9 percent of the registered voters in the Commonwealth of Massachusetts were Democrats, 11.35 percent were Republicans, and 57.18 percent didn't claim any party. President Obama beat Mitt Romney in the state where Romney served as governor by 23 percent. Given these numbers, Scott Brown only losing to Elizabeth Warren by 8 percent is almost impressive.
However, Markey defeated his most recent opponent, Republican Tom Tierney, by 52 percent. And Massachusetts had never elected a female senator before Warren.
If Brown doesn't run, former governor William Weld is expected to seek the Republican nomination to replace Kerry.
Photo credit: AP Photo/Michael Dwyer