Elizabeth Warren Takes On Tax Preparation Industry With New Legislation To Make Filing Easier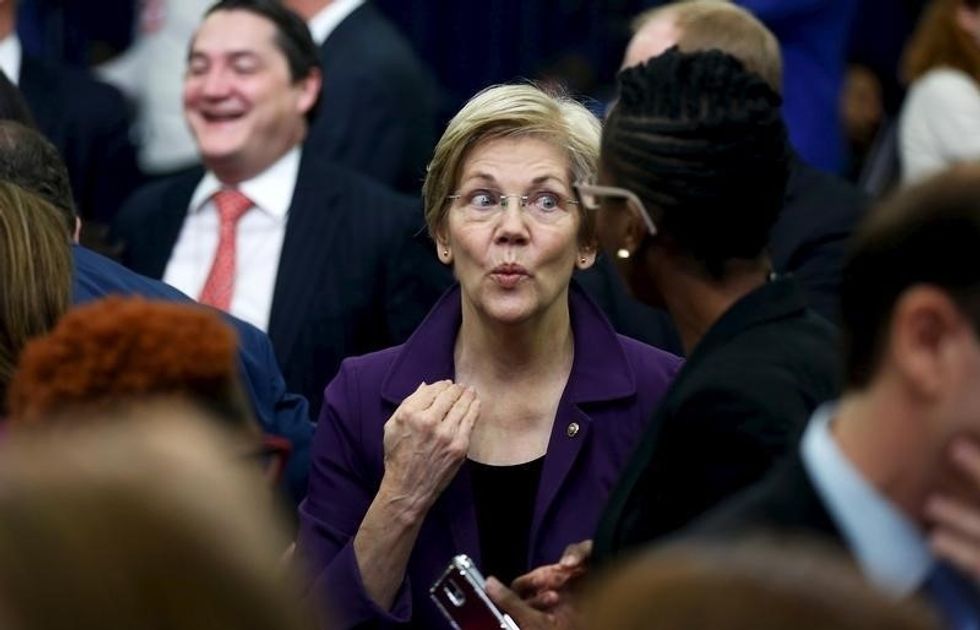 Reposted with permission from Alternet. 
With Tax Day nearing, Elizabeth Warren has introduced legislation that would simplify tax filing and lower the cost for Americans. The Massachusetts senator introduced the Tax Filing Simplification Act, which would direct the Internal Revenue Service to create a free tax preparation and filing service.
Warren explained the importance of the bill in a press release:
Congress should be making it easier for Americans to file their taxes each year, not bowing to the interests of the tax prep industry. The Tax Filing Simplification Act is a commonsense bill that would help taxpayers all across this country file their taxes with less stress and fewer costs, and it would push the IRS to use the authority it already has to simplify Tax Day for all Americans.
Americans pay an average of $200 a year in tax filing services, so it's little surprise that the tax preparation industry opposes a shift to free filing. Intuit, the company that owns TurboTax, has spent over $13 million lobbying against efforts to simplify the process. A staff report, relesed by Warren in conjunction with the legislation, points out that:
The tax-filing burden is an essential part of the tax preparation industry's business model, and the industry sees return-free filing as a fundamental threat to its operations. As a result, the industry has devised numerous ways to oppose a return-free filing system, spending millions of dollars lobbying Congress against return-free filing and mounting fake "grassroots" campaigns against return-free filing.
Elizabeth Warren certainly isn't the first politician to call for free filing. The Obama administration supports it and a recent Vox piece quotes a Ronald Reagan speech from 1985:
We envision a system where more than half of us would not even have to fill out a return. We call it the return-free system, and it would be totally voluntary. If you decided to participate, you would automatically receive your refund or a letter explaining any additional tax you owe. Should you disagree with this figure, you would be free to fill out your taxes using the regular form. We believe most Americans would go from the long form or the short form to no form.
Read the complete text of Warren's bill on her website.
Photo: U.S. Senator Elizabeth Warren speaks with a fellow guest as they arrive for U.S. President Barack Obama to sign the Every Student Succeeds Act into law in the Eisenhower Executive Office Building at the White House in Washington, December 10, 2015. REUTERS/Jonathan Ernst