Emails Show Ivanka Helped Her Family Profit From Trump's Inauguration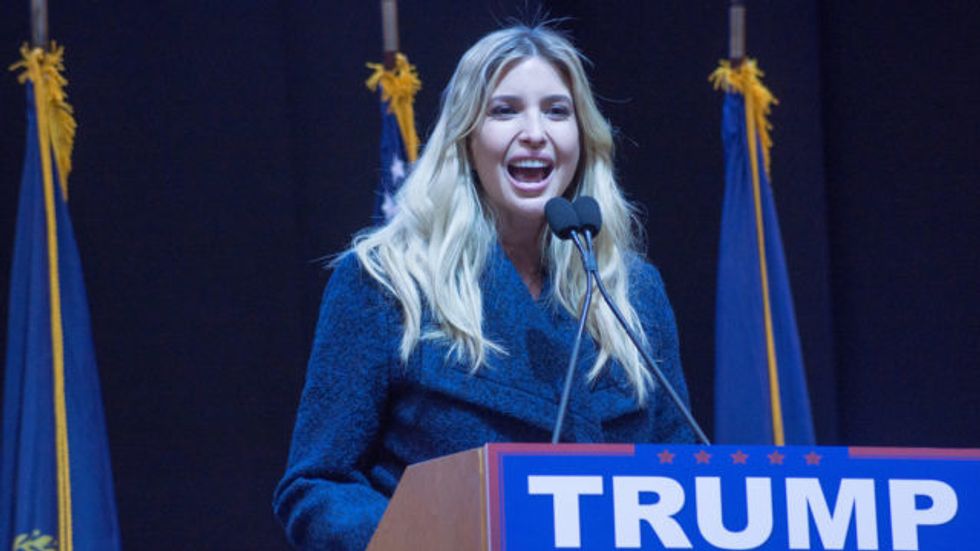 Reprinted with permission from Shareblue.
Ivanka Trump has been implicated in a scheme to have the Trump Organization charge artificially inflated costs to the Trump Presidential Inaugural Committee — which may have violated the law while enriching her family.
WNYC and ProPublica obtained internal emails and receipts unveiling the connection between the committee, the Trump Organization, and Donald Trump's eldest child — who is now his aide in the White House.
From 2005 until 2017, Ivanka was an executive at the Trump Organization. And during the inaugural planning process, ProPublica reports, she was involved in negotiating the price that the Trump International Hotel in Washington, D.C., charged the inaugural committee to rent spaces out for events.
That price was apparently much too high. One top inaugural planner emailed Ivanka and other officials at the Trump Organization to express "concern" that the hotel was overcharging — and that it could be a problem "when this is audited."
"If the Trump hotel charged more than the going rate for the venues, it could violate tax law," ProPublica noted.
Marcus Owens, former head of the IRS division overseeing nonprofits, told ProPublica, "The fact that the inaugural committee did business with the Trump Organization raises huge ethical questions about the potential for undue enrichment."
Trump's inauguration is already under criminal investigation. The Wall Street Journal reports that the U.S. attorney in Manhattan is investigating whether "top donors gave money in exchange for access to the incoming Trump administration, policy concessions or to influence official administration positions."
The Trump inauguration committee raised nearly $107 million from corporate donors and conservative supporters. That is nearly twice the money raised by President Barack Obama's inauguration in 2009, which had far more people in attendance.
"How the inaugural committee managed to spend all the money it raised remains a mystery, nearly two years after the event," ProPublica noted.
If Ivanka was running a grifting operation to make her family richer, that would help explain the mystery.
And this wouldn't be the first time Ivanka has helped with her father's scams.
Another investigation by ProPublica and WNYC found that Ivanka and other Trump family members routinely misled buyers and investors on Trump Organization real estate projects. In order to attract more money and outside investment, the Trumps overstated how many units had been sold and lied about how much stake the Trump family had in the projects.
Donald Trump has profited from his presidency in many ways since refusing to divest from his holdings in the Trump Organization.
Trump personally benefits when entities like his own presidential campaign, the Republican National Committee (RNC), super PACs, or other campaigns or party committees do business with the Trump Organization.
Trump's D.C. hotel has been charging a premium over other similarly situated hotels since Trump took office. It has also been one of the primary conduits for those seeking influence with Trump to funnel money to him.
Trump's family, including his children, also benefit from this corruption.
And corruption — including the kind of fraudulent overcharging Ivanka allegedly directed — has long been a feature of how the Trump family does business.
When Donald Trump and his siblings co-owned a company that paid vendors working for his father, Fred Trump, they used that same company to bill their father an inflated price for those same services. This was a vehicle for Fred Trump to give his children money, tax-free.
The Trump family corruption racket didn't stop when they transitioned to politics. And the new revelations about the inaugural committee show that the full truth about this corruption — including potential illegal activity — has yet to be revealed to the American people.
Published with permission of The American Independent.